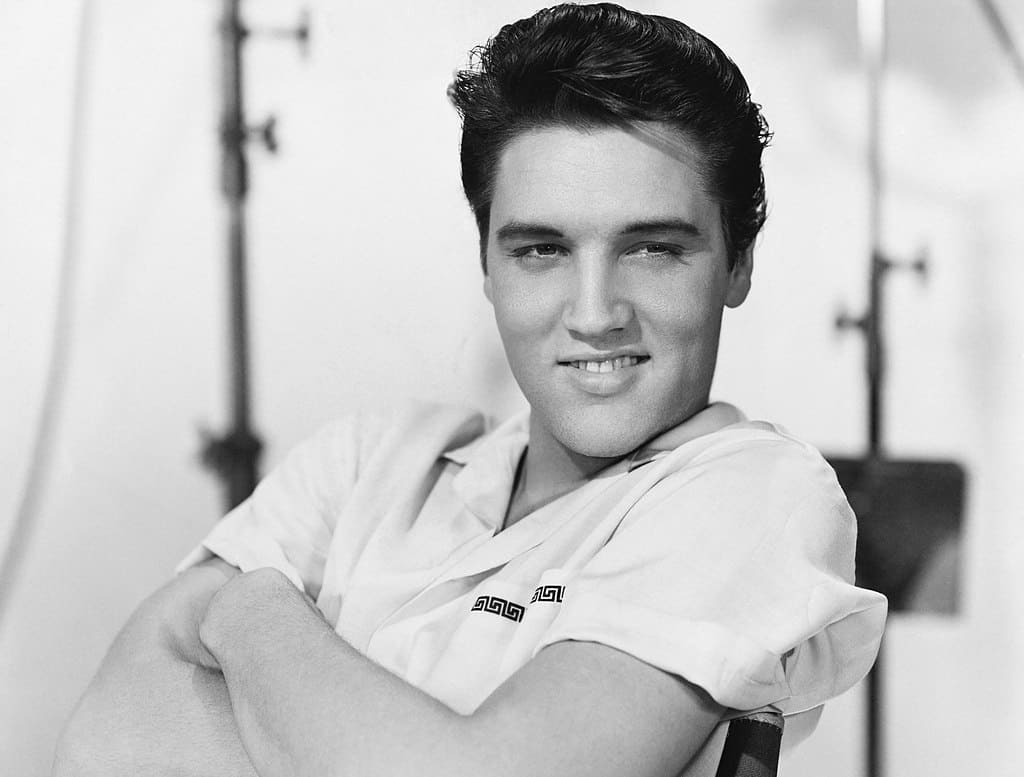 For the past year, former NFL great Peyton Manning has hosted his popular show "Peyton's Places" on ESPN+.
Each episode yields a bevy of fun facts and information about all things football designed to educate and entertain viewers.
On the 27th episode of the show, which aired this past January, Manning spent time learning about Elvis Presley's love of football.
For die-hard Elvis fans, this information was nothing new.
The King had a serious jones for football and that is evident from old pictures, home movies, and from Manning's visit to Graceland.
During the episode, Manning gets a tour of Presley's former estate and sees first-hand how devoted to football The King was.
There were the three televisions primed to show as much football as possible.
Then, there was the MVP award Presley received from a German touch football league.
The honorary plaque from Arkansas State University where, apparently, he had planned to attend and play football was also displayed prominently.
As anyone with a pulse knows, Presley did not attend college because his career as a singer and movie actor took precedent.
Eventually Manning watches old home movies where Presley plays touch football.
#Elvis1956 Elvis playing touch football at the Dave Wells Community Center December 27, 1956 pic.twitter.com/V6JI8Nl7NJ

— DENISE (@GRACELAND09) December 27, 2016

Perhaps the piece de resistance was when Graceland's archivist produced a number of football plays The King drew up himself.
ELVIS AND FOOTBALL FANS
This unique photo of #Elvis includes hand-written football plays & notes by the King himself! pic.twitter.com/Oe9XJ64FTG

— Tupelo Mississippi (@MyTupelo) July 31, 2014
That prompted Manning to go to a nearby park, round up a bunch of kids, and try using some of the plays.
After donning an Elvis outfit, replete with faux wig and chest hair, Manning and the kids have limited success.
The episode was highly entertaining and fun to watch.
Perhaps even more fun was what this writer found when digging deeper into Presley's proclivity to football.
As it turns out, The King was especially fond of pro football.
And, more specifically, Presley was most keen on the Cleveland Browns.
You read that correctly.
Elvis Presley was a huge fan of the Browns.
The King Fact #3 The Cleveland Browns was Elvis' favorite football team. #ElvisWeek #elvispresley #theking #NFL pic.twitter.com/vdaEL7BntE

— AnotherOne (@loislalo) August 13, 2015
This may come as a shock to most football fans as well as Presley aficionados.
After all, how does a man who was essentially a product of the south, who grew up in Mississippi and Tennessee, become attached to a team in the rust belt?
Evidently, much of his fandom has to do with Gene Hickerson.
Gene Hickerson Stokes Elvis' Love of Cleveland
Hickerson was born in Trenton, Tennessee and was gifted with the talent to play football.
He ran roughshod over and through defenders as a fullback at Trezevant High School in Memphis.
While in high school, Hickerson and Presley were in relative proximity to one another.
At the time, Elvis attended L.C. Humes High School, also in Memphis.
It is believed that their paths crossed during high school and they shared a passion for pigskin.
After graduating high school, Hickerson attended Ole Miss where he was moved to tackle.
By the time he wrapped up his college career, Hickerson was widely considered the best offensive linemen in SEC history.
He was drafted by Cleveland in the 7th round in 1957 and moved to guard by Coach Paul Brown.
Cleveland coach Paul Brown talks it over with Gene Hickerson at Kezar Stadium in San Francisco in the 60s.

Plenty of good seats still available @Browns pic.twitter.com/bnLqpqAf58

— Sports Days Past (@SportsDaysPast) July 7, 2018
As Hickerson was beginning his rookie year with the Browns, Presley's popularity was beginning to skyrocket.
His hold on the American public was transformative, bringing a new style of music to the forefront.
Meanwhile, Hickerson's contribution to Cleveland was conducted in near anonymity.
As a lineman, Hickerson blazed a trail for the running backs that literally followed behind him, specifically Hall of Famer Jim Brown, Bobby Mitchell, and Leroy Kelly.
Jim Brown in action, 1965. Handoff from Frank Ryan, lead blocking by Gene Hickerson. #Browns pic.twitter.com/FxF78GZtU4

— Ken Gelman (@kengfunk) April 24, 2017
During his time in Cleveland, Hickerson and Presley remained close.
Presley's ravenous love for football led Hickerson to ship him a copy of the previous day's game film every Monday during the season.
Happy birthday #Elvis — a big football fan. Cleveland #Browns HOF guard Gene Hickerson was good friends with Elvis & would send Elvis Browns game films. pic.twitter.com/tInpFeKHjC

— thom loverro (@thomloverro) January 9, 2020

Elvis would then spend copious hours watching the film, pouring over the action as if he were a coach.
Hickerson's Proof that, yes, he did know Elvis…
Of course, there were skeptics who didn't believe that Hickerson actually knew Elvis.
One day Browns radio broadcaster, Jim Mueller, was sitting with Hickerson and proceeded to scoff at the notion that Hickerson and Elvis were friends.
The following exchange between Mueller and Hickerson was highlighted in chapter 4 of the book "Pass the Nuts" by Dan Coughlin:
"Call this number," Gene said to Mueller.
Mueller… was sitting in the living room of Hickerson's apartment on the Lakewood Gold Coast.
He picked up Hickerson's house phone and Gene recited the number.
"Ask for Elvis," said Hickerson.
"Can I speak to Elvis Presley?" Mueller said when a voice answered the phone.
"Who is calling?"
"I'm a friend of Gene Hickerson," said Mueller.
"Just one minute."
Momentarily, Mueller heard Elvis Presley's voice on the other end of the line.
After that nobody doubted Hickerson.
Presley Becomes Captivated by Jim Brown
While watching Hickerson's game film from afar, Presley became captivated by Jim Brown's running style and rugged play.
He gravitated to Brown whenever the two were in the same room.
Elvis Presley and Jim Brown

On the set of Roustabout, 1964 pic.twitter.com/s6VctrlAiu

— 'It's the pictures that got small' (@RomanPBone1) February 27, 2020
Brown and Hickerson's play on the gridiron were the reason why Presley enjoyed pro football so much, as is evidenced from a quote he gave years later.
"I enjoy rugged sports," Elvis said. "I'm not knocking people who like golf and tennis and other things. But I like rugged sports such as boxing, football, karate and things like that."
Elvis' Preferred Occupation?
As the years went by, both men excelled at their respective careers.
While Presley was still singing, dancing, and acting, Hickerson was making a name for himself in pro football.
By the time he retired in 1973, Hickerson had been voted to six Pro Bowls, won the 1964 championship, and named to the NFL's 1960's All-Decade Team.
He would later be inducted into the Pro Football Hall of Fame.
OM grad Gene Hickerson is inducted into Pro FB HOF by the three HOF RBs he blocked for… pic.twitter.com/mXbv9gYKoF

— HEd (@minedyingbride) December 20, 2016
After both Brown and Hickerson retired, Presley's allegiance gravitated toward Pittsburgh, Cleveland's division rival.
The King allegedly had a deep appreciation for the moxie shown by Steelers quarterback Terry Bradshaw.
In hindsight, it could be argued that Presley's admiration for Hickerson, Brown, and Bradshaw (and pro football in general) reflected a career path he would have preferred.
"I have a great ambition to play football," Elvis said in a 1975 interview. "I've always had and still have, believe it or not. The thing I keep up with most is professional football. I know all the players. I know their numbers and who they play for. I watch all the games I can. I get the films from the teams themselves if I can. Next to the entertainment thing and music, football is the thing that I enjoy best."