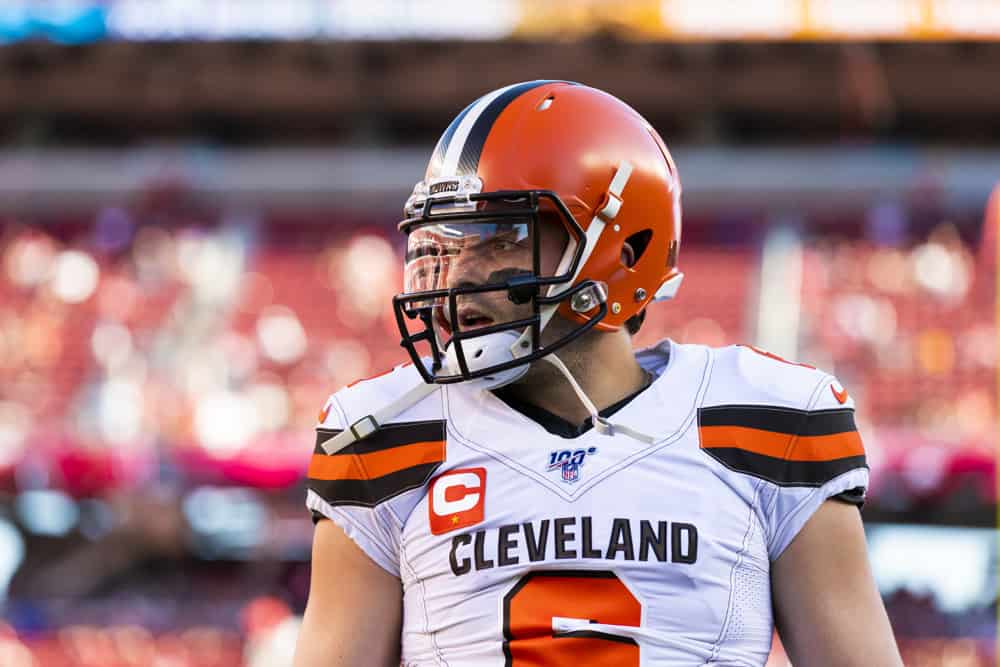 The Cleveland Browns suffered a gut wrenching loss to the Baltimore Ravens on Monday Night Football.
Though the score was 47-42, it really doesn't tell the story of the game.
Baker Mayfield left everything he had on the field and almost lifted his team to victory.
His wife Emily Wilkinson Mayfield, supportive in victory or defeat, took to social media to give her husband the kudos he deserved.
"Extremely proud wife tonight and always," she said.
Extremely proud wife tonight and always

— Emily (Wilkinson) Mayfield (@emilywmayfield6) December 15, 2020
All Should Be Proud Of Baker
Not just his wife, but the entire organization and city should be proud of Baker Mayfield last night.
He has shouldered his share of criticism over the years, and it seems to motivate him to work harder and do better.
Prior to last night, the Browns won 4 straight.
Even in victory, against Jacksonville, Baker knew he needed to play better as the Browns itched closer to a postseason berth.
I know I can be better… and I will be. Job isn't finished, lot of ball left. We're 8-3 and not satisfied. That's the best part about this team.

— Baker Mayfield (@bakermayfield) November 29, 2020
Past 2 Games 
Arguably, Baker has played his career-best in the past 2 games.
Tennessee
Last week against the Titans, he broke Otto Graham's record with 4 TD passes in the first half.
That was after a week of media speculation as to whether he could win a big game.
Emily responded on social media after that game also, trolling a frequent Baker Mayfield critic, Stephen A. Smith of ESPN.
This aged well…. 👀🤭 https://t.co/LU1PQi7gFa

— Emily (Wilkinson) Mayfield (@emilywmayfield6) December 6, 2020
Her Tweet got Stephen A.'s attention and he gave her props on the air last Monday.
Stephen A. replies to @emilywmayfield6's reply pic.twitter.com/j4h8xEZ4dn

— Ben Axelrod (@BenAxelrod) December 7, 2020
Baltimore
And last night, Baker played better, perhaps not statistically, but against a tougher defense, he didn't give up.
He also made a mistake that he did not dwell on; he kept moving ahead and continuing to push the offense down the field.
Baker even rushed for his own TD.
His commitment, will to win, and work ethic could not be questioned in the Ravens game.
He looked totally depleted as the waning seconds of the game ticked down, not surprising given how he performed.
What Does This Mean
Baker is proving that he deserves that fifth-year extension.
If the Browns organization didn't see it last week, they should have last night.
He also deserves respect, something he doesn't get too often from the media, except Jim Rome, who has been with the Browns and Baker all the way.
I feel your pain, Cleveland. Brutal. Absolutely brutal

— Jim Rome (@jimrome) December 15, 2020
What's Next
Time to refocus and get ready for the New York Giants.
What little cushion the Browns had in the AFC playoff picture is now gone, so the team needs to win out.
That means two wins against New York football teams (Giants and then Jets) and then the regular season finale against the Pittsburgh Steelers.
Baker's will and the character of this team will be tested yet again.