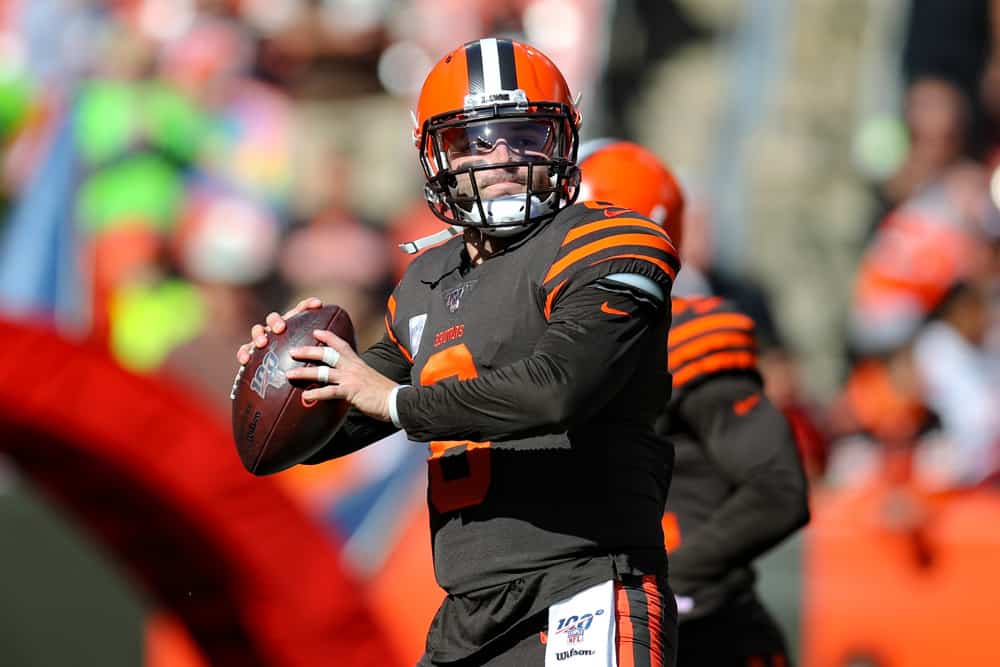 Baltimore entered last Sunday's game as one of the most popular locks to start 1-0.
But even the Cleveland Browns fans who came in with low expectations were disappointed in the final score.
After another hype-filled offseason of proclaimed progress and improvement, nothing looked very different.
Social media has fun roasting Cleveland Browns' Week 1 loss https://t.co/GZMmShnww8

— Heather Burns (@hburns33) September 13, 2020
Maybe a couple of more touchdowns make it easier for fans and pundits to simply tip their hat the Ravens' way.
But it is always easier to point out the deficiencies of the lesser squad.
And there is no one easier for fans, or NFL analysts, to pick on than quarterback Baker Mayfield.
Ryan Clark (ESPN): "My Fault I expected a Superstar"
Former Pittsburgh Steeler
Ryan Clark got the Mayfield conversation rolling
on ESPN's
First Take
.
He offered an underhanded mea culpa in explaining his disappointment in the Cleveland quarterback.
"We should not be crushing Baker Mayfield this morning. You know why? Because Baker Mayfield isn't that talented," Clark proclaimed. "So, in turn, it is our fault, not his fault. It's my fault that I thought he should have been number one overall. It's my fault that I expected him to be a superstar."
Clark admits he was fooled by Mayfield's college achievements.
He was part of the minority who felt Mayfield was worthy of the first overall draft pick.
If the rest of that camp abandons the Baker Bandwagon, things will get even uglier in Cleveland.
Stephen A Smith (ESPN): "Not just Skillset, But Improving"
ESPN analyst and co-host of First Take, Stephen A Smith compared Mayfield to Lamar Jackson.
That might not sound like a fair comparison at first, but they are both NFL quarterbacks.
"Keep in mind that this is a guy who is a former No.1 overall pick and he's going up against a guy who was the last pick in the first round of the NFL Draft," Smith said. "Look at the difference between the two — Baker Mayfield and Lamar Jackson — not just in terms of skillset, but in how much you have improved."
Smith's assertion that Mayfield is well behind the curve compared to Jackson was evident Sunday.
Remember that one time Baker Mayfield got picked #1 and Lamar Jackson got picked #32? That was pretty funny.

— Super 70s Sports (@Super70sSports) September 13, 2020
Stefanski and offensive coordinator Alex Van Pelt told everyone they had the answers to fixing Mayfield.
He was coached up to change his footwork and supposedly given a Mayfield-friendly game plan.
But Mayfield displayed the same happy feet, inaccuracy, and poor field reads we saw throughout last season.
Brian Billick (NFL Network): "Mayfield Put Up a Rookie Boxscore" 
Brian Billick of the NFL Network and a former Baltimore Ravens head coach says Mayfield has to win this week.
"If you look at the box score [Sunday] for Baker Mayfield, if it were Joe Burrow in Cincinnati, we'd go, 'Well, OK, that's rookie-esque. We can recognize that,'" Billick said Monday on NFL Network. "But that's not what we're talking about here.
Billick was not the first analyst to compare Mayfield unfavorably to Bengals rookie Joe Burrow.
Colin Cowherd on FoxSports' The Herd With Colin Cowherd said he saw more potential in Burrow than Mayfield.
The venerable Browns troller said Burrow showed more poise and consistency than Mayfield.
Billick went on to assert this week's TNF game against Burrow and the Bengals is a must-win for Mayfield.
"Is there a bigger game for any player in the NFL, more of a must-win in a short week, than Baker Mayfield going up against a rookie, Joe Burrow in Cincinnati?" Billick asked. "This is gonna be interesting on Thursday night. Because (Mayfield) – it's clearly on his shoulders. There will be no excuses given."