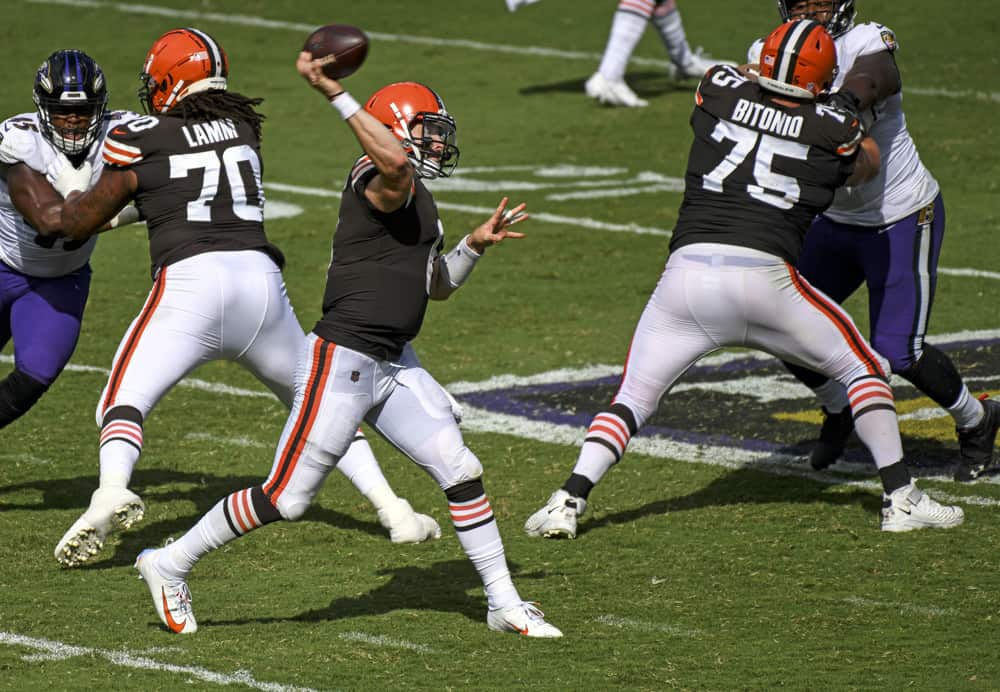 Everyone makes mistakes.
It's just how one goes about fixing those mistakes.
As the Cleveland Browns prepare for their next opponent in the Cincinnati Bengals, there are areas of concern for Week 2.
In what could be a must-win game, considering an 0-2 start would be devastating for a team with playoff aspirations, the Browns are going to need to make these corrections.
If the Browns can make these fixes, it could be a celebratory Monday.
1. Find A Field Goal Kicker
The Browns recently upgraded Cody Parkey from the team's practice squad.
He is set to begin kicking for the team on Thursday.
Source: The #Browns are signing K Cody Parkey to their 53-man roster, a sign he'll kick on Thursday night.

— Ian Rapoport (@RapSheet) September 14, 2020

Parkey has been doomed since his infamous "double-doink" missed field goal when the Chicago Bears lost to the Philadelphia Eagles in the playoffs in 2019.
Last season, Parkey made three appearances by kicking all three attempts through the uprights.
This is going to be a true redemption story for Parkey.
The Browns need Parkey to make tough kicks in tight situations.
Parkey needs this to continue his career.
Everyone wins if this goes well.
Welcome back to Cleveland Cody Parkey.

May the meme szn begin pic.twitter.com/qbDTl67ebm

— LeBear (@LeBear01) September 14, 2020
2. Better Decisions 
The faked punt has been talked about enough, so we are going to move on.
Kevin Stefanski is a new coach that wanted to make a few gambles play for big-time gains.
Hue Jackson tried a fake punt from his own 41 in the 2d quarter in his first game as Browns coach. Kevin Stefanski tried a fake punt from his own 31 in the 1st quarter in his first game as Browns coach. Neither came close to working.

— Tony Grossi (@TonyGrossi) September 14, 2020
It didn't work out and he is going to have to learn from his mistakes.
Stefanski has to run the ball early because the Browns need to take a lead or be in contention to take a lead late in the game.
Quarterback Baker Mayfield cannot throw the ball close to 40 times.
That is not a recipe for success in Cleveland.
Stefanski wanted to call offensive plays over offensive coordinator Alex Van Pelt.
Time to show that you can do better.
3. Limit The Turnovers
This is the most cliche answer of them all but it's true!
The Browns finished the game against the Ravens with two lost fumbles, one interception, and a missed field goal.
Granted, the Ravens are a pretty darn good football team but that is unacceptable.
Another #Browns fumble. This one by Nick Chubb and forced by rookie Patrick Queen. #Ravens up 31-6, end of Q3.

Which begs the question: Is this largely the Ravens' continuity and the Browns' newness showing – or are the Ravens just THAT much better?

— Aditi Kinkhabwala (@AKinkhabwala) September 13, 2020
Moving forward, it's unlikely that Chubb is going to cough the ball up in back-to-back games.
However, it's very likely that Mayfield could throw an interception.
Last year, Mayfield threw an interception in his first seven games of the season, including 13 of the 16 games overall.
If Mayfield can go the whole game without a pick, everyone should like the chances for the Browns.