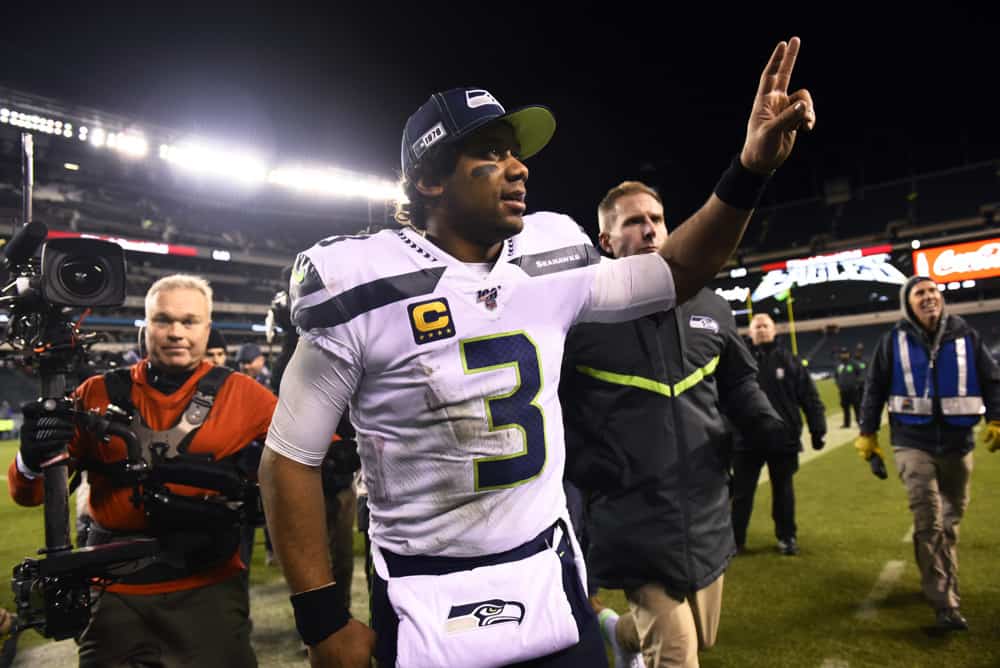 There has been so much talk about quarterbacks with the Cleveland Browns lately so why not dig up some more ancient history.
That is precisely what Dan Patrick is doing with his reporting.
According to Patrick, Russell Wilson nearly became a Cleveland Browns in 2018.
What He Knows
Patrick talks about the proposed trade from the 8:30 minute mark to the 10:30 minute mark in his discussion with NBC analyst Chris Simms.
Sims also was aware of it and reported on it at the time.
Of course, the Browns had the first overall pick in the 2018 NFL Draft.
It is reported that the Seattle Seahawks were very interested in Josh Allen from Wyoming.
There were talks of the Browns trading the pick to the Seahawks for Wilson.
Wilson is believed to have been on board with this trade.
There was mutual interest between Russell Wilson and the Cleveland Browns https://t.co/GmFdXCY9RD

— OutKick (@Outkick) October 28, 2021
Of course, it never happened.
It is not clear anyone inside the Browns organization, past or present, would verify this information.
Those who believe former Browns head coach Hue Jackson would say that it is completely untrue.
Former #Browns HC Hue Jackson on rumors that the #Seahawks discussed trading Russell Wilson to Cleveland for the No. 1 pick in 2018: "I've never heard anything so crazy in my life!"https://t.co/DUUvTBwhaR

— Ari Meirov (@MySportsUpdate) May 15, 2020
With a failed trade, the Browns took Baker Mayfield; Josh Allen was selected 7th overall by the Buffalo Bills, and Russell Wilson remained with the Seattle Seahawks.
What Could Have Been Is Really Unknown
It really is hard to speculate where the Browns would be if they had Russell Wilson.
He is a different type of quarterback than Mayfield.
How would he have handled all of the coaching changes and discord in the organization?
Would the Browns be built for the run game?
Would the Browns have hired Kevin Stefanski in 2020?
We cannot rewrite history or speculate too much.
What Is Known
Coach Stefanski led the Browns on an improbable playoff run in 2020.
Mayfield had a great season; the team finished 11-5 and beat Pittsburgh in the wildcard playoff.
These pieces are still in place in Cleveland.
Injuries have been a big problem this year, but there is no reason to believe the Browns cannot get back to that level of greatness.
Ironically Both Wilson And Mayfield Are Injured
It is odd that this news comes out 3 1/2 years later when both Wilson and Mayfield are injured.
Both have been durable and solid performers for their teams; injuries are just creeping in during 2021.