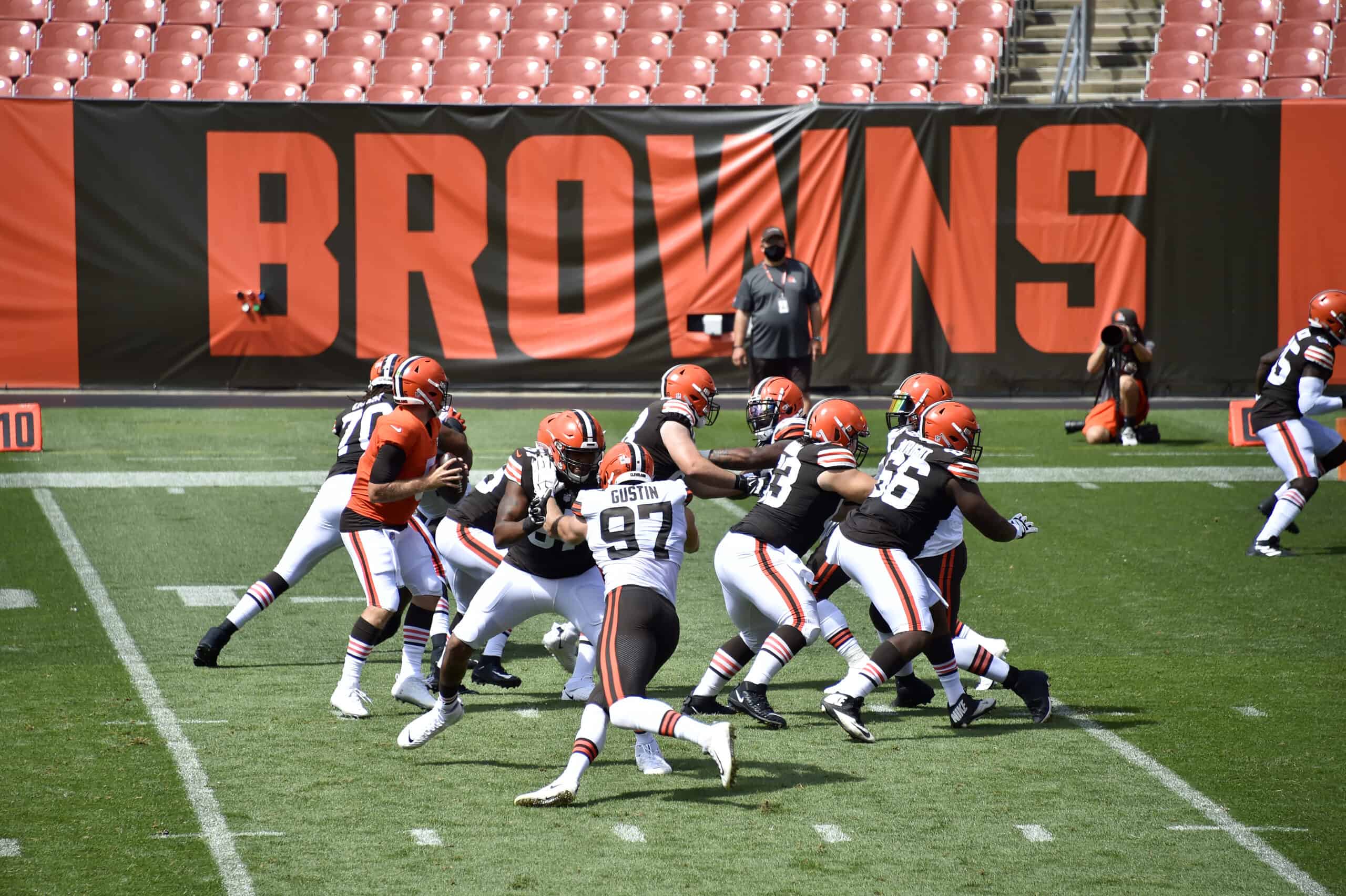 It's that time of year when sports analysts and media personalities begin casting predictions for the upcoming 2021 NFL season.
Today, ESPN analyst Jake Trotter made a bold prediction regarding the Cleveland Browns.
He suggested the Browns could make a surprising roster cut before the regular season begins in September.
Trotter believes the fall guy for the Browns could be linebacker Mack Wilson.
Watch Takitaki and Mack Wilson here. This is what you want to see v run. Taki stands up the FB at the POA to ruin the scheme before it starts and Wilson darts through with proper angle to bring Henry down for the TFL.

Might have been Wilson's best game of 2020. #Browns pic.twitter.com/vHz3cVAgdl

— OBR Film Breakdown (@TheOBRFilmBDN) December 7, 2020
Trotter's Logic
His logic is pretty straightforward.
The Browns used a high-round draft pick (second though many believed he could have gone in the first round) to draft Notre Dame linebacker Jeremiah Owusu-Koramoah (JOK).
JOK's stock has been high since May.
🆕 @j_owuu has the desire to be the best, but the actions to make things happen! ⭐

Watch Meet the Rookies ▶️ » https://t.co/QwVAgP38oJ pic.twitter.com/ZUB2dV17s1

— Cleveland Browns (@Browns) July 4, 2021
Mack Wilson's stock is down after a subpar 2020 season.
"The Browns just spent their second-round pick on Jeremiah Owusu-Koramoah, whom they considered taking in the first round before settling on CB Greg Newsome II. Owusu-Koramoah plays weakside linebacker, the same position as Wilson, who was drafted in 2019 by the previous front-office regime. Whether Owusu-Koramoah eventually starts or not, Wilson can still carve out an important role in the linebacking rotation, but to do that, he'll have to play better than he did last season."
Mack Wilson
The 23-year-old Wilson enters his third year in the NFL and with the Browns.
The Browns selected Wilson in the fifth round (155th pick overall) of the 2019 NFL Draft.
His rookie year was his most effective with 57 solo tackles and 2 quarterback hits.
In 2020, his productivity was about half of his rookie season with 24 solo tackles and no quarterback hits.
He did suffer a hyperextended knee in training camp last August which definitely hampered him.
Wilson is playing under a four-year $2.8 million contract.
One player to watch coming into camp: #Browns LB Mack Wilson. After getting injured last camp, he was never able to fully bounce back. He's been training hard this offseason and was one of the only defensive veterans to have full participation in OTA's. Coaches have noticed.

— Brad Stainbrook (@BrownsByBrad) July 5, 2021
Conclusion
This is obviously mere speculation.
The Browns ran into injury and depth issues last year on defense.
Wilson's playing time could be reduced as a result of JOK, but he is a talented player at a very affordable salary so the Browns may want to hold on to him.
Time will tell.