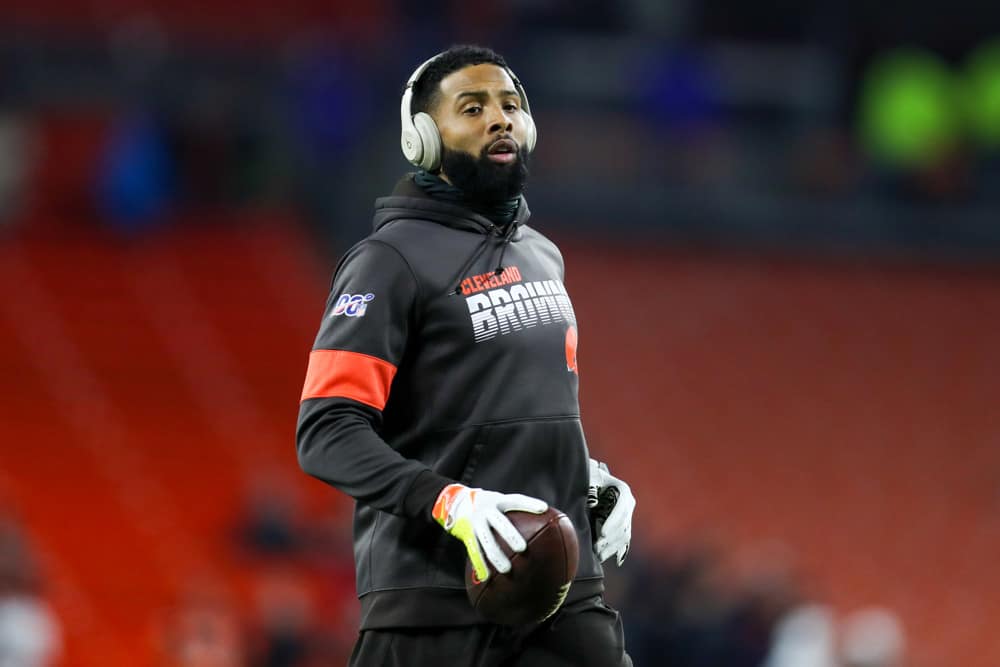 The Cleveland Browns entered the 2021 offseason unsure of when wide receiver Odell Beckham Jr. would return from the ACL injury that ended his season last October.
OBJ has exceeded expectations during his offseason rehabilitation and looks to be ready to go when the season begins on September 12.
OBJ back today after sitting out last practice as part of his planned rehab schedule pic.twitter.com/8yTmraEn49

— Jake Trotter (@Jake_Trotter) August 2, 2021
Knowing this, the analysts on ESPN's Get Up recently debated what OBJ's value is to the Browns offense and Baker Mayfield.
Here are the highlights.
Mike Tannebaum On OBJ And The Browns
Incase the NFL forgot about how good OBJ can be here's an example #Browns. pic.twitter.com/sDiCWWD1V3

— Tyler Johnson (@T_johnson_TJ) July 27, 2021
Former football executive Mike Tannebaum believes a healthy OBJ is the difference maker for the Browns.
He compared OBJ's abilities to the Chiefs Tyreek Hill.
"He makes the difference for the AFC. He can make the one or two plays a game that can take Cleveland above Kansas City. He's Tyreek Hill. He's that dynamic."
It is clear that Tannebaum believes OBJ is a talented player, but it was just a few months ago that he had OBJ joining a different team and making them better.
When asked who should try to make a trade with the Browns for OBJ, Tannebaum said without hesitation the Tampa Bay Buccaneers.
Tannebaum made the comments a few weeks after the team's Super Bowl victory.
"Odell Beckham makes the Tampa Bay Buccaneer defense much better, and here's why. During trade negotiations, you ask for permission to speak to Odell and his agent, and you say hey look, come down here, help us repeat as Super Bowl champs, we need you to take less money because we're trying to keep the group together. But if you win a Super Bowl with Tom Brady, that puts you back on the national conversation. You let Chris Godwin graduate, you take that savings, and now you keep Lavonte David, Shaq Barrett, Ndamukong Suh…So, Beckham is a better player than Godwin, and if you recruit him the right way, you can probably get him for less money. So, I think Beckham can actually help the other side of the ball and still keep you explosive on offense."
Of course, this discussion ended up being irrelevant since the Bucs managed to each of its starting 22 players.
There is almost no chance that the #Browns trade OBJ to Tampa Bay. The #Buccaneers would then need to give up in my mind at least a second rounder and would have to seemingly let either Lavonte David, Shaq Barrett, or Chris Godwin walk. They like those guys too much.

— clebrownsnetwork (@clebrownsntwork) March 8, 2021
What Does This Mean?
OBJ and Landry together again pic.twitter.com/oKnDAlGeO4

— Jake Trotter (@Jake_Trotter) July 28, 2021
Nobody knows how the Browns' offense will flow with OBJ back in the huddle.
Dan Orlovsky made a key point on Get Up.
He said that it is contingent upon Baker to stay disciplined and run the offense based on what the defense presents to him.
Forcing the ball to OBJ will not create success.
He also believed that OBJ has to be content with a role where he makes four or five catches per game for over 100 yards as compared to more catches for less yards.
To elevate the Browns offense, OBJ has to work with Baker and the rest of the team while keeping his ego in check.
It appears as though OBJ has reached this level of maturity and understanding in his career especially after watching his team go to the playoffs without him last season.
Time will tell.