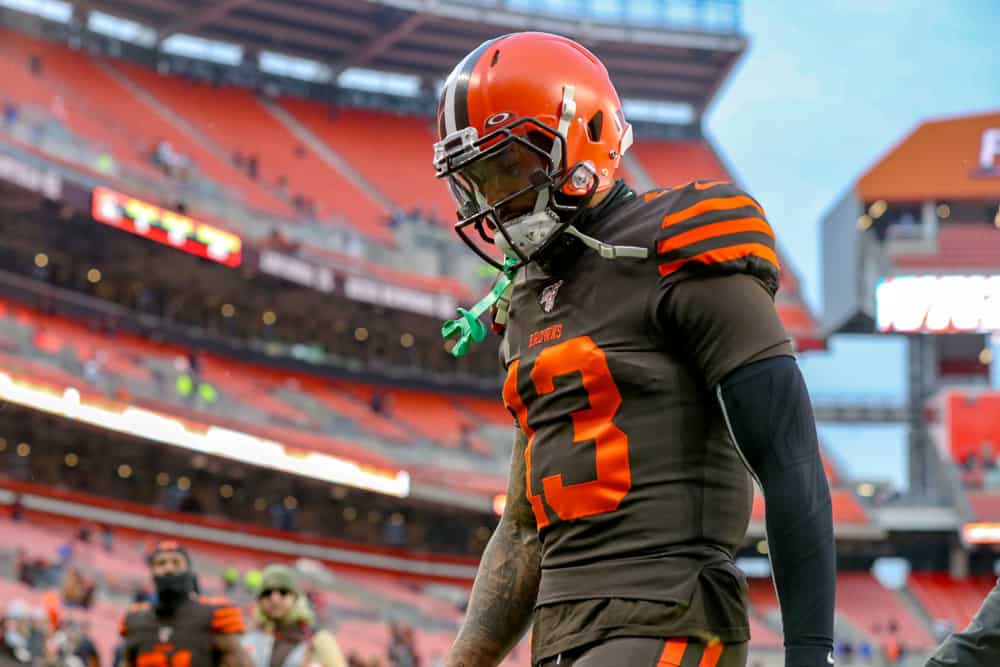 It should come as no surprise that sports media personalities are chattering about which top notch players might join Tom Brady and the Super Bowl Champion Tampa Bay Buccaneers in 2021.
Given the fact that the Cleveland Browns have been answering questions about WR Odell Beckham Jr.'s exit from the team ever since he arrived from the New York Giants in 2019, it is a no-brainer that OBJ would be on the list.
ESPN's Jeff Darlington talks about the idea of OBJ being a Buc.
Could OBJ be Tampa Bay bound?@JeffDarlington on the possibility of the Bucs acquiring Odell Beckham Jr. 👇 pic.twitter.com/SXXDoY6gA3

— Get Up (@GetUpESPN) February 11, 2021
There are so many things wrong with this latest theory that it may be impossible to list all of them.
Here Is The Reality.
The Tampa Bay Buccaneers won the Super Bowl with Chris Godwin and Mike Evans and a late season assist from Antonio Brown as the wide receivers; they don't need OBJ.
Any player with a pulse would love to play with Tom Brady because he's a winner so citing OBJ's relationship with him is nice but doesn't make a difference.
OBJ is coming off a significant injury (ACL) so being medically cleared for a potential trade before the season is improbable.
It always comes back to the money; OBJ's contract is a large one to absorb for any team especially one with no perceived holes at WR.
The Browns have been steadfast that they are looking forward to getting a healthy OBJ back on the field in 2021.
The morning after the Browns lost to the Chiefs in the divisional playoff game, Coach Stefanski said this about OBJ:
"I texted with him this morning. I know he's working really hard to get better in his rehab. I'm excited to get him back here.  I know it was not easy for him being away from his teammates, especially as these games got bigger and into the playoffs. I know he definitely wanted to be a part of it."
The same day GM Andrew Berry said:
"You always want to have someone that talented on the field. He's a dynamic weapon and we like having dynamic weapons on the field…I've said it multiple times, Odell's a good football player. He acclimated nicely with our program, with Kevin, with his teammates. Quite honestly, I just want as many good football players on the roster as possible."
OBJ for his part has not fueled this latest rumor mill.
He seems to be in lock step with the Browns.
Duhhhhhhh….. pic.twitter.com/P7BG4DmUbS

— Odell Beckham Jr (@obj) January 21, 2021
Conclusion
It would be foolish to say this is totally impossible.
But it seems way more realistic to say that it is extremely unlikely.
The Browns will have a busy offseason figuring out how to handle their free agents and scheming ways to tool up their defense.
For the time being, OBJ is here to stay.
Something that many of his teammates are happy about especially Jarvis Landry.
#Browns WR Jarvis Landry said he still looks for best friend OBJ every day at practice even after season-ending injury. "I'm doing my part as a brother and friend to make sure his spirits are lifted. I can't wait to get him back out there on the field."

— Scott Petrak ct (@ScottPetrak) November 12, 2020
Stay tuned for more OBJ theories as the 2021 offseason commences.