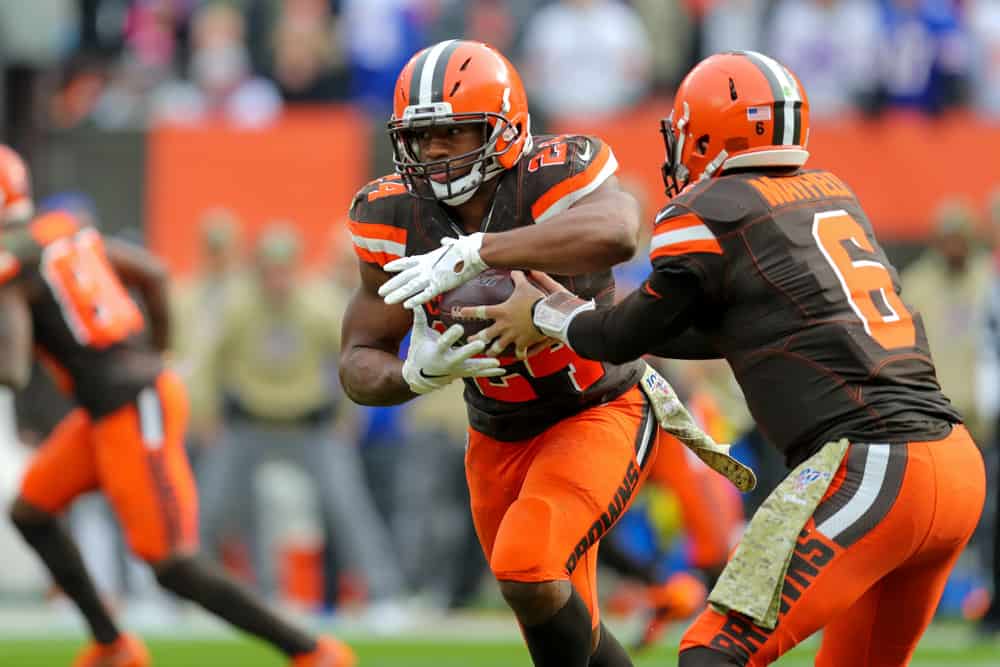 The Super Bowl has concluded, which means it's time to talk about offseason news.
Obviously, the Cleveland Browns didn't achieve their ultimate goal this season.
However, it was a fairly successful year for the team, but there will be higher expectations going into 2021.
The front office has done an incredible job of bringing in young talent with limitless potential.
The downside to that is when it's time to negotiate an extension, it becomes difficult to keep all your key players.
That being said, the Browns could have a few tough decisions coming their way in the next few seasons.
3. Nick Chubb
The good news is, Browns fans no longer have to suffer watching mediocre running backs attempt to find open lanes.
It seems like the days of watching Trent Richardson and Isaiah Crowell getting stuffed at the line of scrimmage are over.
In 2018, Cleveland selected Georgia running back Nick Chubb in the second round of the draft.
It's honestly quite surprising Chubb dropped into the second round considering the ridiculous numbers he produced in college.
Nick Chubb career stats:
Carries – 758
Yards – 4,759
Touchdowns – 44
Catches – 31
Yards – 361
Touchdowns – 4 pic.twitter.com/WUhhT18qR8

— dawgpost (@DawgPost_) January 13, 2018
He has not showed any signs of slowing down since joining the Browns in 2018.
Through three seasons, Chubb has 3,557 rushing yards with 28 touchdowns and two Pro Bowl selections.
In 2020, Chubb missed four games and still managed to get over 1,000 rushing yards and a career-high 12 touchdowns on the ground.
.@NickChubb21's top plays from the 2020 season ✌️ pic.twitter.com/NFtpHbdEHt

— Cleveland Browns (@Browns) February 9, 2021
2. Denzel Ward
It didn't take defensive back Denzel Ward too long for him to prove he's an elite player in this league.
His rookie season he landed himself in the Pro Bowl and he continues to get better.
The 23-year-old has 143 tackles, 40 passes defended, and seven interceptions through three seasons in Cleveland.
Ward makes some outstanding plays on the field that are arguably unhuman.
Denzel Ward really SLID past this block to make the tackle 😱

(via @thecheckdown)pic.twitter.com/bchsB5O7k8

— SportsCenter (@SportsCenter) October 27, 2020
He is the type of player that you can trust to guard any wide receiver in the league.
Ward is a true lockdown defensive back and has quickly become one of the best in the NFL.
It's fair to say that Ward will likely get a larger contract than Chubb when the time comes.
Honestly, it wouldn't be shocking to see Ward getting nearly $20 million a season, but he is well worth the money.
There are some injury concerns, but this type of athlete and player does not appear in the draft every season.
1. Baker Mayfield
It probably won't come as a shock to most people that quarterback Baker Mayfield ranks at the top of this list.
The 25-year-old had an absolutely incredible bounce back season with the Browns in 2020.
First-year head coach Kevin Stefanski was able to get the most out of his third-year quarterback.
Mayfield not only got it done in the regular season, but played well in the postseason too.
He threw for 263 yards and three touchdowns in the first round win over the Pittsburgh Steelers.
Baker Mayfield flings it to Austin Hooper for another #Browns touchdown. pic.twitter.com/LNtlRPNpCK

— Justin Groc (@jgroc) January 11, 2021
In 2020, Mayfield threw for 3,563 yards with 26 touchdowns and eight interceptions through 16 games.
It certainly seems that Mayfield is going to be the franchise quarterback for Cleveland.
Nowadays, quarterbacks in the NFL get massive extensions and often times it comes back to bite the organization.
However, this is the first time in a very long time that Cleveland has found a reliable option at quarterback.
Getting Mayfield locked up needs to be the first thing the Browns do before his value goes even higher.