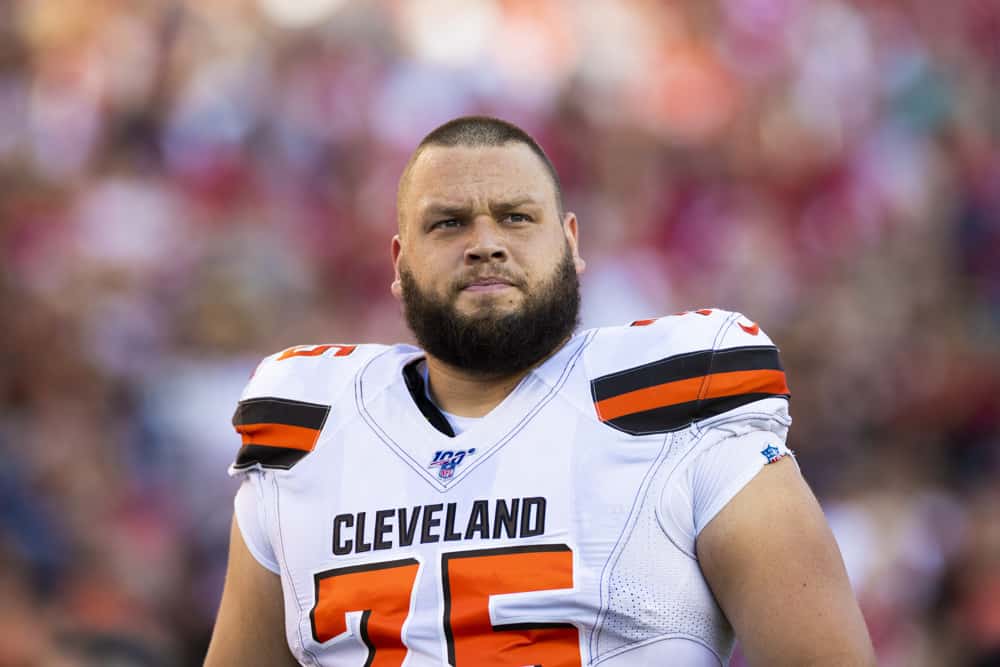 Joel Bitonio and Wyatt Teller already earned top-ten rankings by NFL analysts like Pro Football Focus.
Fans and fellow players lauded the Cleveland Browns' guards with Pro Bowl selections for their 2022 performance.
Now, an ESPN committee of executives, head coaches, and scouts has weighed in.
And the group agrees Joel Bitonio is a top-5 interior lineman heading into 2023.
Top 10 Best Guards/Centers in the NFL ranked by Executives, Players, Coaches and Scouts, via @JFowlerESPN https://t.co/Lev8wBcJrc

1) #Cowboys Zach Martin
2) #Chiefs Joe Thuney
3) #Colts Quenton Nelson
4) #Packers Elgton Jenkins
5) #Browns Joel Bitonio
6) #Eagles Jason Kelce
7)… pic.twitter.com/T2506JEaXv

— Dov Kleiman (@NFL_DovKleiman) July 16, 2023
Teller copped an honorable mention for garnering the 14th most points in ESPN's survey.
Over 80 voters submitted a top-ten list of the best centers and guards in the league.
Five centers made the top-15 as Teller earned the 9th most votes among guards.
Cleveland was one of 3 teams with more than one player in the top ten.
What They Said About Bitonio 
Bitonio earned his second straight top-5 spot in ESPN's annual survey.
And he was among 6 different players who earned at least one nod as the best of the bunch.
One of his peers says his team's position group felt Bitonio was the best in the league.
Joel Bitonio was insane last season. pic.twitter.com/55I9BsPeap

— Adam Pfeifer (@APfeifer24) July 14, 2023
And an NFL executive had this to say about the Browns' perennial Pro Bowler:
"Bitonio stands alone at the top for me. He can play OG and match DL speed and quickness, yet he has a left tackle's skill set and athleticism."
Say all you want about the rushing ability of Nick Chubb, who won the nod for best RB in the same poll.
ESPN says Bitonio is a key reason the Browns were among the top 6 rushing teams for each of the last 3 seasons.
And lining up with another top 10 guard in Wyatt Teller doesn't hurt, either.
What It Means For The Browns 
Off-season ranking and ratings are usually little more than fillers in the NFL downtime between events.
But there can be some interesting observations, such as how important it is to have a strong interior line.
Only two other teams landed more than one player among ESPN's top 15 centers and guards.
And those two teams went all the way to the Super Bowl this past year.
Wills, Bitonio & Teller executing 5 snatch-trap techniques in the same game pic.twitter.com/g62PFeTZpT

— Brandon Thorn (@BrandonThornNFL) October 6, 2022
Philadelphia saw all three of their interior linemen make the cut, along with Kansas City's guards.
Those teams placed more players than the Browns in other survey components.
But Cleveland's strong inside blocking is an important part of the new 2023 Browns offense.
And PFF likes Ethan Pocic, even if Cleveland's center didn't get votes from the ESPN committee.