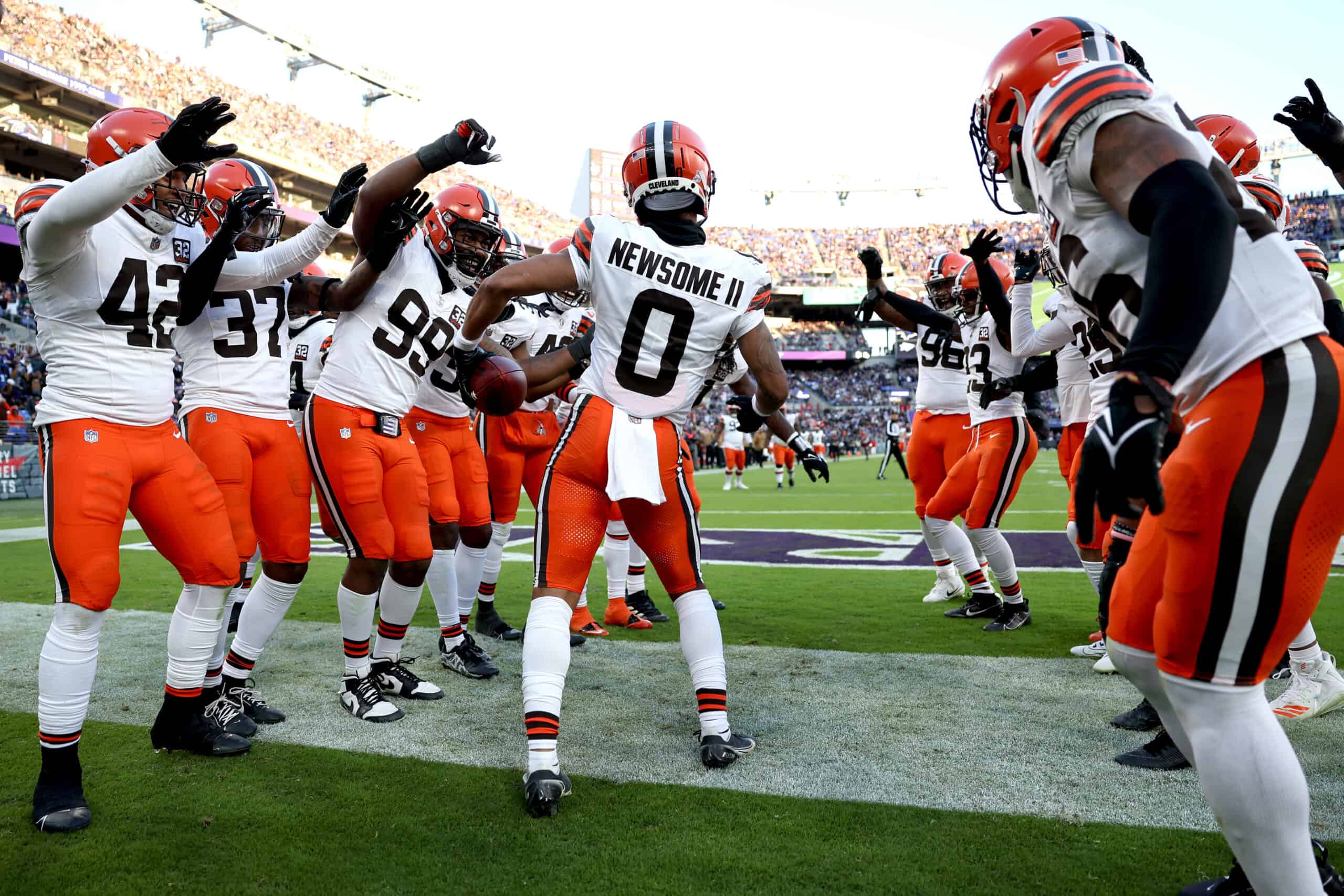 On Sunday, the Cleveland Browns showed tremendous grit and resilience in coming back to upset Baltimore, 33-31.
At two different points during the game, the Browns were down by 14 and 15 points and still found a way to win.
Cleveland currently sits at 6-3 in the AFC North, which is third in the division behind Baltimore (7-3) and Pittsburgh (6-3).
Despite their position, ESPN still gives the Browns a 78.3 percent chance to make the playoffs and a 28.8 percent chance to win the division, per Jake Trotter.
AFC North playoff odds, per ESPN FPI
Ravens: 89.1% (49.2 to win division)
Browns: 78.3% (28.8)
Steelers: 52.9% (15.6)
Bengals: 33.8% (6.4)

— Jake Trotter (@Jake_Trotter) November 13, 2023
This Sunday, Cleveland hosts the Steelers for the chance to leap into second place.
Pittsburgh beat the Browns on September 18, 26-22, in a game that saw the season-ending injury to Nick Chubb.
Since that day, the Steelers have won five of seven.
Meanwhile, the Browns have also gone 5-2.
After Week 11, Cleveland has a favorable schedule that includes tough matchups against Jacksonville, Houston, and division rival Cincinnati.
Baltimore has the Bengals, Jaguars, 49ers, Miami, and Pittsburgh in the next few months.
Cincinnati has perhaps the division's toughest remaining schedule with games against Baltimore and Pittsburgh (twice), Jacksonville, Minnesota, Kansas City, and Cleveland.
Before Sunday's contest, numerous NFL talking heads were calling the Ravens the best team in the league.
That looked spot on as Baltimore jumped out to a 17-3 lead at the end of the first quarter, then took a 24-9 lead in the third.
After that, Deshaun Watson played well, and the Cleveland defense stepped up.
Ravens quarterback Lamar Jackson was intercepted twice and sacked three times, including 1.5 from Myles Garrett.