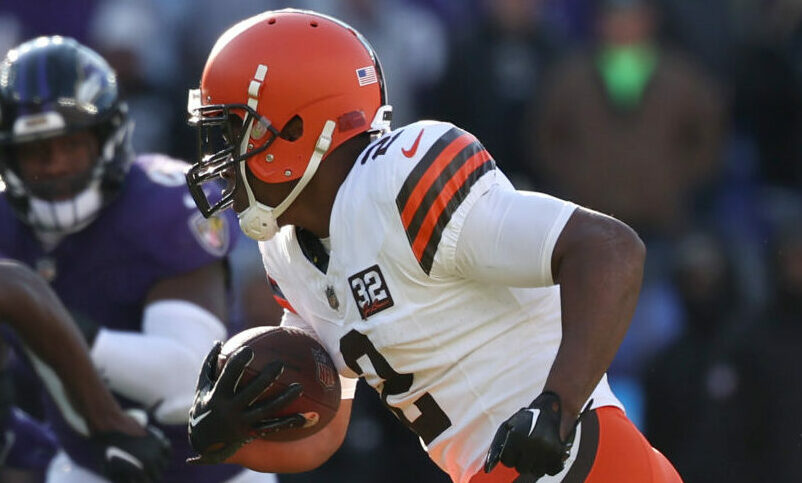 Andrew Berry traded away Donovan Peoples-Jones at the NFL trade deadline, and his heir apparent, Cedric Tillman, isn't on the same page with Cleveland Browns QB Deshaun Watson yet.
But the way things are working right now, the team doesn't need much from their third wide receiver.
That's because, as PFF CLE Browns points out, Amari Cooper is carrying the wide receiver corps (via PFF CLE Browns on Twitter).
Amari Cooper in his last 3 games:

17 receptions
326 yards
1 TD
109.7 passer rating when targeted

— PFF CLE Browns (@PFF_Browns) November 13, 2023
Cooper has 17 catches over the last three games, good for 326 yards and a touchdown.
P.J. Walker and Watson combined for a passer rating of 109.7 when targeting their top receiver, and don't let the one touchdown fool you into thinking he didn't help the Browns score 80 points in those games.
Cooper delivered a trio of first-and-goals, each of which was converted into a Kareem Hunt touchdown run.
Thirteen of his 17 catches resulted directly in first downs, including four
third-down conversions.
He also drew a pass interference call to convert a fourth down play against Seattle, but his biggest catch might have been one that only indirectly led to a first down.
It came seconds after the 9-yard sack and fumble by Watson on the Browns' game-winning field goal drive Sunday.
Wyatt Teller recovered the ball to avert immediate disaster, and then, Cooper made a diving catch to turn 2nd and 19 into a manageable 3rd-and-2.
That allowed Jerome Ford's 6-yard rumble to keep the Browns' drive to victory on track.
Cooper will try to keep his hot streak going against the Steelers in Week 11.