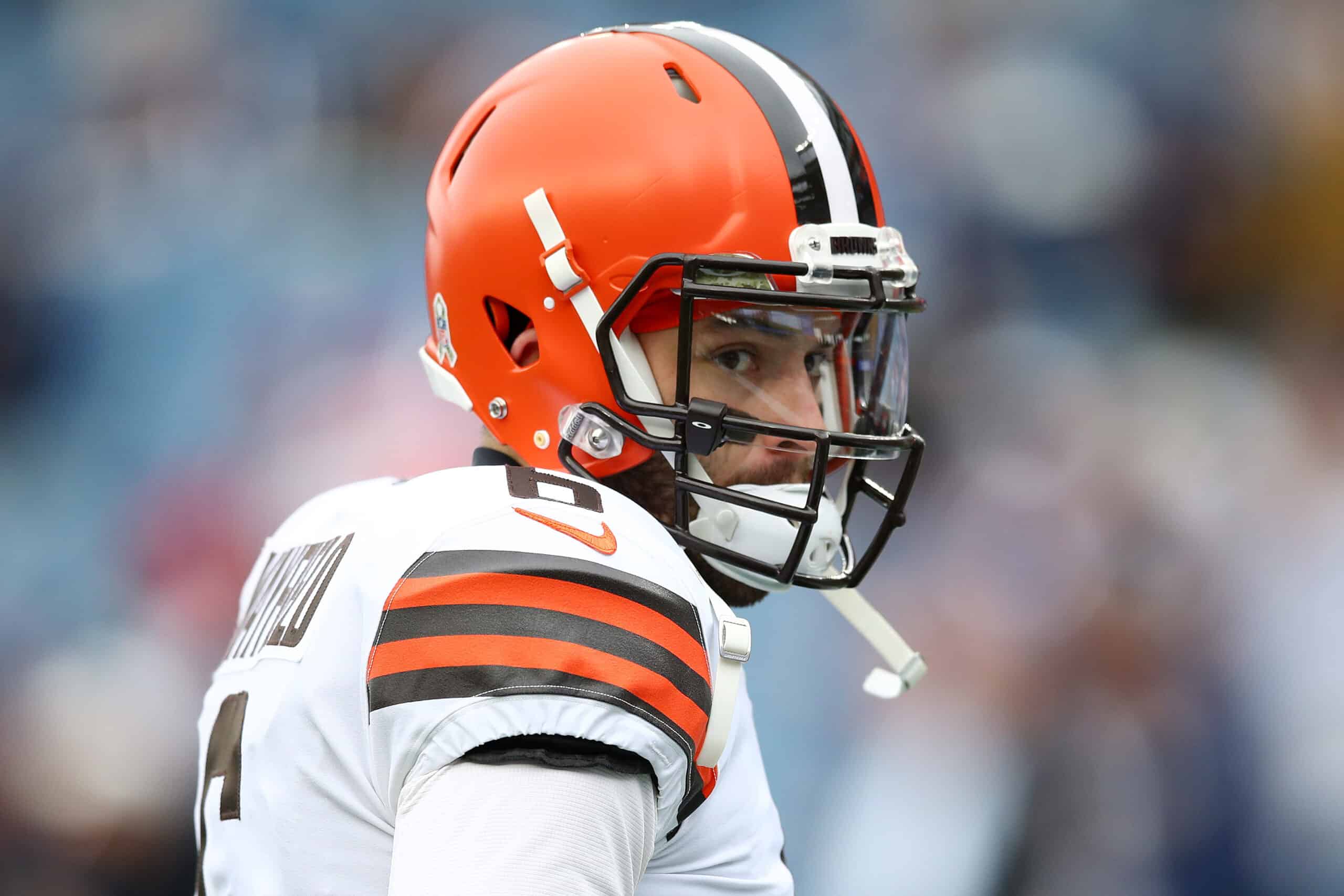 NFL analysts on ESPN's "Get Up" got into a spirited conversation during Tuesday's edition of ESPN's "Get Up" about Baker Mayfield and Cleveland Browns fans.
Mike Greenberg, Jeff Saturday, Marcus Spears and Dan Graziano debated whether Mayfield's commentary towards fans was warranted.
"Baker Mayfield needs to shut up," Greenberg said. "If he's too hurt to play, then don't play.

"In the meantime, don't criticize the fans who were there before you got there and will be there long after you're gone."
On Monday, Mayfield addressed Browns fans booing him at FirstEnergy Stadium.
"Those are probably the same fans that won't be quiet while we're on offense and trying to operate, so (I) don't really care,' Mayfield said.
Spears gave examples of how Tom Brady and Dak Prescott endured similar criticism in previous weeks.
"Every quarterback, Baker, in the NFL deals with this type of scrutiny, and you call out the fans?" Spears said. "The people that won't be quiet when you on the…seriously man? Seriously? This is old Baker."
Mayfield skipped his Sunday postgame news conference after the Browns' 13-10 win against the Lions.
On Monday, Mayfield said he was "frustrated" and hasn't dodged questions from media members.
"Not one part of that's not being accountable," Mayfield said. "I'd be the first to tell you I played like s**t, so it's not about accountable and I don't owe you guys (media members) any of that.

"I owe that to my teammates, and I talked to them, so that's what matters."
NFL players are obligated to speak with media members after games and are subject to fines from the league if they don't.
Saturday compared Mayfield's situation to how Brady had a brief postgame news conference after the Tampa Bay Buccaneers' 29-19 loss to the Washington Football Team on Nov. 14.
"Does anybody forget Tom Brady and his postgame conference last week when he gave three words (and) was like, 'Peace, I'm out. We've got to play better. That's it.'" Saturday said. "I'm (going) to let you know not all quarterbacks are treated the same."
There are many accolades separating Brady's on-field accomplishments and Mayfield's, chiefly among them, the difference of seven Super Bowl rings.
Spears claimed Saturday was "trippin.'"
"We've given (Kevin Stefanski) a full pass," Saturday said. "This has not been Baker Mayfield. Their punter dropped a punt to lose to the Chiefs, their defense can't stop a soul and they've got all kinds Pro Bowl names on the back of their jerseys.

"Baker Mayfield has played with one arm, one leg, organs have been moved around, whatever this thing is and we're going to beat him up…By the way, they won the (Detroit Lions) game."
Saturday mentioned how the Lions tied the Pittsburgh Steelers, 16-16, in Week 10.
"They won the game and the fans are boing," Saturday said. "Here's my issue, I don't care about the fans either, but if you're Baker Mayfield, you sucked, but you won.

"In Cleveland, you're not used to winning."
Graziano mentioned how the Browns should consider starting Case Keenum instead of a banged-up Mayfield.
"He can't win going after the fans," Graziano said. "That's a stupid move by him just personally."
Mayfield is battling a torn labrum and fracture in his left shoulder along with a bone bruise in his knee and a bruised heel.
The Browns (6-5) are getting ready for back-to-back games against the Baltimore Ravens with a bye week in between contests.
The Ravens (7-3) lead the AFC North division entering Week 12 of the 2021 season.