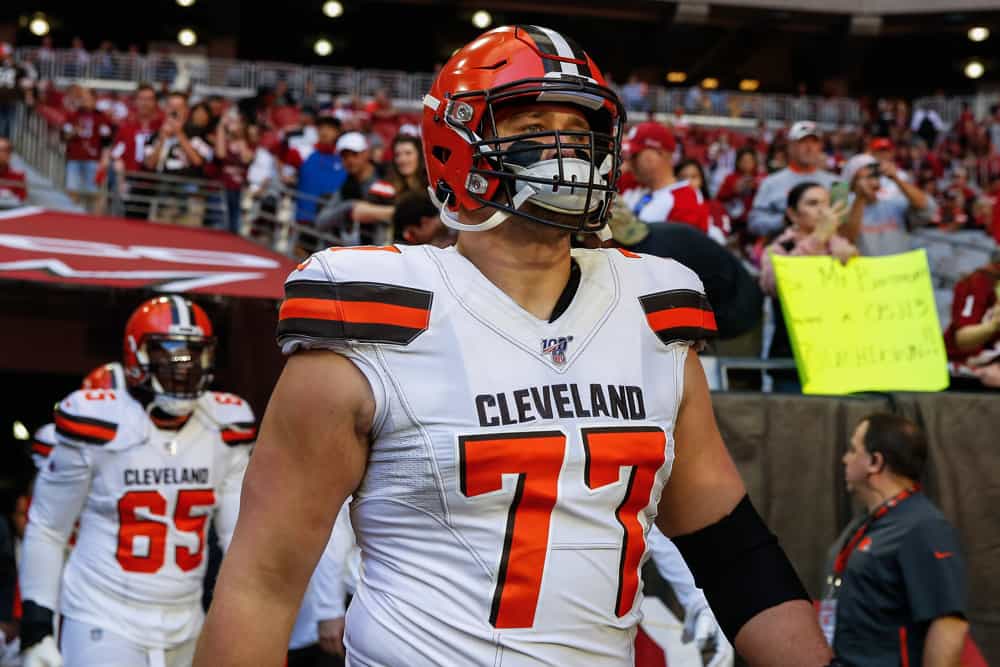 Cleveland Browns guard Wyatt Teller, 26, got married over the weekend.
The new Mr. and Mrs. Teller tied the knot in Key Largo, Florida.
Pictures began appearing on social media, and it looked like a picture-perfect setting and wedding.
Ladies and Gentlemen, I give you Mr. & Ms. Wyatt Teller!!! Congratulations @carlyteller & Wyatt!!! #Browns pic.twitter.com/yFCPaljBjm

— BrownsTherapy (@BrownsTherapy) April 5, 2021
Few details from the event are known, but judging by Carly's Twitter account, a good time was had by all.
Great time at Wyatt Teller's wedding. Both he and Carly looked incredible! #tellerYES pic.twitter.com/K6tpHVX3iL

— Andy Ross (@adross77) April 4, 2021
If anyone sees 2 Whiting-Teller bridesmaids (@znbirtsch & @cnbradford6) frolicking in the Keys tonight please tell them to answer my (👰🏼‍♀️) FaceTime thx

— Carly Whiting Teller (@carlyteller) April 2, 2021
congrats to wyatt & carly teller! here's to a wonderfully happy marriage ❤️ #Browns pic.twitter.com/Z88O9HXFKp

— gabb goudy (@gabbgoudy) April 4, 2021
A Public Engagement
Everybody remembers how Wyatt Teller popped the question.
It was right around Christmas when Teller took Carly to FirstEnergy Stadium and asked her to marry him.
The engagement was short and sweet.
A Month Removed From The Alligator Story
The last time we saw much from Teller on social media was in March; he was hauling a 10 foot alligator over his shoulders from a hunting trip in Florida.
His now wife Carly shot the video.
While some marveled at the images, others found fault with them for several reasons, most notably the legal hunting season for alligators in Florida is August through November.
#Browns RG Wyatt Teller carrying an alligator on his back 😳 pic.twitter.com/k35P9ZSqdG

— Brad Stainbrook (@BrownsByBrad) March 5, 2021
The Browns Need A Healthy Teller
One thing is clear.
The Browns are a much better team when Wyatt Teller is healthy and on the field.
Teller enters his third season with the Browns.
Despite dealing with a calf injury in 2020, Teller is one of the biggest reasons that running backs Nick Chubb and Kareem Hunt were successful.
Highest-Graded Players of 2020:
1. Aaron Rodgers – 94.9
2. Wyatt Teller – 93.8
3. Patrick Mahomes – 93.0
3. Travis Kelce – 93.0 pic.twitter.com/tq87J9q66j

— PFF (@PFF) December 19, 2020
Had he not missed playing time, he certainly would have made the Pro-Bowl.
Pro Football Focus named him first-team All Pro while the Associated Press listed him as second-team All Pro.
Teller is entering the fourth and final year of his contract valued at $2.7 million.
His extension is going to be an expensive one with estimates of a $14-$15 million per year payday.
Teller has made it clear he wants to stay in Cleveland so let's hope the Browns can work out an extension before he hits free agency.
Asked #Browns G Wyatt Teller on a possible contract extension on the podcast:

"It's a negotiation…it's going to be a long road. He goes on to add "All I can control is making a lot of money in this next contract…I want to be in Cleveland, I love Cleveland

— Brad Stainbrook (@BrownsByBrad) February 7, 2021
Ironically, both Teller and Nick Chubb will be free agents for the 2022 season.
In the meantime, let's look forward to the exciting 2021 season ahead and congratulate the newlyweds.