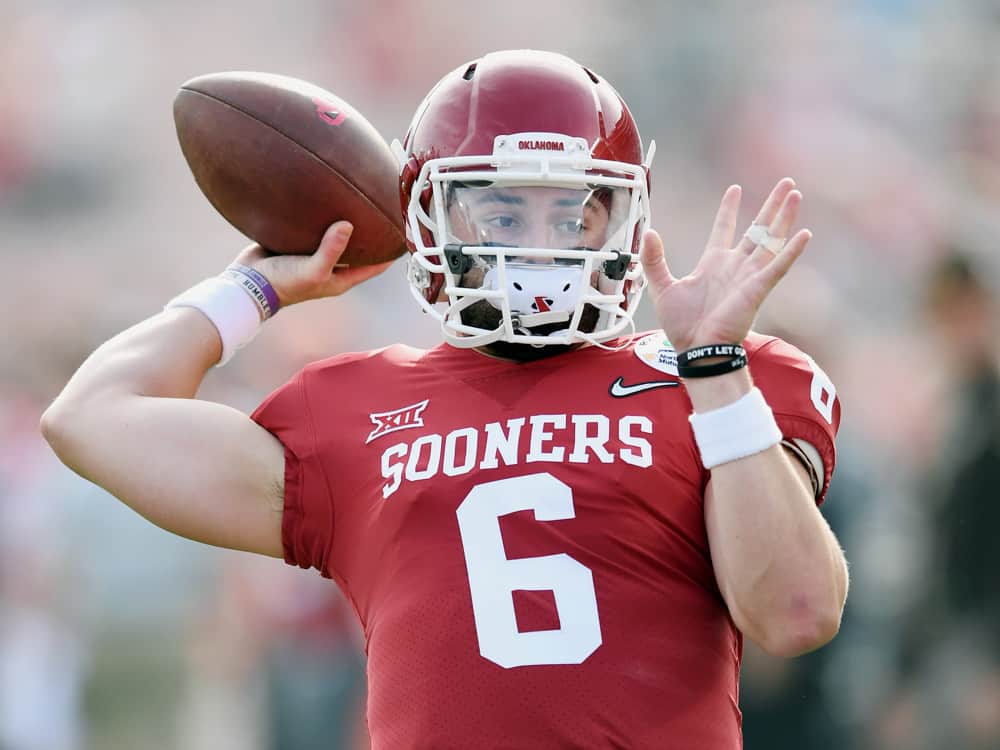 There's no doubt college football will look a little different this year.
The Big Ten and PAC-12 have decided to cancel their fall college football seasons, whereas it looks like the ACC, Big 12 and SEC are planning to play.
Not to undermine the seriousness of the coronavirus pandemic, but there will be repercussions.
As of Friday morning, data from the Centers for Disease Control and Prevention shows 794,256 people worldwide have died with COVID-19, which includes 174,290 deaths in the U.S. and counting.
These are sobering numbers.
It's important to understand what kinds of people are most affected by the novel coronavirus from a health standpoint.
The CDC and state health departments all across the country have acknowledged people older than 65 or who have underlying medical conditions tend to be higher COVID-19 death rates compared to younger people.
The state of Ohio is no different, where the median age of people who have died with COVID-19 is 80 years old.
So far, 3,929 people have died in Ohio with COVID-19, but there are only two among people age 19 or younger.
Furthermore, 13 people between the ages of 20-29 have died in the state with COVID-19.
In 2020, we live in a world where the University of Cincinnati is planning to play a fall football season, but the Ohio State University isn't.
Even typing the above sentence feels weird.
While college football players should not be forced to play this fall amid a worldwide pandemic, they should have the choice.
Ohio State quarterback Justin Fields and Clemson quarterback Trevor Lawrence feel the same way.
Both players are likely first-round picks in next year's NFL Draft.
Fields' #WeWantToPlay petition to Big Ten Commissioner Kevin Warren, Big Ten University Presidents and Big Ten Athletic Directors has 293,373 signatures as of Friday morning.
Warren's son, Powers, is planning to compete this fall as a redshirt junior wide receiver at Mississippi State as the SEC plans to move forward with a fall season.
Plus, Gov. Mike DeWine gave Ohio high schools the green light for football games and other fall contact sports.
Ohio is among the 37 states planning to play high school football this fall.
DeWine's decision makes sense when examining Ohio's mortality data.
No doubt, there are several factors to consider when making any decision related to the ongoing pandemic.
One major key is to make sure asymptomatic carriers of COVID-19 do the best job possible with social distancing and limiting their exposure to others to prevent the spread of the virus to people who are more susceptible.
How can anyone in the Big Ten believe it's safe for college kids to be on campus — in dorm rooms, classrooms, cafeterias and libraries — yet student-athletes can't compete against conference opponents?
Those same student-athletes are still allowed to train for their sport up to 20 hours per week too.
It is nonsensical.
Socially distance, wash your hands and wear a mask.
So what are the repercussions of a fall football season without teams from the Big Ten or PAC-12?
Consider the last three No. 1 overall picks of the NFL Draft: Cleveland Browns quarterback Baker Mayfield (2018), Arizona Cardinals quarterback Kyler Murray (2019) and Cincinnati Bengals quarterback Joe Burrow (2020).
None of them would have become the first overall selection if not for their final college football seasons.
During a recent episode of "They Ryen Russillo Podcast," football analyst Todd McShay said he had Mayfield graded as a third-round pick headed into 2017.
That year, Mayfield won the Heisman Trophy and took Oklahoma to the Rose Bowl, finishing the season with a 12-2 record.
"The point of the story is the last three first overall picks, they had [been] so far off the radar in terms of getting that No. 1 overall money and they all made $30-plus million in their four-year contract," McShay said.
McShay said he had a fifth-round grade on Burrow before his historic final season at LSU.
"I had been saying this on TV and I had a couple of guys from the league text me like, 'Dude, you're lying. You're full of you know what,'" McShay said. "'There's no way you had a [fifth-round grade on Burrow]. We had a free-agent grade on him. He wasn't even worth…Like, how did you even have that?' So, fifth round was a generous August grade a year ago."
Before Murray's Heisman-winning season in 2018 at Oklahoma, most people believed he would go on to play baseball for the Oakland A's organization.
Murray has made more money as the first overall pick of the 2019 NFL Draft compared to what he would have with the A's.
"What hurts is knowing that there are guys out there that could get in the first round — and there always are — that can get in the first round that don't have a chance to go out there and prove that they've gotten bigger, they've gotten a better opportunity and their ready to be that guy," McShay said.
Millions of dollars are at stake depending on when or even if a player gets drafted.
"Listen, fifth round, seventh round or undrafted free agent, you're making a few hundred thousand dollars if you make the team, and then you get the league minimum," McShay said.
During the 2020 NFL Draft, the Big Ten and PAC-12 had 80 players selected among the 255 players picked.
Big Ten and PAC-12 players selected in the 2020 NFL Draft by round:
First round: Eight
Second round: 10
Third round: 11
Fourth round: 13
Fifth round: Eight
Sixth round: 18
Seventh round: 12
The notion the Big Ten or PAC-12 playing a spring football season is a pipe dream for the following reasons:
1. There is no guarantee our country has a better grasp of the coronavirus pandemic in the spring compared to now. A vaccine likely won't be ready by then, and even if it is, distribution and effectiveness need to be considered.
2. Why would a top draft pick like Fields or Lawrence play with April's NFL Draft and NFL Combine preparation? There's too much risk of getting hurt before getting paid as a professional.
"Any big name player you're thinking about who is draft-eligible, cross him off," McShay said about the potential of a spring season. "He's not playing.

"I would advise any player that gets a recommendation from the NFL saying, 'You're going to be a first or second-round draft pick,' absolutely do not play in the spring. I would still tell you, 'If you think you're third or fourth round, don't play in the spring.'"
3. The wear-and-tear is too great on a players' body with a quick turnaround playing in the spring and then again in the fall only a few months later.
"Some of these guys who would play 26 games in like nine months?" McShay said. "It just doesn't work."
Imagine a world where Mayfield is playing for a different NFL team; Murray is in MLB; and Burrow is trying to find work with his college football experience and master's degree in liberal arts.
These are a few examples to show that the consequences are tenfold when deciding to cancel the fall college football season.