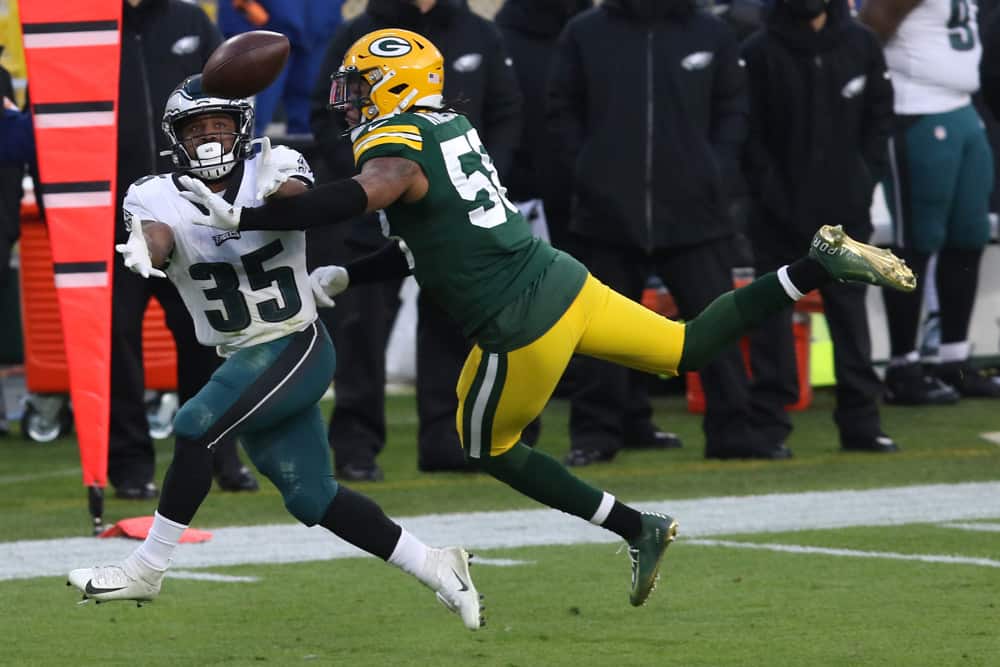 Linebacker Christian Kirksey is a free agent after the Green Bay Packers released him Friday.
It is no secret the Cleveland Browns need some linebacker help heading into the 2021 season.
Kirksey is a homegrown Brown, a 2014 third-round draft pick, and former team captain.
Cleveland Browns' All-Decade Team Linebackers: D'Qwell Jackson, Christian Kirksey and Joe Schobert via @wkyc

🏈 Read more great @Browns articles at https://t.co/5UMh4xA2ep 🏈

— Dawg Pound Browns (@DPBrownsNFL) December 12, 2019
He is a former Walter Payton Man of the Year candidate for the Browns.
Despite a change in coordinators and base defenses, Kirksey led the NFL in tackles with 281 over the 2016-17 seasons.
The Browns' new brain trust released Kirksey, coming off two injury-shortened seasons, before the 2020 season.
Kirksey missed 5 more games for the Packers in 2020, but still had the second-most tackles on the team.
The 7-year veteran has enough in the tank to provide consistent play and a veteran presence in the group.
Should the Cleveland Browns re-sign Christian Kirksey?
Yes- Bring the Captain Home! 
Joe Woods' defense can use some leadership and mentoring for his young linebackers.
Much is expected of Sione Takitaki, Jacob Phillips, and Mack Wilson next season.
Christian Kirksey is a natural team leader and combines experience and some Browns history to the role.
During most of his first tenure in Cleveland, Kirksey was a leading tackler but did not stand out versus the pass.
Turned my obstacles into challenges pic.twitter.com/A5op2gZfeS

— Christian Kirksey (@Kirko58) February 15, 2021
In the dominant NFL offensive style of today, that could be a liability.
BJ Goodson played the pass better than expected, though he was well short of a deterrent to short passing games.
Kirksey might have some untapped skills as a pass defender, however.
In Gregg Williams' second season in Cleveland, Kirksey's role subtly changed.
After just 7 games, Kirksey had a career-high 5 passes defended and his first two career interceptions.
We'll never know if those numbers would have held up as a hamstring injury ended Kirksey's season.
But he had two more picks for the Packers in 11 games last year.
With Joe Woods' minimal use of linebackers, Kirksey is plenty good enough to rotate in with the younger players.
No! Break With the Past and Move On! 
Christian Kirksey played in only 20 games over the last three years due to injuries.
That number would be worse if not for the shortened injured reserve rules put in place for the 2020 season.
Any advantage to bringing a former player and captain back is moot with a new defensive coordinator in town.
Kevin Stefanski and his staff introduced a winning culture not seen in Cleveland for a long time.
There is no practical reason to look to former Browns in hopes of furthering the rebuild process.
Christian Kirksey was released with a failed physical designation.

— Zach Kruse (@zachkruse2) February 19, 2021
Kirksey had some big moments for the team, but he didn't win many games for them.
BJ Goodson stepped in with the new regime and earned kudos from teammates and coaches.
If Andrew Berry wants a solid player and leader on the cheap for his linebacking corps, bring back Goodson.
And if Berry wants to bring an impact linebacker into the fold, free agency offers some very good options.
Unless Berry uses all of his cap space on the defensive backfield and edge positions,
He would be hard-pressed to justify signing Christian Kirksey to the roster.