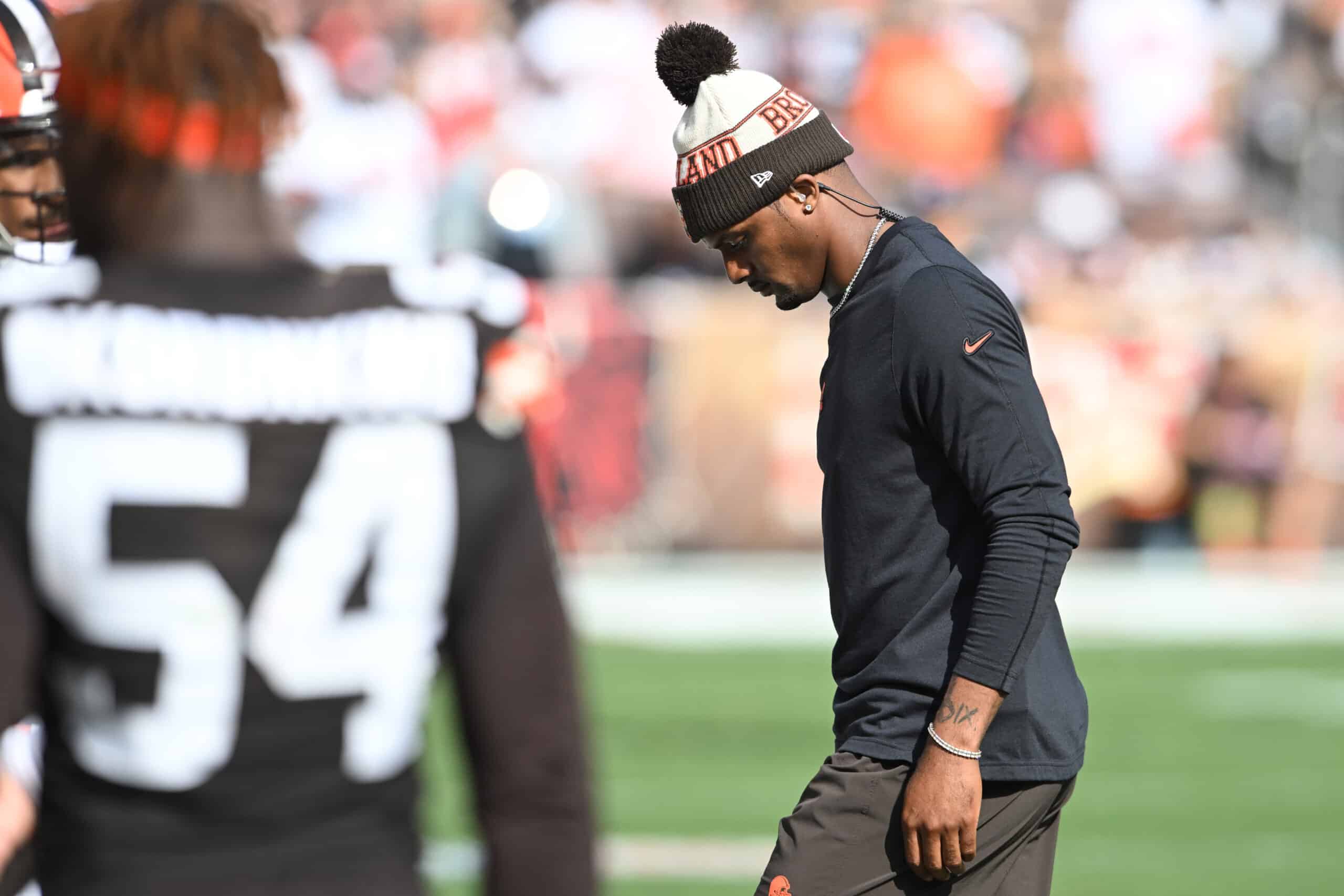 Cleveland Browns fans hoping to see Deshaun Watson after the bye week may have to wait a little longer.
This clip from team beat reporter Scott Petrak of the Chronicle-Telegram showed Cleveland's quarterbacks getting some work in during Monday's practice.
#Browns QBs, minus Deshaun Watson, practice Monday. pic.twitter.com/F5wfu8BLI6

— Scott Petrak ct (@ScottPetrak) October 9, 2023
The man missing from the clip, of course, is Watson.
Deshaun did not practice on Monday as he continues to deal with a sore shoulder.
Level of Concern
This is alarming for some after Watson already missed last week's game against the Baltimore Ravens.
Conflicting messages leading up to (and after) that game caused some surprise throughout Cleveland when Deshaun didn't play.
Now, it appears his shoulder complications are more serious than some initially thought.
Head coach Kevin Stefanski claims Watson practiced inside on Monday as "just part of his rehab".
#Browns coach Kevin Stefanski on why Deshaun Watson worked inside today: Just part of his rehab, still working through everything.

— Scott Petrak ct (@ScottPetrak) October 9, 2023
Will He Play Sunday?
It's unclear whether or not Watson will be ready to go for Sunday's game against San Francisco.
Stefanski told reporters Monday that Deshaun will be available when he's "functionally ready".
#Browns Kevin Stefanski said Deshaun Watson is working through his shoulder bruise "will be out there as soon as he's ready … and functionally ready" pic.twitter.com/1ujPGHgVad

— Mary Kay Cabot (@MaryKayCabot) October 9, 2023
The concern here is that following the Ravens game, Stefanski said Watson was medically cleared to play that game.
However, Stefanski followed by saying Watson admitted he didn't feel physically well enough to play.
Now, it's a question of whether he is "functionally ready".
Get ready for that to be the hot phrase of the week in Cleveland.
Clearly, something beyond what's being told is wrong here.
How this develops throughout the week is anyone's guess.
For now, anything from another Dorian Thompson-Robinson start to Watson returning in full capacity is a possibility.