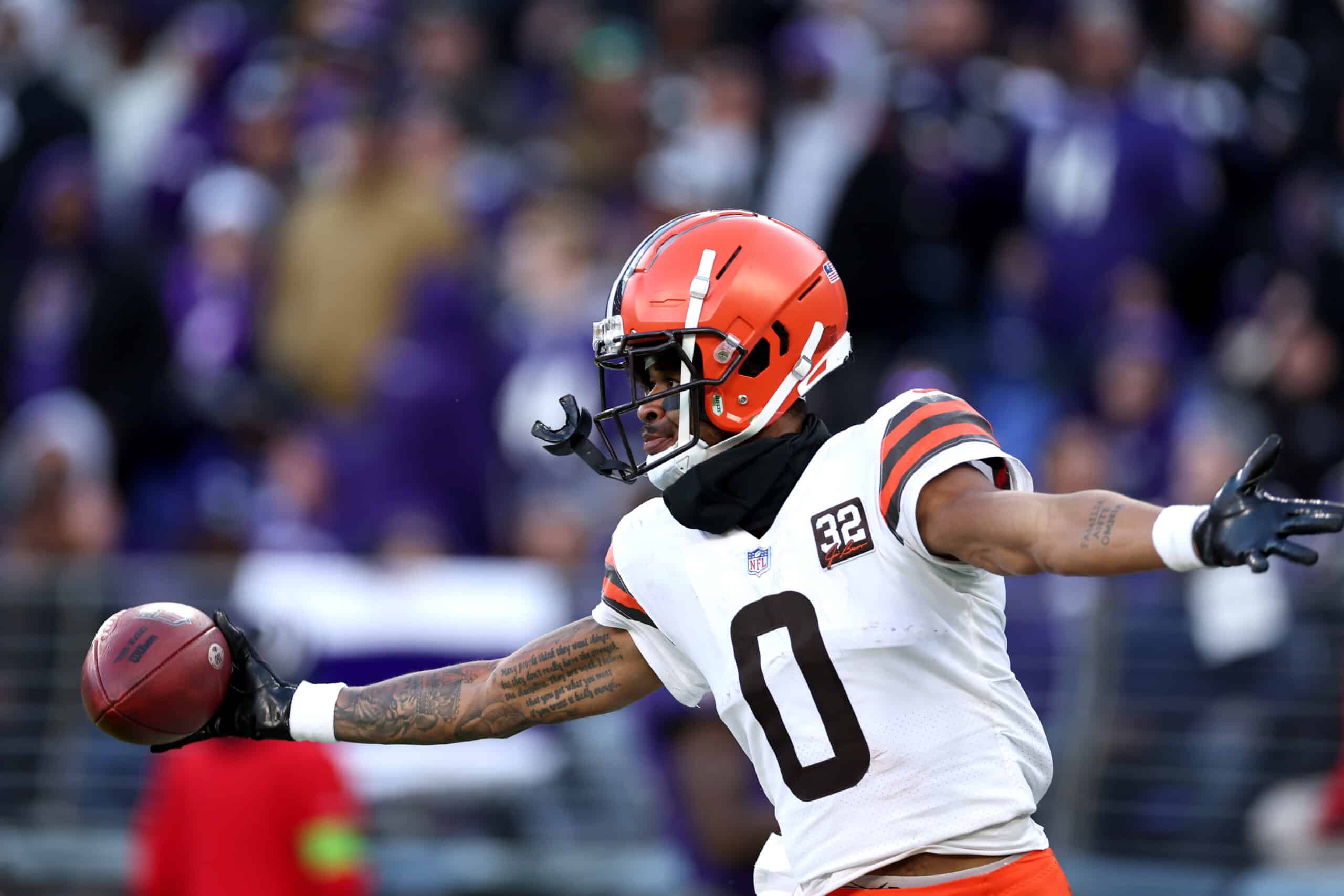 "A win is a win," as they say.
Nothing more needs to be said following a 33-31 walk-off win for the Cleveland Browns on Sunday in Baltimore.
FINAL: @Browns walk off with a comeback victory. #CLEvsBAL pic.twitter.com/5BFrpOGpWw

— NFL (@NFL) November 12, 2023
It didn't start pretty, with the Browns down double-digits early.
However, the comeback signals their first win in a game that they've trailed by 14 or more in since 2018.
Those kinds of season-changing wins illicit plenty of emotion as Browns fans took to social media to share victory.
Jake Trotter of ESPN let fans in on some more noteworthy stats about the comeback.
He explained that no team this season had come back to win after trailing for at least 59 minutes and 20 seconds.
Well, until Sunday, that is.
The #Browns trailed for 59 minutes, 20 seconds Sunday. No NFL team this millennium has won while trailing for that long in a game, per @ESPNStatsInfo

— Jake Trotter (@Jake_Trotter) November 12, 2023
From one team in town to another, "Mr. Cavalier", Austin Carr, showed his support for the Browns after the win.
Well Browns show they are ready for prime time, BIG step forward today Go Browns !!!!!

— Austin Carr (@MrCavalier34) November 12, 2023
Plenty of sports radio personalities were fired up as well.
Lets go!!!!!!!!!!!!!!!!! #Browns

— Garrett Bush (@Gbush91) November 12, 2023
Let's goooooooooooooooo

— Jonathan Peterlin (@JPeterlin) November 12, 2023
The most absurd Victory Monday maybe Eva! Love it. That was fun. #DawgPound

— Tony Rizzo (@TheRealTRizzo) November 12, 2023
Few things beat being at a road game when your team gets the win.
Cleveland fans in Baltimore made sure to soak this one in.
#BROWNS WIN MF!!!!!! BROWNS WIN!!!!! pic.twitter.com/kLdYxUXXSv

— JSU(7-3) (@DatDamn_DOMO) November 12, 2023
Loyal "Dawg Pound" members from across the country couldn't help but rejoice, too.
BROWNS WIN!!! SUUUPER BOOOWWWL SUUUPER BROWNSSSS!! YEAAAAHHH!!!! pic.twitter.com/jyhhRQkycE

— Chi-town Dawg Pound (@ChitownDawglb) November 12, 2023
GUTSIEST #BROWNS WIN OF MY LIFETIME???? INSANE. HOLY SHIT.

THIS IS A GOOD TEAM. CLEAN UP THE MISTAKES. STOP WITH THE SELF-INFLICTED STUFF AND THEN WE GOT SOMETHING HERE. pic.twitter.com/AbjMrlHYGB

— Jeff D. Lowe (@JeffDLowe) November 12, 2023
And while not a "fan reaction" the Browns social media team deserves some love here.
They get creative with their gamesmanship after wins.
Sunday was no different.
do you like that 𝐋 Mr. Krabs? pic.twitter.com/F2qGXufa3P

— Cleveland Browns (@Browns) November 12, 2023
And selfishly, as a Spongebob fan growing up, I can approve of that meme usage.
Judging from the reactions from Cleveland fans, it's clear the win over the Ravens sparked some of their belief.
The Browns move to 6-3 putting them in a great position moving forward.