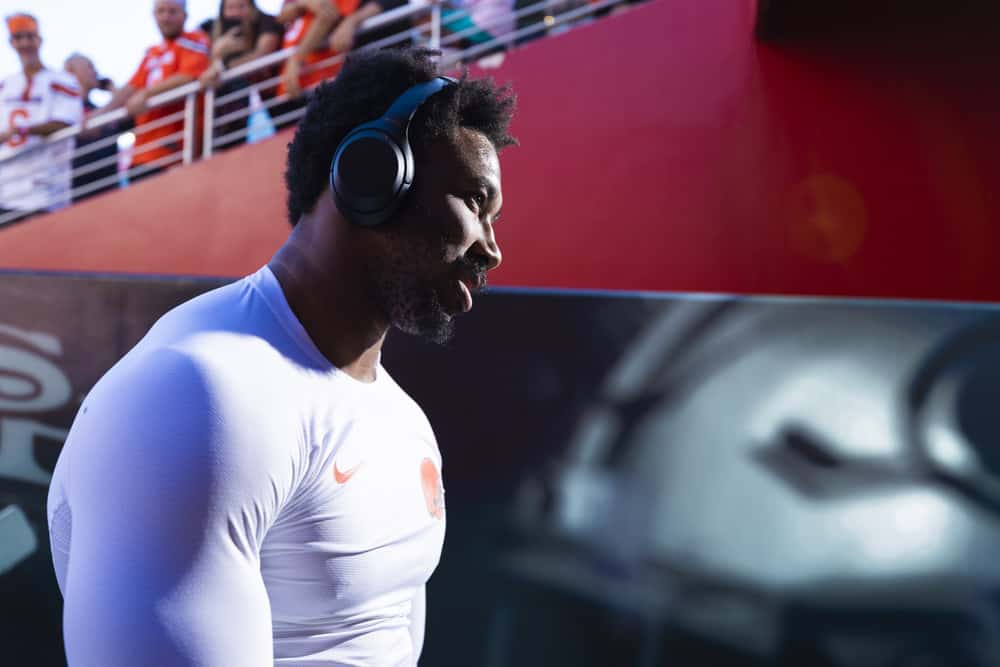 We all know guys who wear tight tee-shirts so we can see how hard they work out.
But the Cleveland Browns' Myles Garrett put those guys to shame Friday night.
Only Myles Garrett can look jacked while wearing a suit.#NFLDraft pic.twitter.com/tGel4Rufhn

— Sporting News (@sportingnews) May 1, 2021
Garrett announced the Browns' third-round pick after leading a "Here we go, Brownies" chant.
But it is his hulk-green suit- or the muscles inside it- that are causing quite a stir around social media.
Myles Garrett Walking Out To Announce The Browns Pick pic.twitter.com/Q7JDRNViTO

— Andre' Jackson (@therealdre_jack) May 1, 2021
It is a testament to flexible fabrics that Garrett was able to breathe, much less move in that suit.
Myles Garrett has muscles in places that I don't even have places https://t.co/QPM40FN23I

— Preston (@PrestonByGod) May 1, 2021
He looked comfortable enough while rallying the Browns crowd.
But I can't help but think there was a very nervous tailor worrying about his seams somewhere.
Surely there's a tailor somewhere who could've given Myles Garrett's arms a little more room in those sleeves pic.twitter.com/6eM5jecRCD

— Brooke Pryor (@bepryor) May 1, 2021
Various theories of how Garrett filled out that suit peppered social media.
Myles Garrett looks like he swallowed Michael B. Jordan then wore his suit. pic.twitter.com/0uOvIgSB6M

— Phillip Thompson (@_phil_thompson) May 1, 2021
We all know Garrett is a massive man and a workout wonder.
But there were some who needed to be assured it was all Myles.
Myles Garrett looks like he's wearing an inflatable suit. But he's just that jacked. 💪 pic.twitter.com/rJYbRtGg2X

— PropSwap (@PropSwap) May 1, 2021
Others wondered if Garrett simply needed to update his wardrobe.
Myles Garrett wore this suit to his Highschool Prom https://t.co/cs5H0KerYo

— Mason Bonano (@MBO1064) May 1, 2021
Some Browns fans worried about how Garrett's appearance affected the rest of the league.
Well, "worried" might not be the right word when it comes to Ben Roethlisberger.
Ben Roethlisberger after seeing Myles Garrett in that suit. pic.twitter.com/gWnZdpGorK

— Cyrus CLE 🐶 (@Cyrus_CLE) May 1, 2021
Or any of the other quarterbacks for that matter.
Big Ben, Lamar Jackson and Joe Burrow seeing Myles Garrett in that suit last night pic.twitter.com/eDxodIDxpG

— Timmy Szalay (@tszalay8) May 1, 2021
We can't be sure if Garrett intended to elicit a certain response with his appearance.
But the color lent itself to a certain genre of responses.
Myles Garrett in his suit pic.twitter.com/PmirDU8kyT

— EE0109 (@ee01091) May 1, 2021
Perhaps Garret was auditioning for a future role in the Marvel universe.
Myles Garrett's style inspiration tonight: George Michael + the Hulk pic.twitter.com/1lBmsn32JE

— Sarah (@sarbucks) May 1, 2021
But for now, Cleveland Browns fans and players are happy he is our team.
"This is a Browns Town, baby!" — @MylesLGarrett pic.twitter.com/ArCOjDFfD4

— Cleveland Browns (@Browns) May 1, 2021