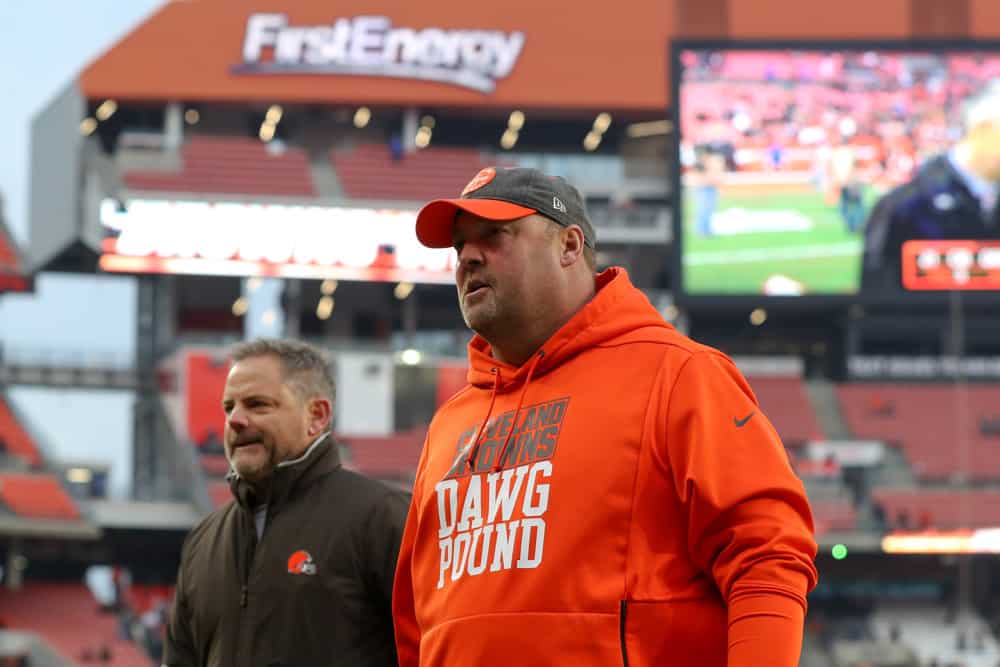 Cleveland Browns fans certainly remember the awful 2019 season under then-coach Freddie Kitchens.
He lasted just one season in Cleveland before being fired after a 6-10 campaign.
There were high expectations for the Browns that season and Kitchens came no where near completing any of them.
However, it didn't take him long to land another job in the NFL.
The New York Giants hired Kitchens as their tight ends coach for the 2020 campaign.
After the season, the Giants organization made a few changes including one involving Kitchens.
A New Role For Kitchens
On Tuesday, the Giants announced that Kitchens will no longer be the tight ends coach heading into 2021.
Instead, the team has decided to switch Kitchens to a senior offensive assistant role.
The #Giants have announced several coaching staff changes, including the hiring of Rob Sale as OL coach and Freddie Kitchens moving from tight ends coach to senior offensive assistant, switching places with Derek Dooley.

— Tom Pelissero (@TomPelissero) March 9, 2021
That's quite a bit of a change, but possibly the Giants see this as a better fit for Kitchens in the long run.
Last season, Kitchens did serve as the offensive coordinator for one game while Jason Garrett was out due to COVID protocols.
It was a matchup conveniently against the Browns, in which the Giants scored a total of six points in the loss.
To be fair, New York was forced to use Colt McCoy at quarterback with Daniel Jones sidelined for that contest.
And so: Colt McCoy may end up starting against his former team, the #Browns, and Freddie Kitchens will call plays against them. A double #revengegame! https://t.co/0nhSWj7yYp

— Ian Rapoport (@RapSheet) December 17, 2020
Browns fans have certainly seen what McCoy is capable of doing, so it's not shocking that the Giants only scored six points.
Kitchens earned his way to his first head coaching job with Cleveland, so he might have to do it again.
He started as an associate head coach and running backs coach.
After that, Kitchens took over as the offensive coordinator for a period of time.
The Browns then fired Hue Jackson, which led to Kitchens getting his first head coaching gig.
It completely blew up in his face and Kitchens was a big part as to why the Browns struggled during the 2019 season.
Possibly, Kitchens can earn his way back into a head coaching job, but he'll really need to prove himself this time around.