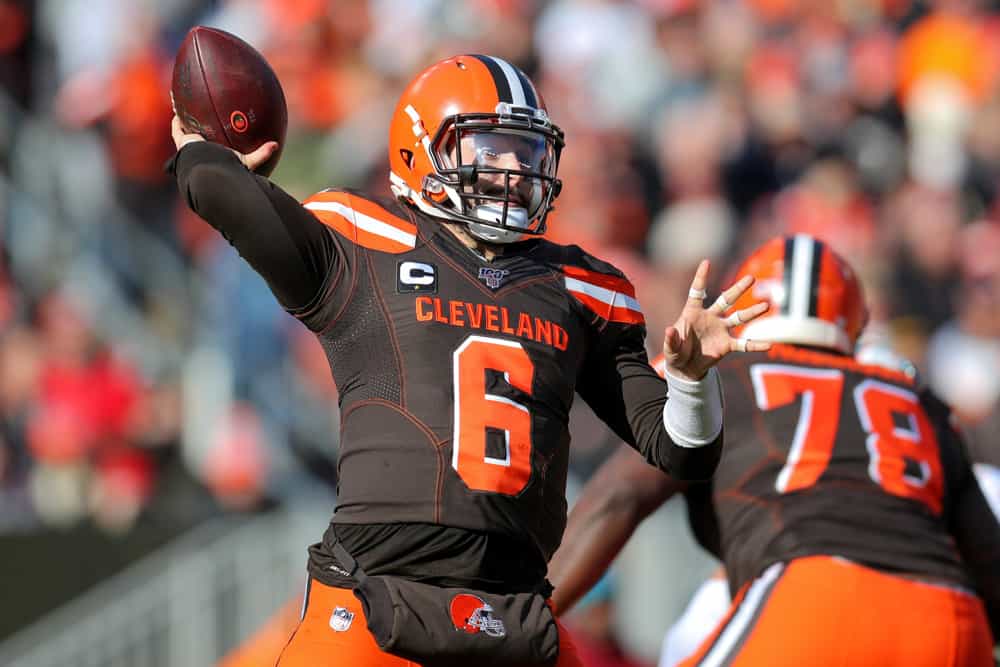 FOX Sports Analyst and former NFL QB Brady Quinn has high hopes for Baker Mayfield this season.
Quinn shared his thoughts on Baker to Cleveland.com:
"I think he's going to have kind of a breakout year… There's no doubt (he can be top 10)… He's got the talent, and he's got the ability around him, and it's now just being able to put it together in the first year in a system in a division where he's got to face two of the top 10 and maybe top 5 defenses four times."
New Offensive System
Baker Mayfield will be challenged in 2020 with his third offensive system in three years.
But Quinn says new Head Coach Kevin Stefanski and Offensive Coordinator Alex Van Pelt will make things easier for the Cleveland Browns QB:
"If you look at Stefanski's system and a lot of the outside zone running scheme, a lot of the play action and the boots and the things off of that, they create a lot of space for you to be able to make some — I don't want to say easy throws — but easier throws, downfield in some bigger window."
as a Head Coach in the AFC North said to me yesterday "Stefanski had great success with Kirk Cousins…Baker Mayfield is way more talented. This could be really good fit for Cleveland"

— Dianna Russini (@diannaESPN) May 28, 2020

It's exciting to think about a system designed around Baker's strengths.
We haven't truly seen that with Hue Jackson and Freddie Kitchens the last two years.
Baker Mayfield's PFF passing grade by season

2018: 79.9 – 11th
2019: 71.5 – 19th
2020: 🤔 pic.twitter.com/GfEMiWCDx1

— PFF (@PFF) May 28, 2020
It sounds like Quinn is excited for the whole Browns offense, not just Mayfield:
"So Odell and Jarvis when he's healthy and everyone else, whether it's Rashard Higgins, or David Njoku, all of those guys are going to be beneficiaries of this system and of the way they run the football and utilize Nick Chubb. I'm really looking for the entire offense — not just Baker — to really kind of take that next step."
From a reality and fantasy perspective, it could be a huge year for the Browns offense.
Playoffs…Baby!
Brady Quinn recently called out a CBS Sports writer who said Tyrod Taylor could have a better season than Baker Mayfield:
On paper the Browns' offense is stacked, but it's all about Baker Mayfield improving in Year 3. Which leads me to this: said on @CBSSportsHQ that I wouldn't be shocked if Tyrod Taylor has a better 2020 season. pic.twitter.com/llWLxFmIfq

— ryan wilson (@ryanwilsonCBS) May 25, 2020
And Quinn did it with a guarantee:
Don't come at my @Browns like that! Playoffs this year baby. Take that to the bank!

— Brady Quinn (@Brady_Quinn) May 25, 2020
Despite the playoff proclamation, Quinn says the Browns must continue to give Baker chances.
But 2020 should be the best look yet at his capabilities, Quinn says:
"At the end of this year, you should have a good idea of what Baker is capable of doing… But another offense again, with a different guy calling the plays, that's the complicated part. That's the hard part for Stefanski but also Paul DePodesta and Andrew Berry and everyone else who's going to be evaluating him is, you have to be more patient."
It's possible Brady Quinn will be in hot water in Browns Nation for placing these expectations on Baker.
Remember, he's saying Baker will do something Quinn and no other Browns quarterback could do in the last 18 years.
But in this difficult time for our country, hope is better than the alternative.