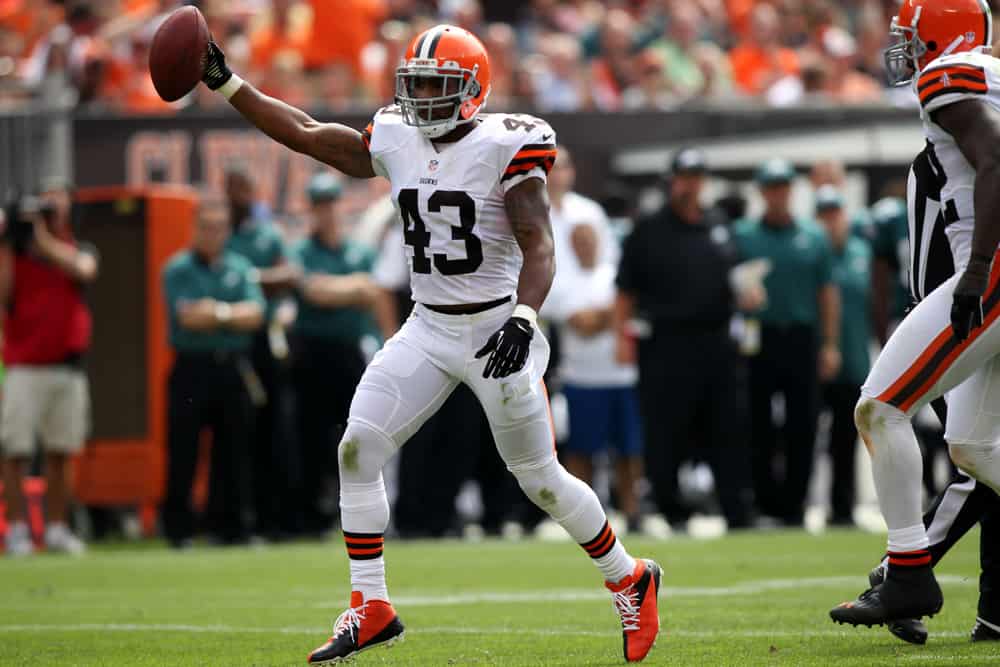 T.J. Ward, former Cleveland Browns safety and second-round draft pick (38th overall) in 2010, has announced his retirement from the NFL.
Ward, 34, spent four seasons (2010-2013) with the Browns playing a high level of football before joining the Broncos from 2014-2016.
Joe Thomas is still at the top of his game pic.twitter.com/GzQ21gs75r

— PFF (@PFF) July 21, 2017
He was part of the Super Bowl 50 championship team with the Broncos.
In 2017, he joined the Tampa Bay Buccaneers.
After a two-year hiatus from football, Ward signed with the Arizona Cardinals practice squad.
Veteran safety TJ Ward told @TroyRenck that he is retiring from the NFL after 8 seasons. Former second-round pick went to two Pro Bowls and was a vital part of Denver's Super Bowl 50 team.

— NFL Update (@MySportsUpdate) April 21, 2021
Career Highlight – Super Bowl Championship
In his retirement letter, Ward talks about the high point of his career.
Ward said:
"Winning the Lombardi Trophy was the highlight of my career. No Fly!"
Ward was part of the No-Fly secondary with 2015 Broncos teammates S Darian Stewart, CB Aqib Talib, CB Chris Harris Jr. and CB Bradley Roby.
While Peyton Manning dominated the offensive headlines, LB Vonn Miller and the No Fly group headlined the Broncos defense.
NFL Hall of Famer Brian Dawkins described Ward as follows:
"There are certain things you have to be to be a dominant defender. You have to have that absolute dog in you. You can't fake the dog. And he has it. You hear people say all the time that a player is tough, and most of the time it isn't true. It is with him. He's fierce."
Pro Bowl
T.J. Ward arrived in Cleveland and played through difficult years with losing records and no nationally televised games.
The Browns were 18-46 while Ward was with the team.
He made the Pro Bowl in his final year with the Browns with the help of hard work and self-marketing.
TJ Ward from your Cleveland @Browns spent 2.2 million dollars of his own money to have this video produced #Retweet http://t.co/KKo0LgUnsw

— Chad Zumock "Florida's Greatest" (@chadzumock) December 13, 2013
Ward Joins The Broncos
T.J. Ward signed with the Broncos with the express goal of winning a Super Bowl championship.
In his second season with the Broncos, he accomplished this goal.
Former #Broncos, #Bucs, and #Browns S TJ Ward has retired.

🔸Super Bowl champion (50)
🔸2× Pro Bowl (2013, 2014)
🔸Second-team All-Pro (2013

🔸tackles: 607
🔸Sacks: 8.5
🔸Forced fumbles: 10
🔸Fumble recoveries: 4
🔸Interceptions: 8
🔸Defensive touchdowns: 3 pic.twitter.com/uBiySu5FGe

— Talks With T-Time Podcast (@TalkWithTTimeP1) April 21, 2021
Rest of Career
Ward spent one season with the Tampa Bay Buccaneers before stepping away from football for a few years to pursue other endeavors including the development of his foundation.
The mission outlined for the T.J. Ward Foundation was as follows:
"The TJ Ward Foundation is committed to enhancing the lives of young people by supporting programs that provide the tools necessary to empower young men and women in underprivileged communities across the country. The Foundation focuses on the socioeconomic, educational, and physical needs of the young people it supports. The TJ Ward Foundation stresses the importance of education while also placing an important emphasis on physical fitness and health. These areas are recognized by the foundation as playing a crucial role in youth development and ultimately leading to a successful and fulfilling life."
Ward believed his NFL career was unfinished.
He never announced his retirement after the 2017 season so he attempted a comeback in 2020 which culminated with a three week stint on the Arizona Cardinals practice squad before being released on October 20, 2020.