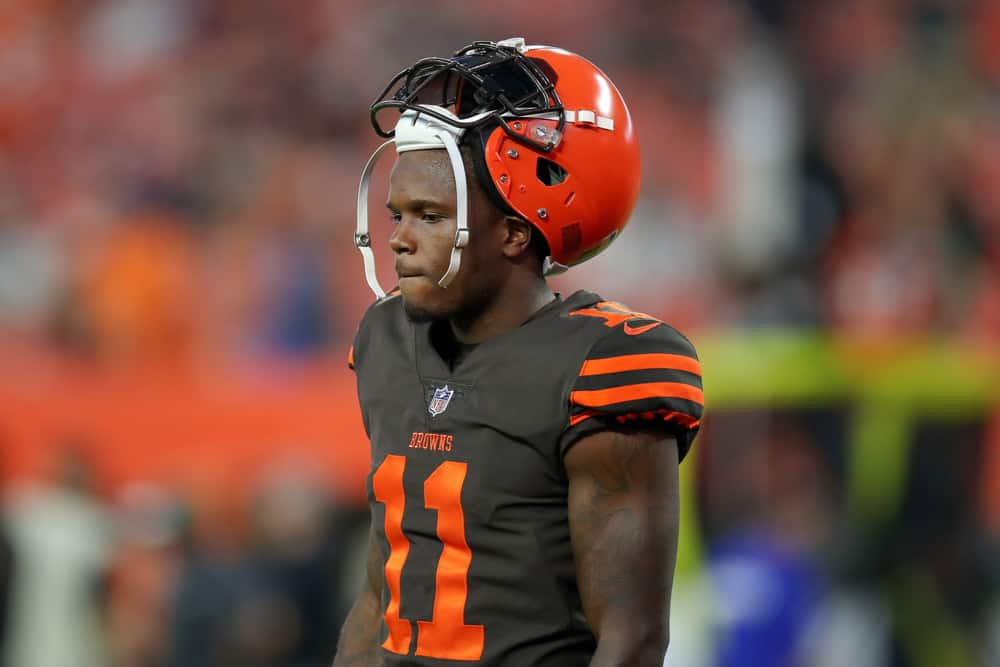 In 2018, the Cleveland Browns took a chance on wide receiver Antonio Callaway.
They selected the Florida product in the fourth round, but he only lasted two seasons in Cleveland.
The 24-year-old receiver has reportedly signed a reserve-futures deal with the Kansas City Chiefs.
The #Chiefs have signed WR Antonio Callaway to a reserve futures deal, a source tells @YahooSports.

— Terez A. Paylor (@TerezPaylor) January 13, 2021
Callaway showed flashes of potential during his rookie campaign, but eventually fizzled out.
He'll now join the Chiefs roster as they prepare to take on Cleveland in the Divisional Round this weekend.
Callaway In Cleveland
Things quickly went in the wrong direction for Callaway, but it wasn't the Browns' fault.
Cleveland has made plenty of horrible drafting decisions, but shouldn't be blamed for Callaway.
Callaway hauled in 43 receptions for 586 yards and five touchdowns through 16 games his rookie season.
At times, Callaway actually looked like he could be a reliable weapon in the NFL.
Antonio Callaway returns to #Browns practice this week. . .

Guy has a gear that not many others have🚀 pic.twitter.com/sBMxjcKkl5

— Connor Price (@PFF_ConnorPrice) October 3, 2019
Sadly, Callaway couldn't stay out of trouble and was suspended twice for violating the league's substance abuse policy.
He made a minimal impact in 2019 before the Browns decided to release Callaway.
From our TNF pregame show: #Browns WR Antonio Callaway was waived today, in part because of issues with tardiness and other concerns. pic.twitter.com/rI5os1fsTi

— Ian Rapoport (@RapSheet) November 14, 2019
The Miami Dolphins signed Callaway in September, but he didn't last too long there.
He was released in December after catching five passes for 20 yards in five games.
Callaway is still a relatively young player, but his past issues might be too much for him to overcome.
A New Start
The Chiefs have decided to give the third-year player another chance to see what he can do.
These type of contracts are only for players who are not on an NFL team's active roster at the conclusion of the regular season.
Basically, this deal allows the player to try out for the team during the offseason.
Kansas City also decided to sign former Washington State quarterback Anthony Gordon to the same type of contract.
He won't be taking over for Patrick Mahomes anytime soon, but does have plenty of potential.
Anthony Gordon. Quick feet. Quick release. Accurate. pic.twitter.com/SdnHEdxlVh

— Sage Rosenfels (@SageRosenfels18) February 28, 2020
It is worth noting that neither of these players are eligible to play versus Cleveland.
These are deals for the future, so they won't be able to participate with the team until the postseason has concluded.
Regardless, it's nice to see Callaway getting another shot in the NFL.
Hopefully, he can put his past behind him and actually stick on a professional roster.