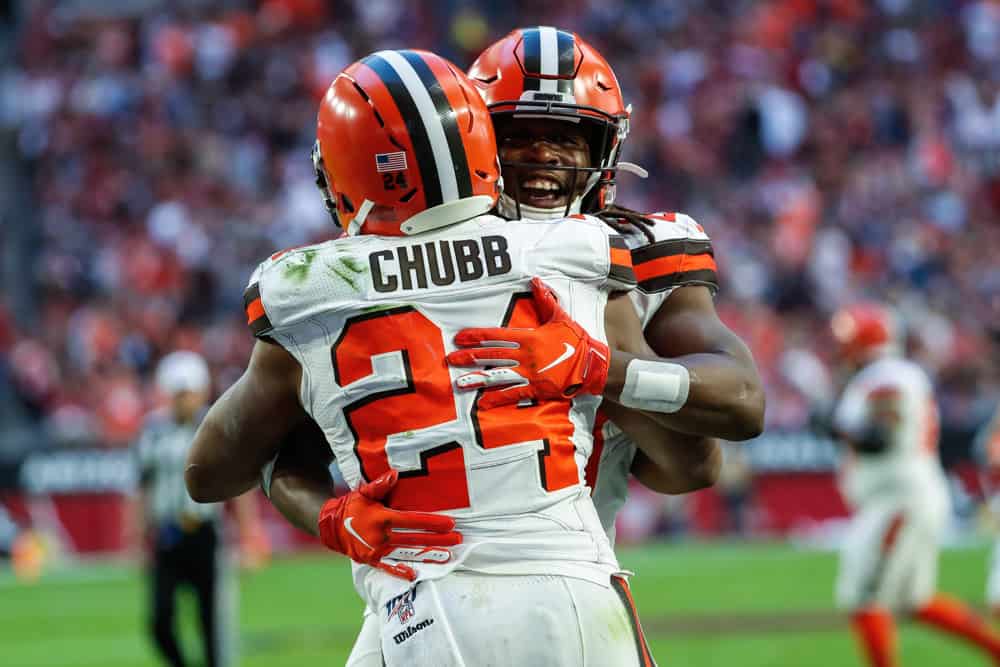 Sunday afternoon's playoff game against the Kansas City Chiefs marks the first time Cleveland Browns running back Kareem Hunt will play his former team.
Hunt has spoken the Browns' playoff matchup against the defending Super Bowl champions into existence all year long, according to fellow running back Nick Chubb.
"Kareem talked about this game all year like he knew it was going to happen," Chubb told media members on Wednesday. "He's excited for it. I'm excited for him. I'm excited to watch him go out there and play. He's ready for it."
Hunt had eight carries for 48 yards and two touchdowns in the 48-37 win over the Pittsburgh Steelers in the AFC Wild Card round.
"Kareem ran pissed off," quarterback Baker Mayfield said after the Steelers' win. "He ran like he wanted to get to Kansas City."
Hunt played for the Chiefs from 2017-2018.
"Next week's personal," Hunt said in an Instagram live video.
The Chiefs cut Hunt late in the 2018 season after video footage got released of Hunt's altercation with a woman in a hotel hallway.
In January 2020, Hunt also had a traffic stop where officers found marijuana and an open bottle of vodka in his car.
Hunt told one of the officers "it hurts my soul" that he couldn't be on the Chiefs' Super Bowl team a year ago.
On Wednesday, Chubb talked about his relationship with Hunt.
"I'm extremely proud," said Chubb. "Ever since I met Kareem, he's been a great person, a great guy, who's definitely one of my best friends on the team.

"He's fun to be around also. We're always cutting up, laughing together through the week, and on Sundays, we're running the ball together. He is definitely a person that I enjoy being around."
Mayfield echoed Chubb's sentiments.
"I've become extremely close with Kareem, especially over this year," Mayfield said on Wednesday. "Him being from the area and being back home, it means a ton to him, but then obviously you add in playing his former team. I know how that goes. There are a lot of emotions. He spent time and invested a lot into people there. It means a ton to him.

"I think that's going to permeate for our guys, as well, and they're going have those same feelings and want to play for him. It's like the give-and-take of Kareem is hurt that they're in the Super Bowl, and he was cheering for his guys but you know he wanted to be there. That's why he comes to work every day and works his ass off to try and get there with us now."
A reporter asked Chubb whether he thinks Hunt can raise his level of play against the Chiefs.
"I guess we'll have to wait and see," Chubb said.