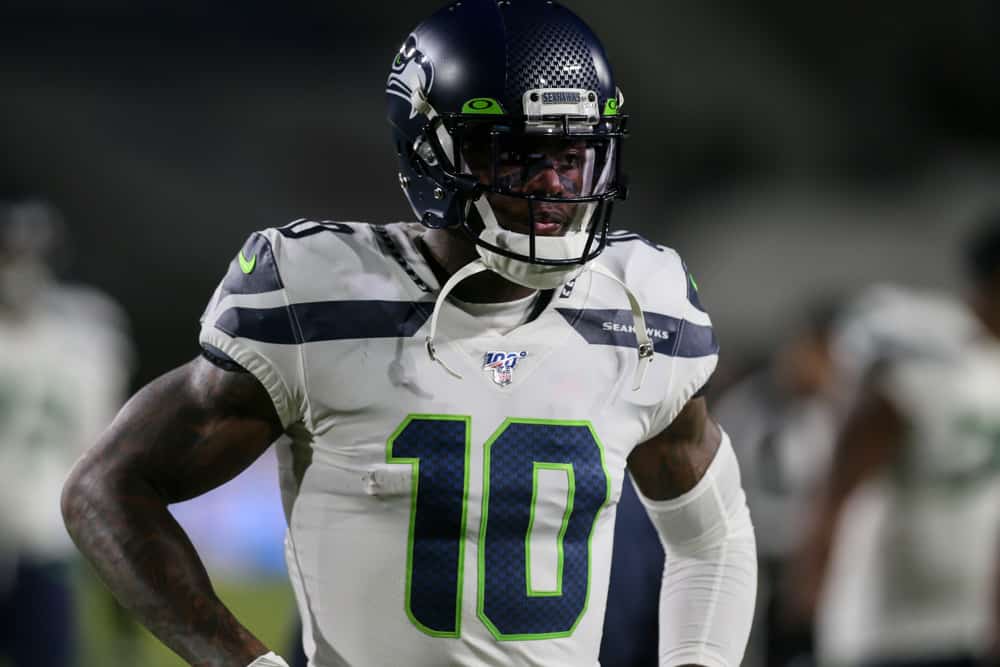 Former Cleveland Browns wide receiver Josh Gordon has been conditionally reinstated.
The decision from NFL Commissioner Roger Goodell allows Gordon to return for the final two games of the season.
Seahawks WR Josh Gordon has been reinstated by the NFL and can return to play in Week 16. https://t.co/ju6l9mmBiM

— NFL on ESPN (@ESPNNFL) December 3, 2020
The 29-year-old receiver currently plays for the Seattle Seahawks and looks to contribute for the team in the last stretch of the season.
He will begin COVID-19 testing Friday and rejoin the team next week.
Then, he will be allowed to start meeting with coaches and working out with the team.
This was the situation that the Seahawks envisioned back in September, when they signed Gordon to a one-year extension.
Hope is that Gordon can join the team and provide a boost to their wide receiver corps.
This sets the stage for him to finally rejoin the third-seeded Seahawks.
The Lost Potential of Gordon
When Gordon entered the league in 2012, it appeared that he was going to become the league's next dominant receiver.
In 2013, he led the NFL in receiving with 1,646 yards in 14 games.
However, his career quickly went off the rails due to a variety of different issues.
Gordon has been suspended five times by the league since debuting in 2012.
In 2014, Gordon was arrested for driving under the influence and suspended for 10 games by the NFL.
He was then suspended for both the 2015 and 2016 seasons after violating the league's substance abuse policy again.
The Browns cut him in 2018.
He was then picked up by the New England Patriots.
With the Patriots, he played 11 games before being suspended once again for violating the substance policy.
After getting hurt during the 2019 season, the Patriots released him and he signed with the Seahawks.
He played in five games for the Seahawks before being suspended again last December.
From NFL Now: #Seahawks WR Josh Gordon was suspended indefinitely again. pic.twitter.com/VIhVXFpwPB

— Ian Rapoport (@RapSheet) December 16, 2019
What Could Have Been?
If Gordon had stayed away from the various off-field incidents, he could have been one of the league's best.
In just his second season, he had analysts projecting him as the NFL's top receiver.
During that season, he also set a record as the first player to post back-to-back 200-yard receiving games.
At 6-foot-3, Gordon had a frame that allowed him to dominate opposing secondaries.
This would have made him a similar presence to a wide receiver such as Julio Jones.
If he had continued to improve like it seemed he would, there is no telling where he could have gone.
The disappointing thing is that we will simply never know, and this is especially devastating for Browns fans.
A Shot at Redemption
Gordon is getting yet another shot at redemption, this time with the Seahawks.
He is joining a talented Seahawks receiving corps, led by rising star DK Metcalf.
Josh Gordon
DK METCALF
Tyler Lockett
David Moore
Good luck pic.twitter.com/r6MyYdWNNy

— Mohammad (@SeaGoat03) December 3, 2020
It is up to him to keep himself on the field.
We don't yet know how good he will be on the field, but there is a chance that he can be a difference maker once again.
There is hope that Gordon will get it straightened out and that this chance of redemption doesn't slip by him like it has in the past.