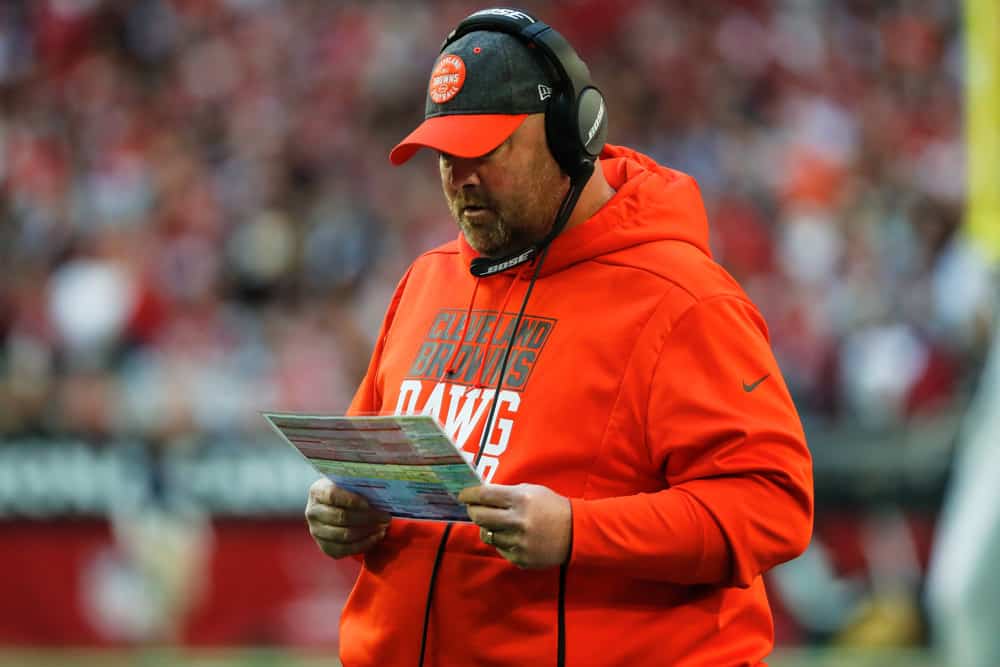 It's Deja Vu all over again for Giants tight ends coach, Freddie Kitchens.
There are more ironies than similarities involved for the former Cleveland Browns head coach.
But Kitchens steps into the role of play-caller for an ailing Jason Garrett against the Cleveland Browns Sunday.
Garrett tested positive for Covid-19, forcing him from the sidelines and prompting the change in signal-callers.
Rip Jason Garrett
Lol Freddie Kitchens is calling plays against the team who fired him. This should be an even more interesting game. https://t.co/KGNj65S8RT

— Browns Dubs (9-4) (@BrownsDubs) December 17, 2020
It was just 2 seasons ago that Kitchens stepped into the Browns offensive coordinator role midseason.
His work during Baker Mayfield's record-setting rookie year earned him the nod as the Browns' head coach in 2019.
Things didn't work out very well for Cleveland or Kitchens that season.
And Paul DePodesta seems justified in making Kevin Stefanski his first choice in 2019 and again in 2020.
But Kitchens has a friend and ally in Giants head coach Joe Judge and Garrett is under fire in New York.
Calling a solid game against the Browns won't hurt Kitchens' bid to regain his reputation as an astute offensive mind.
And with the game in a prime time slot, it won't be only the Giants who notice.
Is This Really an Opportunity For Kitchens?
New York's offense has been awful this season.
Only their New Jersey counterparts, the Jets, have scored fewer points.
Quarterback Daniel Jones' strengths are overshadowed by turnovers and a vanilla game plan.
Any offensive progress relies on the Giants' rebuilt offensive line.
But their struggles were a primary reason for New York's 1-7 first-half record.
Freddie Kitchens Revenge Tour finally reaches its pinnacle on Sunday night. #Browns have a hell of a lot to worry about.#TogetherBlue pic.twitter.com/b1AbRsYXt1

— Giants Fans with Giant Johnsons (@ScottBrownNYG) December 17, 2020
Judge stepped in to help his offensive line coach, Marc Columbo, and further offended Columbo by hiring an offensive line "consultant."
Columbo's response to the hiring of veteran coach Dave DeGuglielmo led to Columbo's dismissal.
Garrett insists he has no problem with Judge's decisions, but Columbo was his hand-picked choice as coach.
Kitchens on the other hand came to the Giants after much lobbying by Joe Judge.
Judge calls Kitchens a trusted confidante with a relationship dating back to their college coaching days.
It seems likely the Giants will shuffle offensive coaching assignments in 2021 with more input from Judge.
And it is notable that Garrett was not a Judge hire, making Kitchens' playcalling opportunity more interesting.
If not in New York, Kitchens could warrant coordinator interest from one of the many changed NFL coaching regimes coming in 2021.
What Should Cleveland Expect From Kitchens' Offense? 
Giants fans hope Kitchens will open things up against the Browns Sunday night.
If Kitchens hopes to draw attention to himself, he has to get away from the conservative plan of Garrett.
Judge and DeGuglielmo worked wonders with rookie Andrew Thomas and the rest of the offensive line.
New York's front five rose from among the worst units to a top-ten group in recent weeks.
And so: Colt McCoy may end up starting against his former team, the #Browns, and Freddie Kitchens will call plays against them. A double #revengegame! https://t.co/0nhSWj7yYp

— Ian Rapoport (@RapSheet) December 17, 2020
Wayne Gallman and Dion Lewis are not Nick Chubb and Kareem Hunt.
But the Giants running game is a prime reason they are 4-1 in the second half of the season.
There is, however, one big problem handicapping Kitchens.
He still doesn't know who his quarterback is.
Daniel Jones missed the Week 13 game in Seattle, a game won with former Browns QB Colt McCoy under center.
Jones probably came back too early, looking gimpy and tentative in last week's loss to Arizona.
Kitchens will have McCoy or a still-limping Jones running the offense, possibly limiting any fireworks.
Or maybe not, as New York throws a Kitchens-sink of trick plays and misdirection at Cleveland.