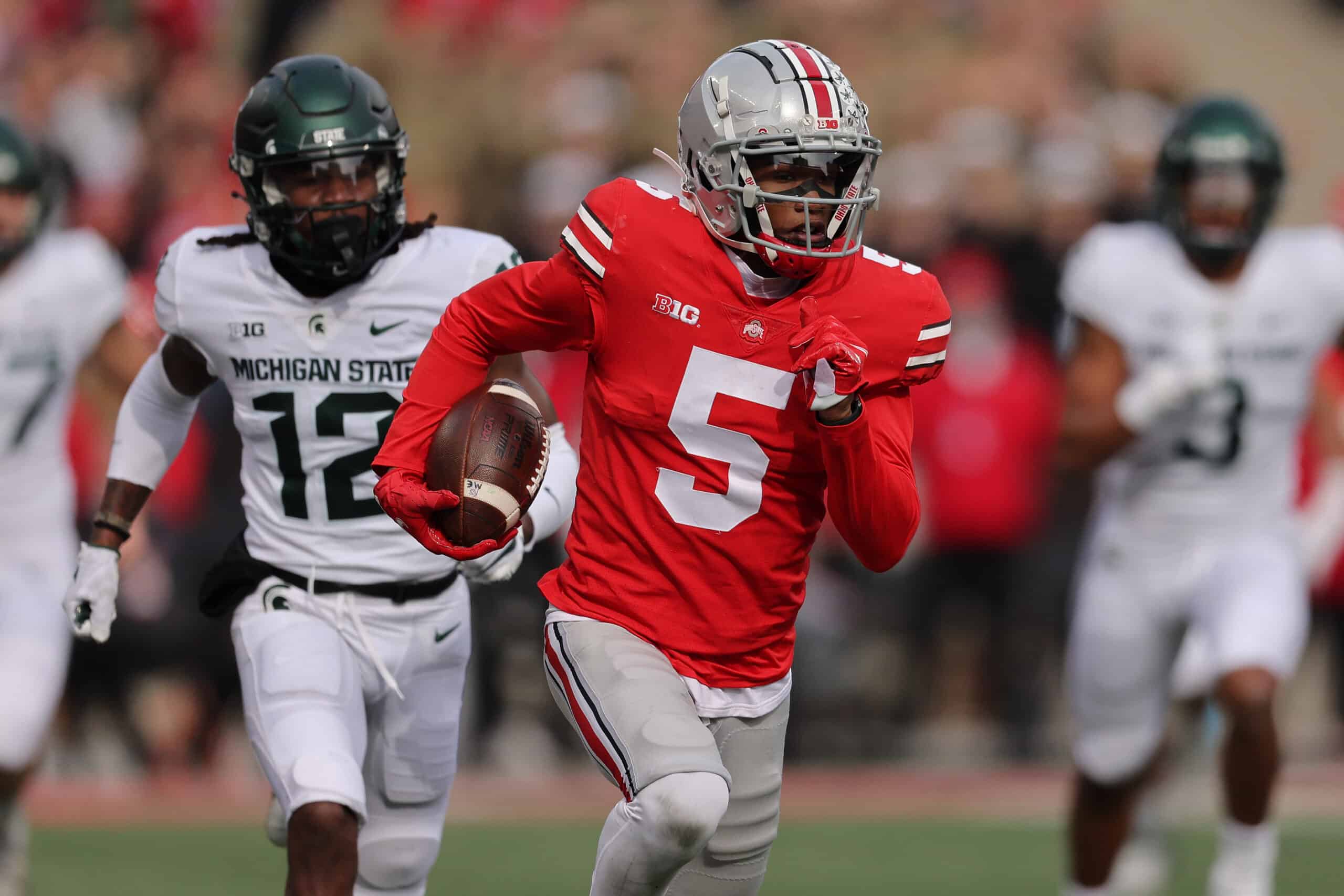 For the past several weeks, the Cleveland Browns' choice for their first pick in the 2022 NFL Draft has been debated repeatedly.
The common guess is a receiver, but some prognosticators have speculated a quarterback, edge rusher, or even a linebacker.
The Browns currently have only three receivers under contract for '22.
Of those three pass catchers, (Jarvis Landry, Anthony Schwartz, and Donovan Peoples-Jones), Landry may not return next season.
Given that information, the thinking is that a receiver makes the best sense at the 13th pick.
A number of names have been paraded by the media about which marquee playmaker will join the Browns in late April.
One of those names may be a very ideal candidate given his unique relationship with Baker Mayfield.
Garrett Wilson and Mayfield Share a Home Town
Garrett Wilson, an extremely gifted receiver from Ohio State, hails from the same hometown as Mayfield, Austin, Texas.
Furthermore, they also both played at Lake Travis High School in Austin.
In case you didn't know, Baker Mayfield and Garrett Wilson went to the same high school—Lake Travis HS in Austin. Here's some video of Baker watching Wilson practice in 2018. #Browns pic.twitter.com/Z1Mo50oz7z

— Ed Greenberger (@EdGreenberger) March 2, 2022
Wilson is a 2019 Lake Travis grad while Mayfield graduated in 2013.
Although they are a few years apart in age, the two have already spent time together on a football field.
On Wednesday, Wilson spoke to the media from the NFL Combine and shared that he and Mayfield practiced several times together in Texas during the pandemic.
Those practice sessions have built a bond between Wilson and Mayfield even though they have never played on the same team.
"Baker's my guy," Wilson said at the NFL Combine. "He was always a little older than me and he would come back and he coached 7-on-7. During the quarantine, we actually threw together a couple times. So I know that Baker's a great player, and we have a good relationship."
Should the Browns select Wilson, they will be getting one of the best college receivers from 2021.
Impressive Stats
Ever since his freshman year in 2019, Wilson's stats as a Buckeye have improved every year.
This past season, he hauled in 70 passes for 1,058 yards, and 12 touchdowns.
Wilson's numbers are impressive considering he shared the field with the likes of Chris Olave and Jaxson Smith-Njigba.
NFL scouts are enamored with the intangibles Wilson brings to the table.
He may be only 6'0" and 188 pounds, but Wilson has incredible leaping ability to high point any pass.
Garrett Wilson catch vs Clemson in the 2019 Fiesta Bowl playoff game is still one of the craziest catches I've ever seen. Look how high he got. He was a freshman too. pic.twitter.com/jZAh4q9tzI

— WILL Foster (@WXLLXXM002) February 9, 2022
Wilson also has instinctive route running, hands, separation from defenders, yards after the catch, versatility, and football IQ.
He can also play as a slot or outside receiver.
These attributes will make him a high pick whether Cleveland selects him or not.
"As long as it's a good fit," Wilson said Wednesday. "A team taking a risk on me and believing in me, that means a lot, but as far as what it comes with, I gotta prove myself, like I said, once I get in the facility."
Although the draft has always been a mixed bag of surprises and predictions don't always come true, Wilson wouldn't mind the opportunity to play with Mayfield.
"It would be great to link up with Baker," Wilson said. "Baker's someone that did all the things that I wanted to do. Being a Heisman winner, that's stuff you can only dream about.  Having that opportunity to maybe have that happen again would be awesome."