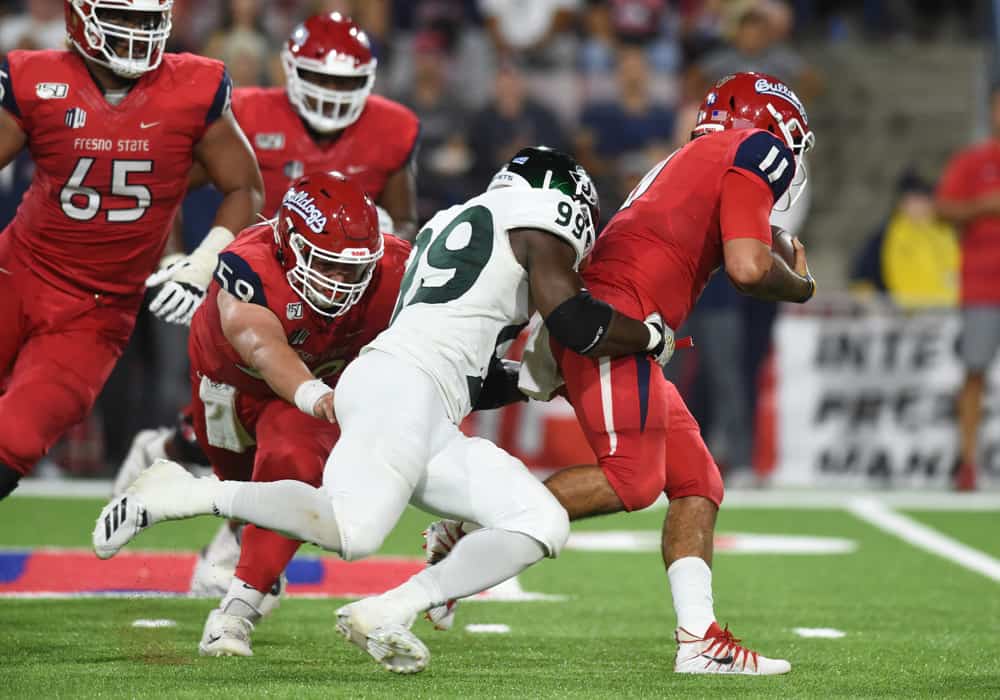 The Cleveland Browns announced Wednesday they have brought back defensive end George Obinna.
It marks the second stint for Obinna with the Browns.
The terms of Obinna's deal were not immediately available.
We've signed DE George Obinna

Details » https://t.co/FmOQq9ck2K pic.twitter.com/aFO0Hlxx3Z

— Cleveland Browns (@Browns) August 12, 2020
At the end of July, the Browns dropped Obinna and three other players: defensive tackle Justin Zimmer, linebacker Jermaine Grace and wide receiver Tony Brown.
Obinna, 23, is a 6-foot-2-inch, 245-pound undrafted rookie out of Sacramento State.
It's unclear if Obinna will try to play defensive end, outside linebacker or contribute as a special teamer.
In college, Obinna appeared in 46 games while recording 136 tackles, 33.5 sacks, four forced fumbles and three fumble recoveries.
Obinna's career sack total is a Sacramento State record.
In 2019, Obinna compiled 14 sacks, which set a single-season school record.
It helped Obinna earn selections to the All-Big Sky first team and the AP All-American third team.
Obina told the Tracy Press' reporter Bob Brownne in April, he met the Browns' scouts at his college practices last season and then again in January 2020 at the Hula Bowl in Honolulu.
"We kept open lines of communications," Obina told the publication. "When it came to the draft, they called me towards the beginning of the seventh round and said they were still showing interest. They said they would love to have me, and I would love to have them. Basically my agent set it up, and all of a sudden I'm a Brown, and it's still all so surreal."
The Browns also waived defensive tackle Jeffery Whatley, whom they signed in May.
Whatley, 24, went undrafted.
Last season, Whatley tallied 39 tackles and 4.5 sacks as a senior for the South Alabama Jaguars
As of Wednesday night, the Browns have 80 players on their roster.
The Browns began practicing with helmets on Wednesday.
On Friday, the team is scheduled to hold its first full practice.