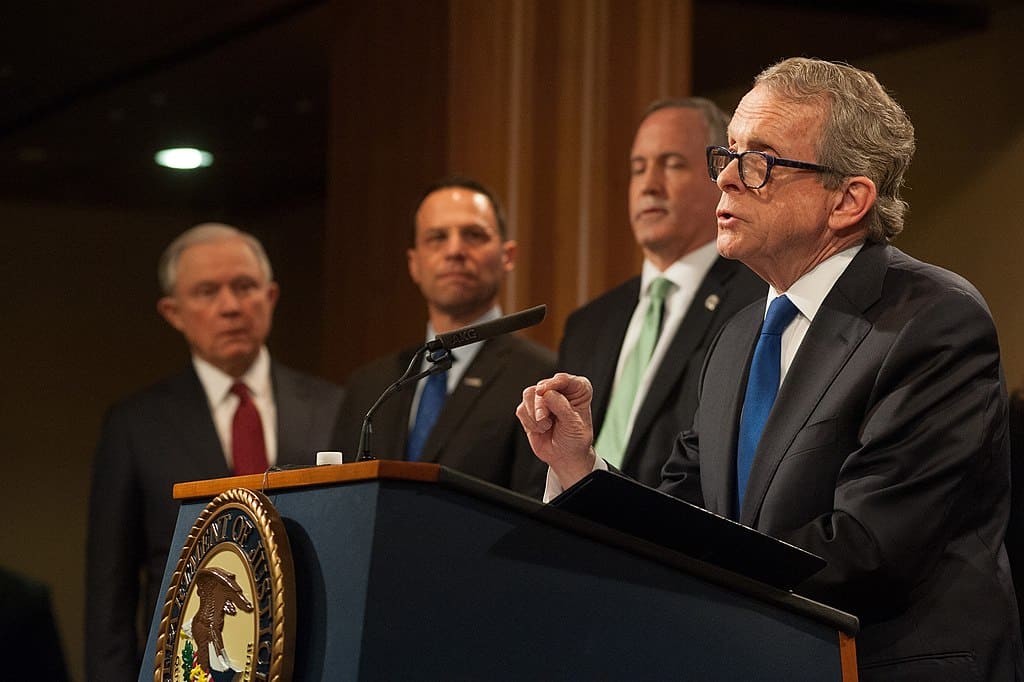 On Thursday December 10, Governor DeWine extended Ohio's statewide curfew until January 2.
He put the curfew in place on November 19 with an expiration date of December 10.
This curfew exists from 10 pm each evening to 5 am the following morning.
Much to the relief of Cleveland Browns fans, Governor DeWine explicitly exempted sporting events including the Browns Monday Night Football game against the Ravens on December 14.
Regarding these events, he said:
"The start times of these games are dictated by national television contracts and as a result, the games will not be finished until after that 10 p.m. curfew. The Ohio Department of Health is issuing a variance to this curfew for these four specific events. These events have run consistently with protocols we are asking all Ohioans to follow. Spectators at these events wear their masks, they are socially distanced, there's added safety that they are in a large venue and they are held outside."
The other three sporting events he references are as follows:
The December 12 MLS Championship Game between the Columbus Crew and Seattle Sounders
December 19's University of Cincinnati Bearcats conference football championship game against Tulsa
The Cincinnati Bengals MNF game on December 21 against the Pittsburgh Steelers
Ohio @GovMikeDeWine extends the statewide COVID-19 curfew but issues specific exemptions for Monday Night Football & other sporting events pic.twitter.com/qkIPzEPSGt

— Tyler Buchanan (@Tylerjoelb) December 10, 2020
Browns Also Have SNF In December
This week, the NFL flexed the Week 15 game between the Browns and Giants.
Instead of being a 1 pm game, it will be the Sunday Night Football game on December 20.
However, this is an away game in East Rutherford, New Jersey (home of the New York Giants) so it is not applicable.
The NFL has flexed next week's #Browns– Giants game to Sunday Night Football. They'll play at 8:20 p.m. under the prime time lights.

— Camryn Justice (@camijustice) December 9, 2020
Browns vs. Ravens
All eyes will be on the Browns as they try to cap their awesome performance against the Tennessee Titans in Week 13 with another one against their division foe, the Baltimore Ravens.
While the Ravens issues with COVID-19 are widely known, Lamar Jackson and company did beat the Dallas Cowboys on Monday Night Football to go to 7-5.
This puts them 2 games behind the Browns, and the Ravens defeated the Browns in Week 1 by the score of 38-6.
It will be a busy weekend for teams vying for spots in the AFC playoffs.
Among the top nine teams in the AFC playoff picture, eight of them are playing each other in Week 14.

– #Steelers (1) vs. #Bills (3)
– #Chiefs (2) vs. #Dolphins (6)
– #Browns (5) vs. #Ravens (9)
– #Colts (7) vs. #Raiders (8)

Major playoff implications. 🍿

— NFL Update (@MySportsUpdate) December 9, 2020