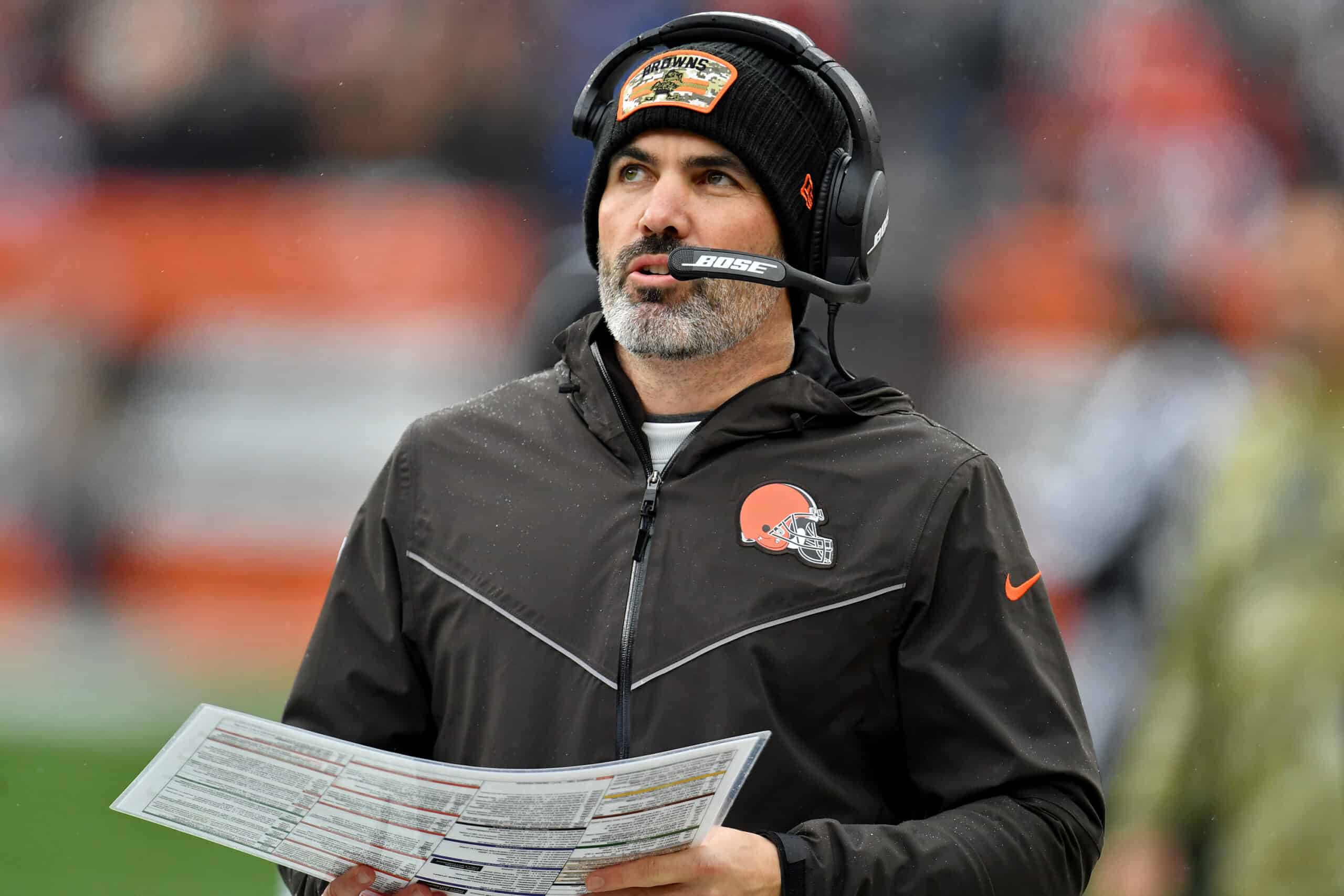 Did you ever find yourself dreading the comments and inevitable judgments sure to follow an abject failure?
Kevin Stefanski of the Cleveland Browns should feel that way about now, maybe even for the past month or so.
Someone with a history of failure might fear getting fired or having to repeat a school grade.
#Browns HC Kevin Stefanski: "Our record is 8-9. You own it. You wear it. It's, ultimately, short of your goals. Moving forward, finding ways to improve and learning from some of those lessons…"

— 92.3 The Fan (@923TheFan) January 10, 2022
Fortunately for Stefanski, he has enough prior success to expect some grace from the powers that be.
But that doesn't change the fact he did not meet expectations, thanks to some really questionable decisions.
And that is what the 2021 season comes down to for the Ivy League head coach and his assistants.
There is plenty of blame to share among his minions, but here is how we're grading Kevin Stefanski's 2021 season.
Preseason Preparation – C 
This is the most difficult grade to assign, since we weren't privy to much in the preseason.
But we did see Stefanski rest almost all of his starters for almost the entire slate of games.
This brought the Browns into the season opener with a full roster of uninjured starters.
#Browns  HC Kevin Stefanski on @CLETalkingHeads: "Respectfully, I'll never ever blame injuries for how we perform. I think we have good depth. That's just the nature of the NFL and that's what by it's so important to have your depth ready to go."

— 92.3 The Fan (@923TheFan) January 13, 2022
But while the offense did well out of the gate for three quarters, the defense obviously needed time to gel.
Multiple additions to the mix might have warranted more game experience before the Kansas City affair.
Joe Woods noted his younger players were not exposed to the entire package before September.
But the team looked okay overall, and given the limits of the Covid era, we'll say Stefanski had the team prepared.
Game Planning- C-minus
Short of a future telltale novel, we might never know if Baker Mayfield ran the offense as Stefanski expected.
For those who don't know, each play call has at least 2 options for the quarterback to choose or change to.
More than once this season, Stefanski was caught directing sideways glances at Baker Mayfield.
#Browns coach Kevin Stefanski blames frustration of unsuccessful season when asked about Baker Mayfield publicly criticizing his game plan after game last night.

— Scott Petrak ct (@ScottPetrak) January 4, 2022
And cameras caught the coach asking his quarterback, "What the h— are you doing?" during one game.
But since he did nothing to address any playcalling issues, we have to put the game plans on the head coach.
To say they were vanilla is an insult to vanilla unless you acknowledge some swirls and nuts.
Stefanski never seemed to properly adjust to his injured passer, missing linemen, or substandard receiving corps.
In-Game Playcalling: F
It might surprise fans to learn the Browns ran about the same number of run plays as they did in 2020.
If it seemed like the Browns ran far less often, it's probably because they did not run when we most expected.
Deception is nice, but Stefanski wasn't deceptive as much as he was illogical.
On the very first drive of the game, D'Ernest Johnson ran the ball 4 times for 58 yards (14.5 YPA). The #Browns ran the ball just 3 more times in the entire rest of the 1st half.

It's time to have an uncomfortable conversation about Kevin Stefanski's play-calling.

— Roberto Shenanigans (@Rob_Shenanigans) November 14, 2021
It's one thing to line up like you are going to run just to sneak a tight end or wideout behind the defense.
But it raises justifiable questions to go empty backfield in running situations, removing any question of his intent.
Stefanski made some ill-reasoned adjustments to defensive schemes and went too conservative with a lead all year.
As an example, 5 linemen and 3 tight ends should handle an 8 man front as effectively as a 4-wide, empty backfield.
Off Field/Locker Room: D-minus
This is largely a judgment call since we were not in the locker room for the most part.
And we understand Stefanski tried to deal with Covid by separating the offense and defense indoors.
But the result was multiple players talking about the diminished "team" feeling and bond throughout the year.
During radio interview with @CLETalkingHeads, #Browns coach Kevin Stefanski reiterates he and Baker Mayfield were well together, respect each other.

— Tom Withers (@twithersAP) January 13, 2022
After the Odell Beckham fiasco, Myles Garrett said the defense didn't know what was happening until it was over.
And Baker Mayfield kept telling people important decisions were his to make, or after he spoke with Emily and his agent.
Through it all, Stefanski remained even-keeled, even as he contradicted players' takes on some issues.
But even-keeled only works if you're above the water, and Stefanski needed to rise up and assert his authority.
Overall Grade: D 
Eight wins is far short of the Cleveland Browns' goal and expectations for the 2021 season.
But it is a far cry from the hopelessness and mockery of seasons past.
Injuries, Covid, player disruptions, and a difficult schedule presented serious challenges to the second-year head coach.
#Browns Greg Newsome II on how to bounce back next season:

"Forget about the season that we had but also remember it. Got to remember what it felt like to not make the playoffs. Remember what it felt like to go 8-9 after coming from a season where they won a playoff game."

— Camryn Justice (@camijustice) January 10, 2022
But he is a smart guy and he will undoubtedly look at it all and seek answers he can not find by himself.
Cleveland lost 6 games by less than one score, and that can be considered a positive factor.
Teams that lose a bunch of close games one season tend to over-correct in the following one.
And we trust Stefanski, Berry, and the players will be motivated by this year's disappointment beyond 2022.