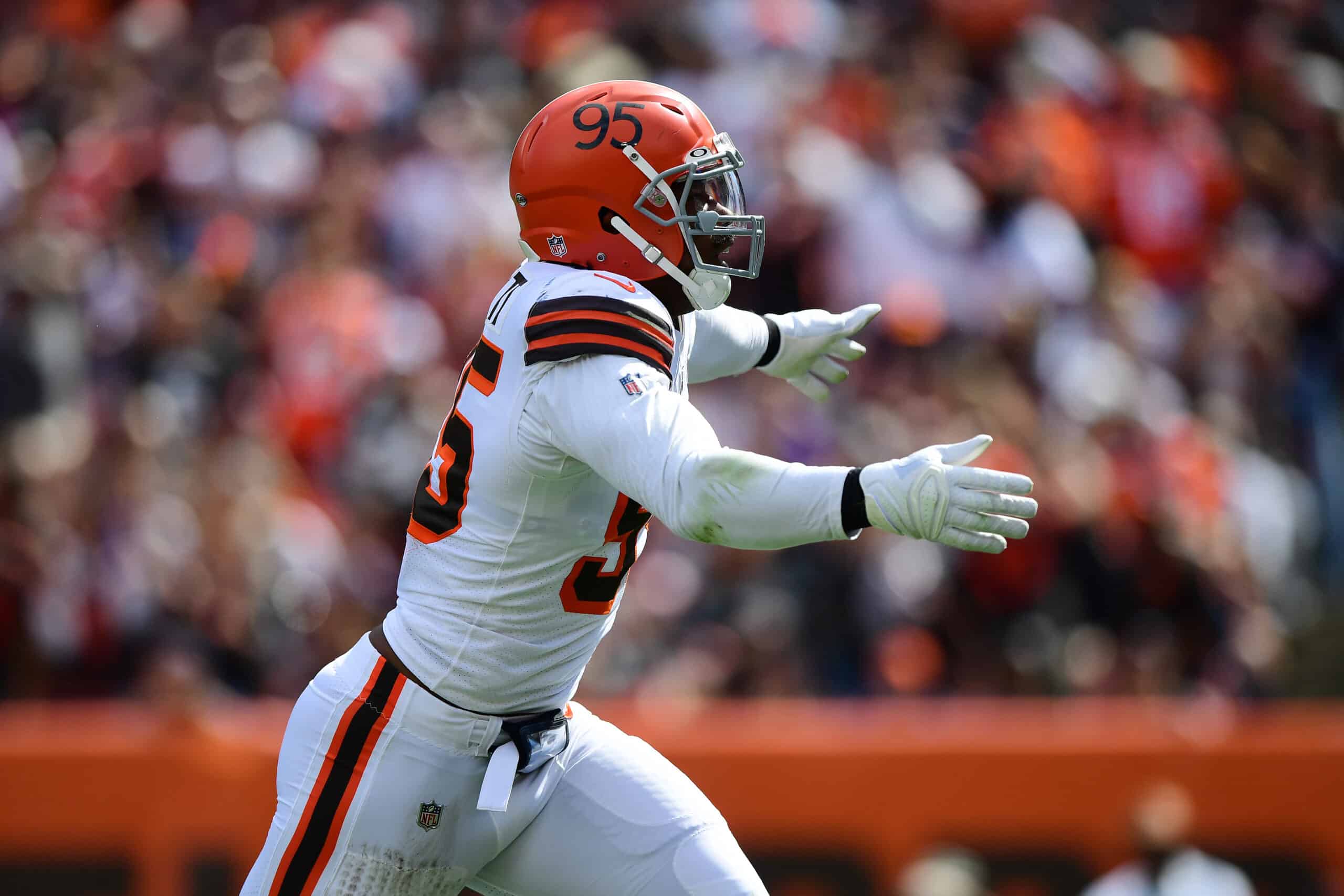 It's hard to look back on the 2021 Cleveland Browns season with a ton of positivity.
Relative to expectations, the team underwhelmed.
However, it's not all doom and gloom.
Plenty of individuals had success throughout the season.
The team even had their collective moments, such as the road win in Cincinnati.
One guy in particular, Myles Garrett, continued to show why he's one of the best edge players in professional football.
While overshadowed in the media by the likes of T.J. Watt and Micah Parsons, Garrett remained dominant in the 2021 campaign.
Let's take a look at his overall performance this past season.
Premiere Pass Rushing
It's a scary sight for offensive lines seeing Garrett lined up on the outside.
That's because he's wreaked havoc from that spot since entering the league.
That remained the status quo in 2021.
Per Pro Football Focus, he had the third-highest pass-rush win rate when in an outside-the-tackle alignment.
Highest pass-rush win rates from pure outside-the-tackle alignments in 2021, per @PFF:

Maxx Crosby (27%)
Rashan Gary (26%)
Myles Garrett (26%)
TJ Watt (22%)

— Austin Gayle (@PFF_AustinGayle) January 18, 2022
Anyone who watched the Browns throughout the season knows Garrett wasn't left alone with an offensive tackle on most snaps.
Typically, Garrett sees a double team, chip blocks, etc.
Got a bunch of requests to update the edge rusher double team rate X PRWR chart, which warms my heart. Especially by Browns and Steelers fans debating Myles Garrett vs. T.J. Watt.

Happy to oblige! pic.twitter.com/NnTA0Sf76F

— Seth Walder (@SethWalder) December 9, 2021
Browns legend Joe Thomas certainly took note of Garrett's relentless play this season.
Thomas' opinion on Garrett's ability is one most should trust.
.@Flash_Garrett just beat for a sack: a chip from the TE, a double team, and the protection slide. That's essentially 4 guys assigned to slow or block him. Never seen that before in my football life#CLEvsBAL @Browns

— Joe Thomas (@joethomas73) November 29, 2021
Offenses cater gameplans to slowing down Garrett.
Look at the second matchup with Pittsburgh.
The Steelers get the ball out of Ben Roethlisberger's hand quick to begin with.
This became especially true in the Monday Night game.
Garrett handled the Steelers tackles just fine.
The problem, however, is that the ball had left Roethlisberger's hand by the time Garrett, or any other pass rusher could even sniff his jersey.
That's still making an impact on the game without doing so statistically.
Availability
Garrett has missed time in 2019 and 2020 due to suspension, injury, and/or COVID-19.
This season, Myles appeared in and started all 17 games for the Browns.
That kind of availability should not be taken for granted. It's tough enough to stay healthy for a full season.
That requires tireless offseason work to build up endurance and durability.
Plus, Myles is making contact with someone on just about every snap.
Coaches love talent, but they also love player availability.
For Kevin Stefanski, Garrett brought the best of both worlds in 2021.
Run Defense
Myles is primarily known for his ability to rush the quarterback.
However, he's more than serviceable in terms of run defense as well.
Stopping the run comes down to owning the line of scrimmage and winning one-on-ones with the offensive line.
Garrett usually wins his individual matchups which commands more attention from the offensive line.
Without Myles on the field on certain snaps, the Browns struggled to stop the run.
To offer a bit of support for the Myles Garrett praise this week, here is the Browns run defense without him.

There's not a single win on that defensive front. pic.twitter.com/2vGKRgJ7mY

— Geoffrey Benedict (@phantaskippy) November 5, 2021
This shouldn't come as a shock to many. @Flash_Garrett was the #1 Ranked Edge Rusher in the NFL per @PFF
92.0 defensive grade
92.7 Pass rush grade (1st)
70.4 run defense grade.

Absolute difference maker. Our DPOY. #Browns pic.twitter.com/Mc5VzWV073

— Zach (@ZachNoah52) January 18, 2022
Garrett's 17 tackles for loss ranked sixth in the league this season.
He has a knack for getting in the backfield, whether it's bringing down a running back or sacking a quarterback.
Overall Grade: A-
The one knock on Garrett is his non-impact in the three late season losses.
He failed to tally a sack in the losses against Green Bay, Pittsburgh, and Las Vegas.
That's not to say he didn't make an impact just by playing in those games.
However, the big "splash" play that could have helped Cleveland win those games never came.
Still, Myles remained his dominant self in 2021.
There's no question he continues to be a foundational piece for the Browns moving forward.