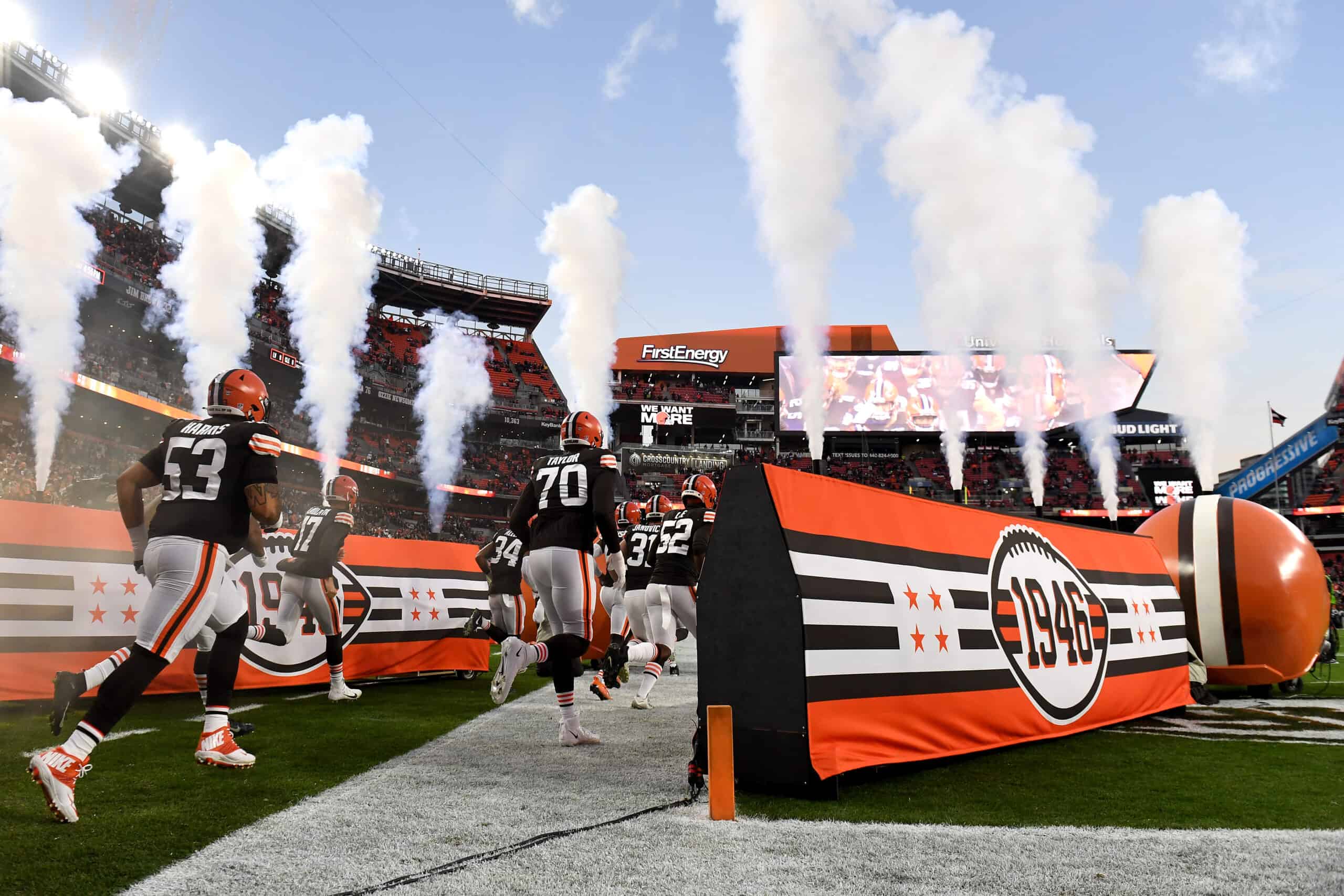 Episode 12 of the Cleveland Browns 2021 docuseries Building the Browns dropped on Friday, January 21, 2022.
It was aptly titled "The Season Finale."
Amazing season finale of Building the @Browns , tears were shed during the Diek segment and getting @demetricfelton7 insight, season recap and the road ahead, I love this team man #Browns

— John (@JohnnyBoyy05) January 21, 2022
This episode spanned from the Week 15 COVID-19 rescheduled game with the Las Vegas Raiders through the end of the season.
Here is what we learned from the episode.
1. Disappointment
As expected, the prevailing theme was one of disappointment.
This team fell short of its own and outside expectations.
Myles Garrett opens the episode talking about this.
"It needs to sting for the whole offseason."
He added that how they handle 2021 will "define our legacies or careers."
Garrett concludes by talking about coming back prepared and ready to make a stand.
@Flash_Garrett I'm watching Building the Browns and I just wanted to say thank you for being such a great person. I'm also very thankful you're on the Browns it means a lot to me as a fan.

— ChadP71 6elieve (@chadp71) January 21, 2022
Andrew Berry also talked about falling short.
He noted that other teams dealt with COVID-19, injuries, and other issues so the Browns were not subjected to different circumstances than other teams; however, they did not handle everything successfully.
Coach Stefanski mentioned the frustration that permeated the season; that was the team's inability to close out games.
2. Doug Dieken's Farewell
Doug Dieken has a piece of memorabilia for just about everything — even for all of his holding yards 😂

Watch regional Emmy Award winning series 'Building The Browns' 1/21 on YouTube. pic.twitter.com/aVPkYp6Q6e

— Cleveland Browns (@Browns) January 21, 2022
A segment was devoted to former player and broadcaster Doug Dieken who retired from the radio booth at the end of the season.
His children and grandchildren were at the Week 18 game season finale, and the behind-the-scenes interaction with Jim Donovan and others was emotional.
Dieken remains a Cleveland treasure, and as Donovan said, now that the broadcast booth is named after him, he is welcome to come back and visit anytime.
Browns honor Doug Dieken, dedicate radio booth to him #Nature #FaceTheClimateEmergency [Video]: The Browns honored Doug Dieken with a special scoreboard tribute during the second quarter of Clevelands 21-16 win over the Bengals followed by a special… https://t.co/JgHZHGeDud pic.twitter.com/u0E3sIThCF

— LeeTyler (@LeeTyler) January 10, 2022
3. Demetric Felton Opens Up About Rookie Season
Latest Building the Browns episode had a long piece on @demetricfelton7 What a fantastic young man. Proud he represents our city.

— M.C. Lawrence (@Maclawre) January 22, 2022
Rookie Demetric Felton has been an interesting addition to this team since he was drafted in the 6th round in May.
Felton talked openly about the rigors of the NFL season which is like nothing he ever experienced.
It started with believing he may not get drafted.
He then talked about playing only 12 college games in 2021 and 6 games in 2020.
Jumping into a 17 game season as a professional plus the preseason games was a difficult transition.
Watch regional Emmy Award winning series 'Building The Browns' today at 11 a.m. on YouTube. pic.twitter.com/gzn7AFPPb7

— Cleveland Browns (@Browns) January 21, 2022
He also showed us around his modern-looking apartment and Lego collection.
Felton talked about how gratifying it was to score touchdowns in both the first and last game of the season.
His interaction with the teenage fan in the last home game which was teased in the preview was also expanded upon.
He accidentally gave the touchdown ball to the official before immediately remembering to get it back and give it to the fan.
The Demetric Felton section of this week's BUILDING THE BROWNS is my favorite bit the entire year. What a great dude.

— Greyson Chorch-Trickelbank (@trickelbank) January 21, 2022
4. Good News About Stump Mitchell
Running game ain't been right since stump Mitchell been out

— Connor (@6OHMode) December 20, 2021
Felton alluded to running backs coach Stump Mitchell being his secret Santa in the Christmas gift exchange.
He showed us Mitchell's generous gift of a large computer screen to match his other used for Zoom meetings, watching film, and gaming.
Mitchell's energy and counsel were missed on the sidelines this season.
Behind the scenes, he stayed involved with Zoom meetings and with player interactions despite being sidelined by surgery and recuperation from a previous injury.
The best news of all is that Mitchell is expected back on the sidelines next season.