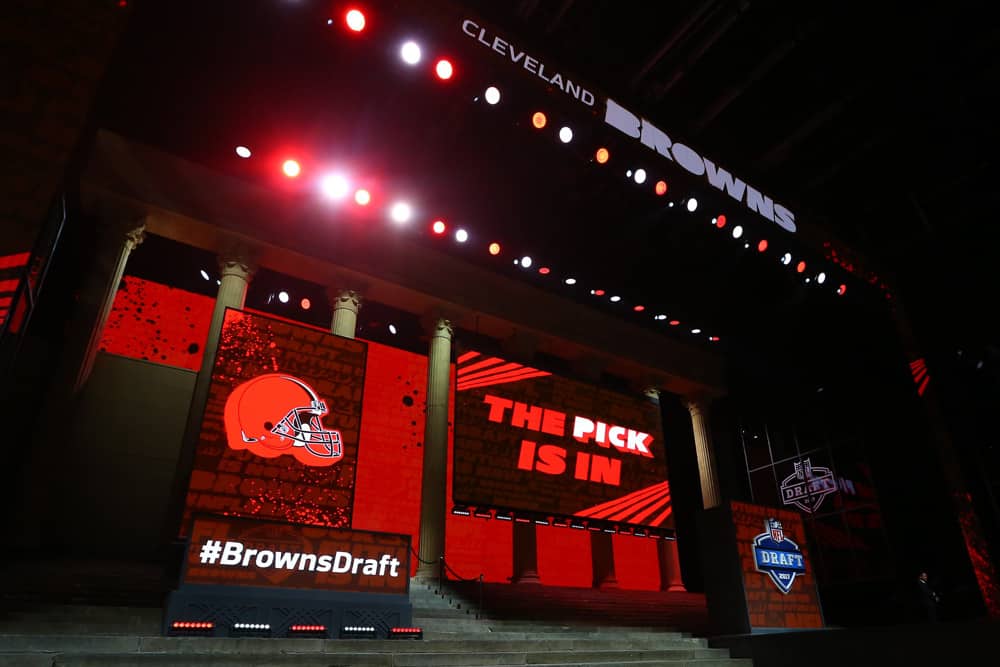 Football can be extremely complicated, more so for some folks than others.
For example, the Cleveland Browns hired a room full of Ivy League scholars before they figured things out.
But sometimes, the answers come easy.
⭐️ Our 2021 NFL Draft Class ⭐️

— Cleveland Browns (@Browns) May 1, 2021
How can anyone give the Cleveland Browns anything less than an A+ for their draft performance?
Looking at things from every angle and considering every popular grading scale, it always comes out the same.
But it is not good enough for some folks to simply have an answer.
They need to know the particulars that led to the final result.
So, let's take a look at what went into grading the Cleveland Browns 2021 NFL Draft.
The Cleveland Browns Filled Some Needs 
The best NFL teams don't necessarily need to fill all their needs through the draft.
But if they do, it is like a big, inexpensive bonus for the general manager.
Heading into the 2021 NFL draft, Cleveland was thought to have four particular needs.
They landed a starting-caliber cornerback as insurance for Greedy Williams and Denzel Ward.
What a great draft the Cleveland @Browns had! Super pumped! We are going to be competitive in every position. Let's Go! Go Browns!!#Browns #BrownsTwitter pic.twitter.com/XP7gUnXb6z

— Jason Hand @BrownsHuddle (@BrownsHuddle) May 1, 2021
Then Berry chose a versatile middle defender with speed, power, and coverage skills.
Some wanted a speedy receiver to draw safeties away from Odell Beckham, so the Browns grabbed the fastest.
And finally, the team drafted their fourth defensive tackle, a bargain pick in the fifth round.
Greg Newsome II, Jeremiah Owusu-Koramoah, Anthony Schwartz, and Tommy Togiai might all be active in Week 1.
It is hard to argue Andrew Berry did not meet the requirements of filling needs.
The Browns Invested In Future Rosters 
Andrew Berry already obtained an extra fourth-round pick in the 2022 NFL Draft.
But he also drafted some players who could move into important roles in the near future.
In the fourth round, Berry picked tackle James Hudson who brings a little attitude with him.
Cleveland has the best offensive line coach in the NFL to make Hudson ready for any future role.
Did anyone have a better draft than your CLEVELAND BROWNS?! We don't think so! All Cleveland Browns draft picks this weekend have been presented by @Raising_Canes. pic.twitter.com/bZsXEyQ7qo

— ESPN Cleveland (@ESPNCleveland) May 1, 2021
Linebacker Tony Fields comes equipped with skill, drive, and flexibility.
But along with 6th round safety Richard LeCounte, he could some time to bulk up for the NFL challenge.
Then Berry tacked on running back/wide receiver Demetric Felton.
Berry loves flexibility, and when you have to say two positions in front of a guy's name, he's flexible.
These players might see some action in 2021, but they have a chance at bigger roles in the Browns' future.
Putting Together The Special Project
This season's special project was revamping a defense that was mediocre at best in 2020.
Berry exceeded expectations by doing more than strengthening some weak links.
He melded his draft class with his free agency haul and players returning from the injured list.
And put together, the Browns can field an entirely new defense if they want to.
Analysis: Draft board falls our way, and the defense keeps getting better

📰 » https://t.co/6a4HW4D87O pic.twitter.com/Xw7YOGEjZ5

— Cleveland Browns (@Browns) April 30, 2021
Of course, Myles Garrett, Denzel Ward, and a couple of others might protest.
And indeed, the additions are complements to the working parts of Joe Woods' unit.
Since there were no rules against using free agency and the injured list, Berry gets another A+.
But there will be no star atop his papers until the Lombardi Trophy is raised in Cleveland.
Will The Browns Pass The Final Exam?
Of course, even the highest grade can be ruined by a failed final exam.
Greg Newsome appears to be another lockdown outside cornerback.
Owusu-Koramoah could be the centerpiece Joe Woods needs for his preferred dime defense.
Fans might forget all about Sheldon Richardson when they see Togiai working the trenches.
If you don't think the Cleveland Browns are winning the Super Bowl this year – you simply haven't been paying attention. @Browns #NFLDraft @2Bsportspodcast @Reflog_18

— Christopher Benek (@benekcj) May 1, 2021
Fields and LeCounte could enter the defensive back rotation in Cleveland's fast-moving secondary.
Schwartz and even Felton could paralyze defenses with some speed and trickery.
And it could be "some guy named" Hudson who covers Baker Mayfield's back at a key moment this year.
It certainly looks promising for a final grade of A+… for now.