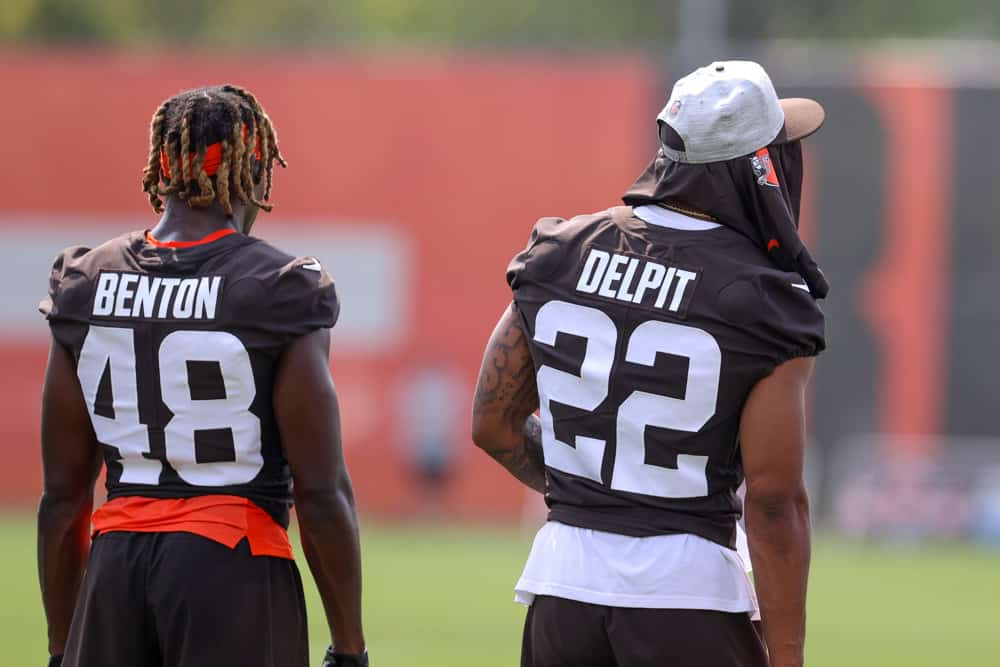 After the NFL Draft in 2020, Cleveland Browns fans wanted to see what safety Grant Delpit could do at the professional level.
The former LSU standout garnered plenty of attention coming into the NFL and looked to immediately shore up Cleveland's secondary.
Unfortunately, an Achilles injury prevented him from seeing the field in his rookie season.
Heading into year two, the hopes are that he can remain healthy and earn a consistent role on defense.
Earlier this month, a hamstring injury kept Delpit sidelined for several days.
Another setback may have hit Delpit on Wednesday as he reportedly was shaken up during practice.
Grant Delpit appeared to get shaken up during team on a throw to Davion Davis; went inside. Had just returned from a hamstring injury #Browns

— Daryl Ruiter (@RuiterWrongFAN) August 18, 2021
The news is the last thing Browns fans want to hear or see about Delpit.
Injuries derail careers almost every season in the NFL.
While that level of concern isn't necessary yet with Grant, injuries continue to plague the start of what's hopefully a bright career.
Delpit's Role in 2021
It took what seemed like only 5 seconds for Browns fans to grow tired of Andrew Sendejo last season.
We won't pick on him more here, but many of his defensive performances left a lot to be desired.
The hope is that this season, play at that position will be elevated by Delpit as well as John Johnson III.
John Johnson III interception pic.twitter.com/FOOeb4P0uT

— Jake Trotter (@Jake_Trotter) July 31, 2021
As of now, he sits behind Ronnie Harrison on the Browns depth chart.
After coming over from Jacksonville last September, Harrison impressed in the Browns secondary.
A big pick-six in the Week 5 win over Indianapolis highlighted his first season with the brown and orange.
Former Alabama safety Ronnie Harrison's first interception for the Cleveland Browns became the first touchdown of his NFL career. pic.twitter.com/9Zwh9NSSPw

— Alabama Crimson Tide | AL.com (@aldotcomTide) October 12, 2020
Cleveland is hoping for that same playmaking ability out of Delpit.
He tallied 17.5 tackles for loss, seven sacks, and eight interceptions during his collegiate career.
Delpit can get after the quarterback and make something happen in coverage.
Finding guys who excel at both is no easy task for a General Manager.
If Delpit can stay healthy and settle in this season, expect to see more and more of him as the season moves on.
Time to Panic?
It's no secret that the Browns expectations include a deep postseason run this year.
They have a roster mixed with veteran talent and budding superstars.
However, with that comes the need for top guys to contribute.
Teams in a "win-now" mode don't have the time to experiment with draft picks and prospects.
Those teams need guys who can contribute immediately in a positive manner.
So far, Delpit has not done that in Cleveland.
Yes, it's only been one season that a serious injury ended before it even started.
Now, though, those bumps and bruises are becoming an issue again in year two.
That doesn't mean it's time to panic yet.
However, the time for that may come sooner than later.
There's a reason Andrew Berry went out and brought in John Johnson III this offseason.
The safety position was exposed quickly last season and hurt the defense on more than one occasion.
It's 3rd & 10 with 0:52 seconds left in the 1st half, and the ball is on the Ravens' 44 yard-line. All the #Browns have to do is not give up a big play and they'll go into halftime with the game tied at 14-14. And then Sendejo happened. Just watch him here: pic.twitter.com/cYQGvRqcUl

— Roberto Shenanigans (@Rob_Shenanigans) December 15, 2020
Cleveland needed options for this season if Delpit was unable to get where they want him to go.
Media members speak fondly of Grant, and many remain hopeful he can develop into something special.
Hopefully, this setback is not a serious one for him.