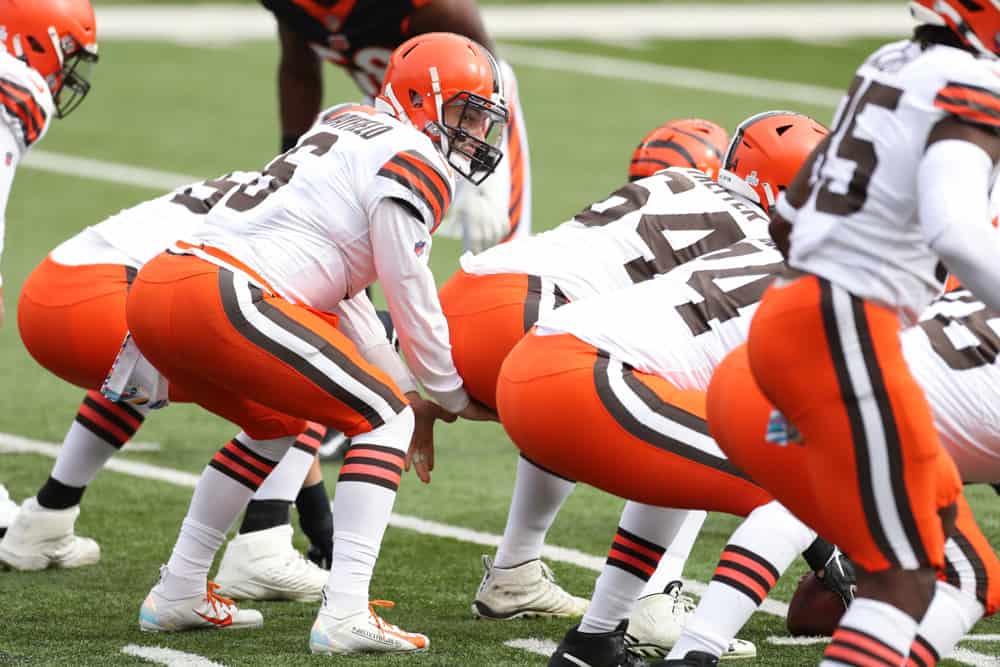 The Cleveland Browns 2020 campaign didn't end quite the way fans would've liked to see.
Although, the team did make the postseason and win a playoff game for the first time in a long time.
This is a young roster that is only going to learn and get better as time goes on.
Obviously, this team wanted to get to the Super Bowl, but regardless this season should be viewed as a success.
They were able to go 11-5 in the regular season and beat the Pittsburgh Steelers in the first round of the playoffs.
There were a few players who exceeded expectations and were a key reason why this team played so well in 2020.
3. Rashard Higgins
The mid-season injury to wide receiver Odell Beckham Jr. was an enormous blow to this offense.
He suffered a season-ending ACL tear and left the Browns with a large void to fill.
Luckily, fifth-year wide receiver Rashard Higgins was able to step up for Cleveland.
The 26-year-old was horrendous with the Browns in 2019 under then-coach Freddie Kitchens.
He turned down multiple offers elsewhere in order to return to the Browns this season.
Higgins bet on himself and the Browns decided to give him another chance.
Browns fans are certainly happy the front office gave Higgins an opportunity to prove himself.
Baker Mayfield hits Rashard Higgins for a nice gain. #Browns pic.twitter.com/0J0hWJyfac

— Justin Groc (@jgroc) January 17, 2021
Sadly, Higgins might be remembered most for his controversial touchback play during the playoff game versus the Kansas City Chiefs.
Rashard Higgins fumbles out of the end zone for a Chiefs touchback…#CLEvsKC #NFLPlayoffs pic.twitter.com/40XWWoDiT0

— SportsGrid (@SportsGrid) January 17, 2021
Clearly, Higgins would've liked to end his season on a better note, but he did have a successful year.
He hauled in 37 receptions for a career-high 599 yards with four touchdowns through 13 games.
That is quite a bounce back year for a player who had a total of four receptions in 2019.
Despite what happened against the Chiefs, Higgins deserves an extension this offseason.
2. Wyatt Teller
Coming into the 2020 season, it's difficult to believe anyone would've predicted right guard Wyatt Teller would have this incredible of a year.
The 26-year-old was traded to Cleveland last season for a couple of late-round draft picks.
The Browns figured that Teller could be a 'filler' type of player until they acquired someone better.
Teller quickly earned the starting job and likely a massive extension in the near future.
He finished the 2020 season as the highest graded player on the offensive line throughout the NFL.
Highest-graded OL of 2020:
1. Wyatt Teller (G) – 93.8
2. Trent Williams (T) – 92.1
3. David Bakhtiari (T) – 91.8
4. Zack Martin (G) – 91.3 pic.twitter.com/05JhPzIZpO

— PFF (@PFF) December 30, 2020
Sadly, injuries played a role in Teller's 2020 campaign and forced him to only play 11 games.
Regardless, this type of turn around is something that doesn't happen quite often.
Teller went from a borderline starter to an elite guard in one season.
He surpassed everyone's expectations and is well deserving of a significant raise.
1. Baker Mayfield
There were plenty of questions regarding the future of quarterback Baker Mayfield coming into the season.
However, it's obvious now that Mayfield is going to be the franchise quarterback for this team going forward.
Mayfield made some incredible strides during his first year with new head coach Kevin Stefanski.
Obviously, the Browns weren't able to get the win over the Chiefs in the second round.
Although, Mayfield did play his heart out during the game and left everything he had on the field.
.@bakermayfield finds @God_Son80 for SIX!

📺: https://t.co/k8TCbMTBLa pic.twitter.com/6vcBb1oqYm

— Cleveland Browns (@Browns) January 17, 2021
Heading into 2020, Mayfield was coming off an awful season with a career-high 22 interceptions.
Mayfield was quickly able to bounce back under Stefanski's new system.
Through 16 games, Mayfield threw for 3,563 yards with 26 touchdowns and eight interceptions in 2020.
The Browns were unsure if Mayfield was the answer going into the season, but now they know that he is capable of leading this team in the long term.