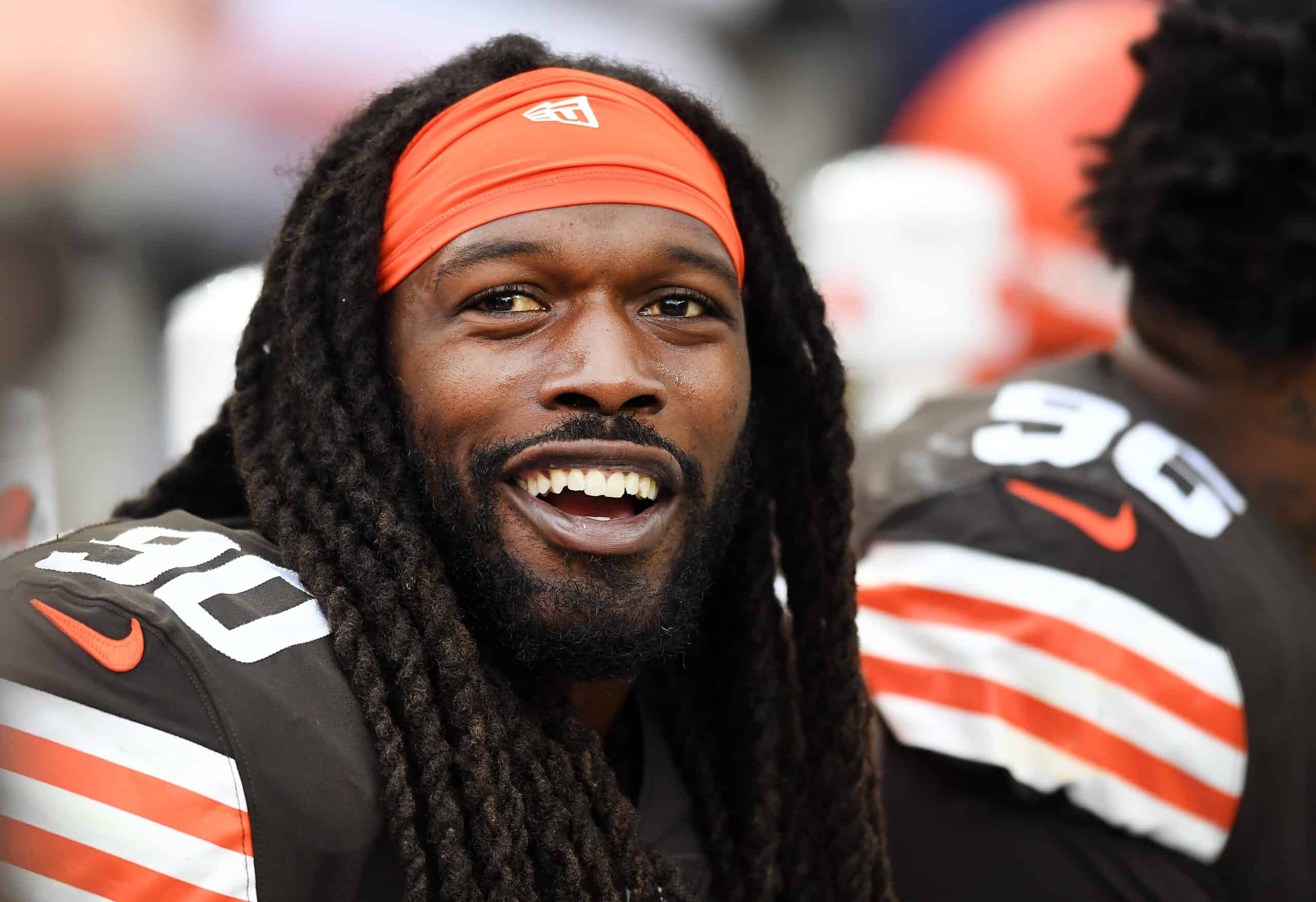 One of the Cleveland Browns' biggest free-agent acquisitions for the 2021 season was defensive end, Jadeveon Clowney.
Clowney, 28, was trying to regain his footing from a disappointing 2020 season with the Tennessee Titans.
He signed a one-year $8 million contract with the Browns.
Among the many questions, the Browns have to answer in the offseason is whether the team should re-sign Clowney?
The answer is yes, and here is why.
1. He Had A Good Year
In 13 games, he had 7 sacks, 22 solo tackles, and 1 forced fumble.
Clowney fit into the system and was a contributor.
Coach Stefanski noted the great camaraderie between Garrett, Clowney, and the defensive line.
#Browns HC Kevin Stefanski on what factors allowed Myles Garrett-Jadeveon Clowney combo to work: "Those two guys, I really include the whole defensive line…great camaraderie. I just think that group practiced hard…then they play hard during the game."

— 92.3 The Fan (@923TheFan) January 7, 2022
With more time together, it could be an even better winning formula.
2. Garrett Wants Him To Come Back In 2022
#Browns Myles Garrett said he's been trying to get Jadeveon Clowney to re-sign with Cleveland.

"I want him here."

— Camryn Justice (@camijustice) January 7, 2022
#Browns Myles Garrett said he'll try to convince Jadeveon Clowney to stay in Cleveland next season, even though he knows he likes warm weather.

— Camryn Justice (@camijustice) December 31, 2021
Myles Garrett has been vocal and very direct about wanting Clowney to stick around.
"I want him here."
Garrett also noted Clowney's two sack game against the Pittsburgh Steelers.
"He was disruptive. I feel he's disruptive every time he's out there, especially when we're out there together and they can't just key in on just one of us."
The Browns front office will take note of this.
Clowney will be a sought-after free agent as he has revived his career in Cleveland so if the Browns want to re-sign him, they should act quickly.
There are already reports that the New England Patriots are interested in signing him for the 2022 season.
Dallas Robinson of Pro Football Network named the New England #Patriots as a potential landing spot for #Browns Jadeveon Clowney after this season.

— Justin Ramos (@patriotsnews247) January 8, 2022
3. Clowney Said He Wanted To Stay
Even more important than Garrett wanting him back is the fact that Clowney himself expressed an interest in staying in Cleveland.
He is ingrained in the culture and wants to continue his career with the Browns.
Jadeveon Clowney says he would like to stay in Cleveland next year but extension talks haven't taken place to this point. #Browns

— Noah Weiskopf (@BrownsWithNoah) December 31, 2021
Last week, Clowney said no extension talks have happened yet.
This begs the question of whether he will be willing to accept less money to stay; only time will tell us the answer on that.
Conclusion
This seems like one of the easier decisions the Browns front office needs to make.
Hopefully re-signing Clowney is one of the top items on the offseason priority list and is done quickly.