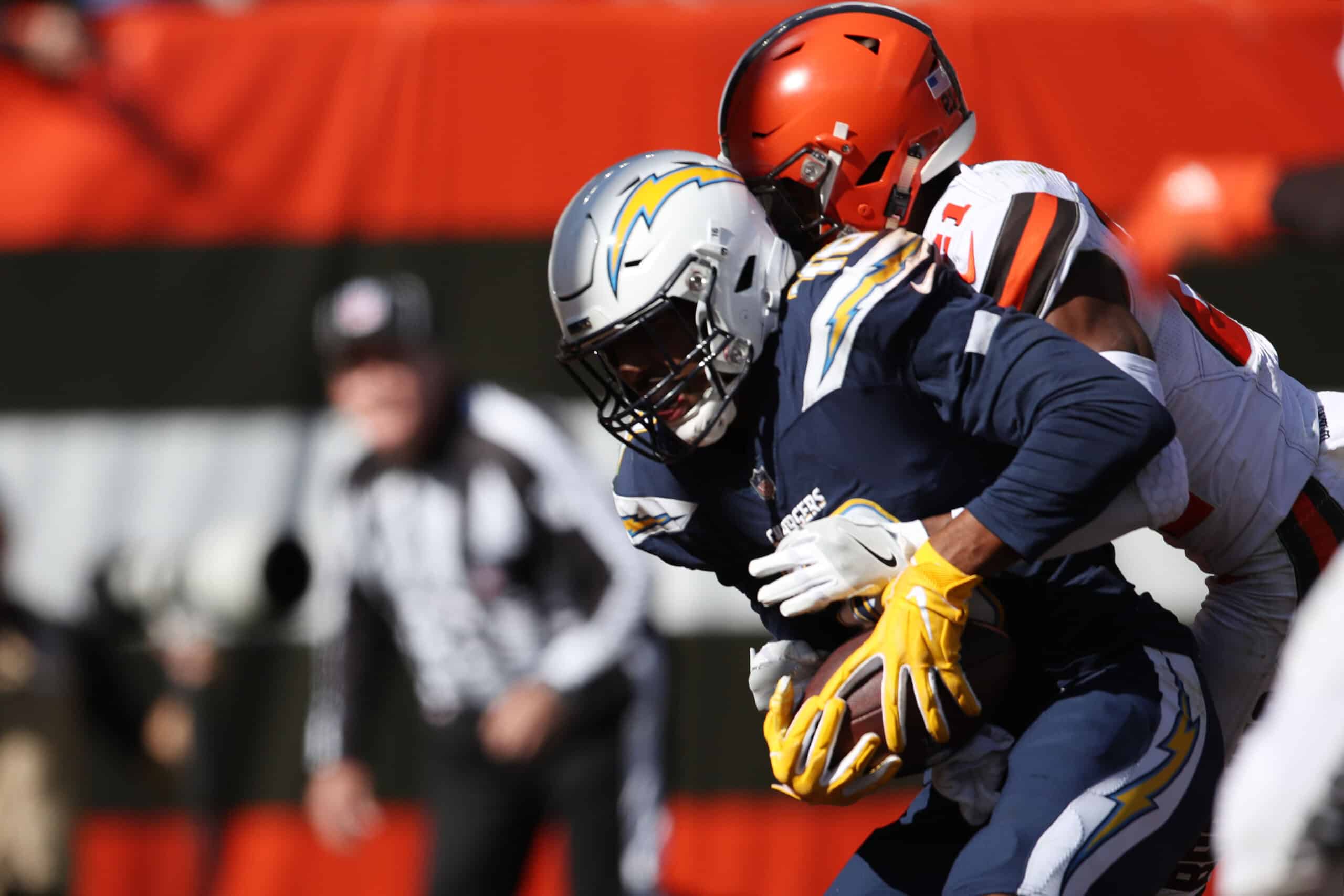 The Cleveland Browns travel to SoFi Stadium, home of the 2022 Super Bowl, to take on the Los Angeles Chargers in a competitive Week 5 game.
Both teams have matching 3-1 records, and the Browns are riding a 3 game winning streak.
OBJ: "We're winning. That's the bottom line."#Browns pic.twitter.com/3qooqCu9dJ

— Tom Withers (@twithersAP) October 7, 2021
The Chargers dropped their Week 2 game to Dallas but have won 2 straight over Kansas City and Las Vegas.
Check out my TikTok previewing the keys of the game for the Browns.
Here are the details of how to watch, listen, or live stream the game.
How To Watch Browns Vs. Chargers
The game airs nationally on CBS at 4:05 PM EDT on Sunday, October 10, 2021.
The broadcasting team of Kevin Harlan, Trent Green, and Melanie Collins will cover the game.
How To Listen Browns Vs. Chargers
The four flagship stations for Browns football are:
On satellite radio, the Sirius XM Browns broadcast for this game is on Channel 384.
Outside of Cleveland, the Browns radio affiliates are:
Akron
WAKR – 1590 AM
Akron
WONE – 97.5 FM
Canton
WHBC-AM – 1480 AM
Canton
WHBC-FM – 94.1 FM
Columbus
WTOH – 98.9 FM
Corry (Pa.)
WWCB – 1370 AM
Dayton
WHIO-AM – 1290 AM
Dayton
WHIO-FM – 95.7 FM
Dayton
WZLR – 95.3 FM
Dover
WJER – 1450 AM
Erie (Pa.)
WPSE-AM – 1450 AM
Erie (Pa.)
WPSE-FM – 107.1 FM
Fostoria
WFOB – 1430 AM
Geneva
WKKY – 104.7 FM
Jamestown (N.Y.)
WQFX – 103.1 FM
Lima
WWSR – 93.1 FM
Mansfield
WRGM – 1440 AM
Mansfield
WVNO-FM – 97.3 FM
Marietta
WJAW – 100.9 FM
Norman (Okla.)
KREF – 1400 AM
Sandusky
WMJK – 100.9 FM
Tulsa (Okla.)
KAKC – 1300 AM
Uhrichsville
WBTC-AM – 1540 AM
Uhrichsville
WBTC-FM – 101.9 FM
Wooster
WQKT – 104.5 FM
Youngstown
WKST – 1200 AM
How To Live Stream Browns Vs. Vikings
Those interested in live streaming the game can access it on the following platforms:
Can Browns Run The Ball Successfully?
LOS ANGELES (AP) — Justin Herbert and Baker Mayfield are at the helm of 3-1 teams as the Los Angeles Chargers host the Cleveland Browns on Sunday. The quarterbacks come into the matchup on different trajectories. https://t.co/kqRy0Gf5Kc

— Quad-City Times (@qctimes) October 7, 2021
Though this game may be billed as the quarterback battle between Justin Herbert and Baker Mayfield, it will likely come down to the defensive play that is tasked with containing them.
The key to this game for the Browns is to run the ball against a Chargers defense that is weaker against the run.
If there is a game for both Nick Chubb and Kareem Hunt to rush for over 100 yards each, this is the one.
The Browns offensive line needs to hold up and protect Mayfield who will still need to pass the ball.
Short passes to tight ends and screen passes will be the ticket to balancing out the offensive attack.
Hopefully the Browns can exit SoFi Stadium Sunday night with a victory over a great team and a 4-1 record.