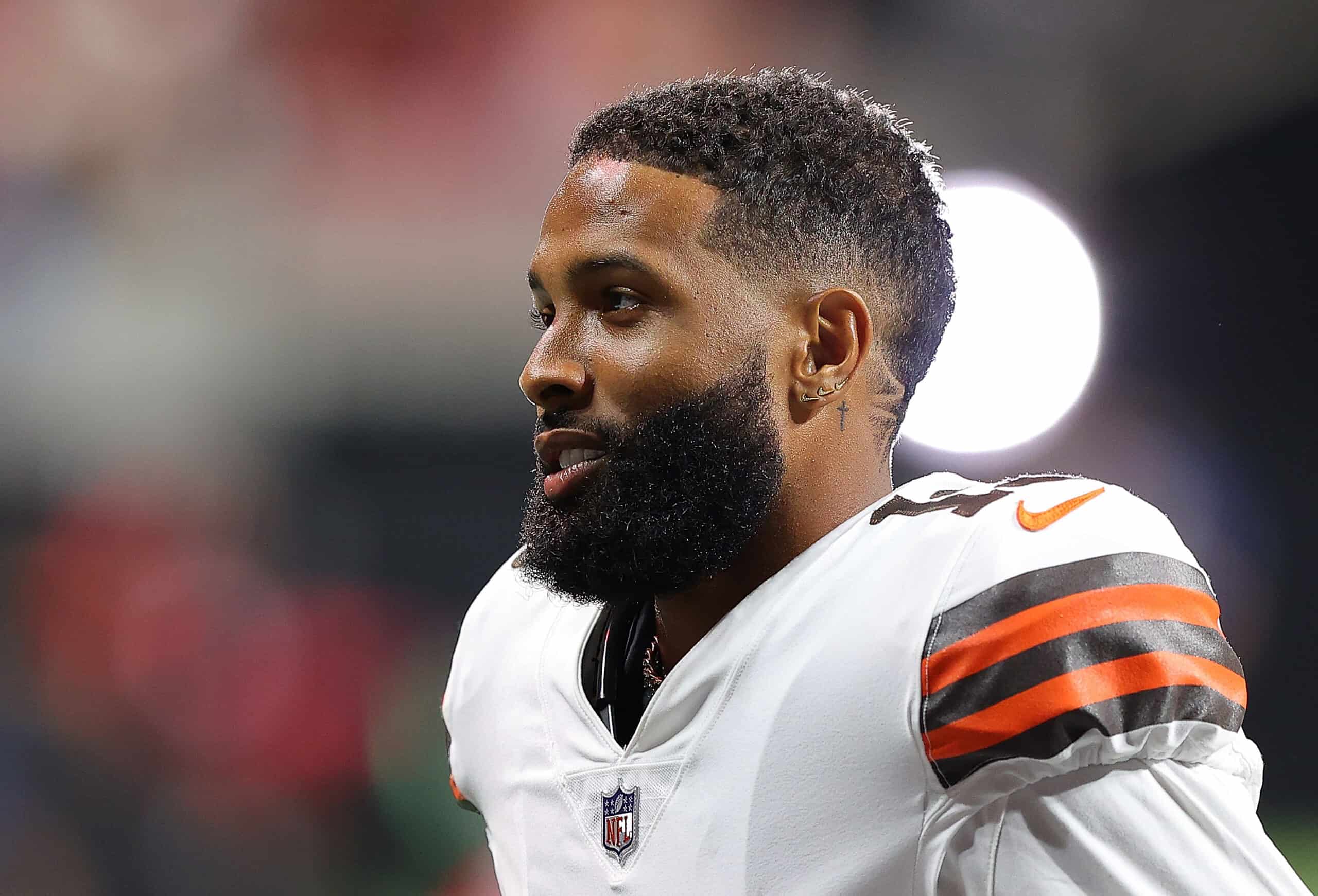 Cleveland Browns wide receiver Odell Beckham Jr. understands the pain Baker Mayfield has in his left shoulder.
Beckham told media members on Thursday that he's played through a torn labrum in his left shoulder since his playing days at LSU.
"I don't really care to talk about injuries, but I've had this since college. It's the same thing he's got," Beckham said. "I guess you all found out. I've had it for 10 years now.

"It is what it is. I want to go out there and play football, do whatever I gotta do."
Citing unnamed sources, the NFL Network's Ian Rapoport reported Thursday that Mayfield has played through a partially torn labrum in his left shoulder.
Mayfield suffered the injury on Sept. 19 against the Houston Texans.
#Browns QB Baker Mayfield, who has been wearing a shoulder harness to play, suffered a partially torn labrum in his left shoulder on Sept 19 vs the #Texans, sources say. No surgery needed as of now. He was listed on the report after the injury and hasn't missed a practice snap.

— Ian Rapoport (@RapSheet) October 7, 2021
The Sept. 26 game against the Chicago Bears marked Beckham's first game back since tearing his ACL on Oct. 25, 2020.
Beckham said his shoulder had popped out against the Bears, and he said "it's been happening" all the time.
On Thursday, Beckham said he would likely continue to have shoulder issues until he has surgery on it.
"I don't want to be on the surgery table anymore, so you keep working it," Beckham said. "You work the muscles around it, you do all of that and then you just go out and play and forget about it. By the time you get out there, you forget about it."
Beckham has struggled with injuries the past few seasons.
On Nov. 10, 2020, Beckham had surgery to repair the torn ACL in his left knee.
The ACL injury limited Beckham to seven games in the 2020 season.
Beckham also had core-muscle surgery in January 2020, but battled through the injury to play in all 16 games of the 2019 season.
OBJ acknowledged how the torn labrum injury can impact Mayfield's throws.
"I tell you, that s**t hurts. He's tough," Beckham said of Mayfield. "It doesn't feel good. There's days where I woke up that first day after Monday I couldn't lift the arm. You heard that little (pop sound).

"But it is what it is. We're going to go play football. He's tough. He's going to go play."
Beckham is working his way back into game shape.
Against the Bears in Week 3, Beckham played 52 snaps, catching five passes on nine targets for 77 yards.
In Week 4 against the Vikings, Beckham played 62 snaps, catching two passes on seven targets for 27 yards
Beckham has also had two rushes for 14 yards this season.
"As the game went on, I started to feel more and more in shape, and my legs starting to come back underneath me," Beckham said. "And, it's only the second game after a long time of being out, so I actually don't feel too bad."
Mayfield missed Beckham on a deep right pass with 1:13 left in the fourth quarter of Sunday's game against the Vikings.
Beckham said he talked with Mayfield both during the game, after the game and at team meetings.
"(I) played (Call of) Duty with him," Beckham said. "We chop it up all of the time. I don't really know if there's a … that word keeps being thrown around like chemistry as much as just (the) second game back."
Had Mayfield and Beckham connected on 3rd down and 5 from Cleveland's 38-yard line, it would have sealed the Week 4 game for the Browns.
"Anybody who is great and expects greatness out of himself is going to be upset when they miss an opportunity," Beckham said. "He wants to be great. I want to be great, so, yeah, we want perfection. We want the best, but it happens."
Baker Mayfield MISSES a wide-open Odell Beckham Jr.😨 #Browns

— TWSN (@TWSN___) October 3, 2021