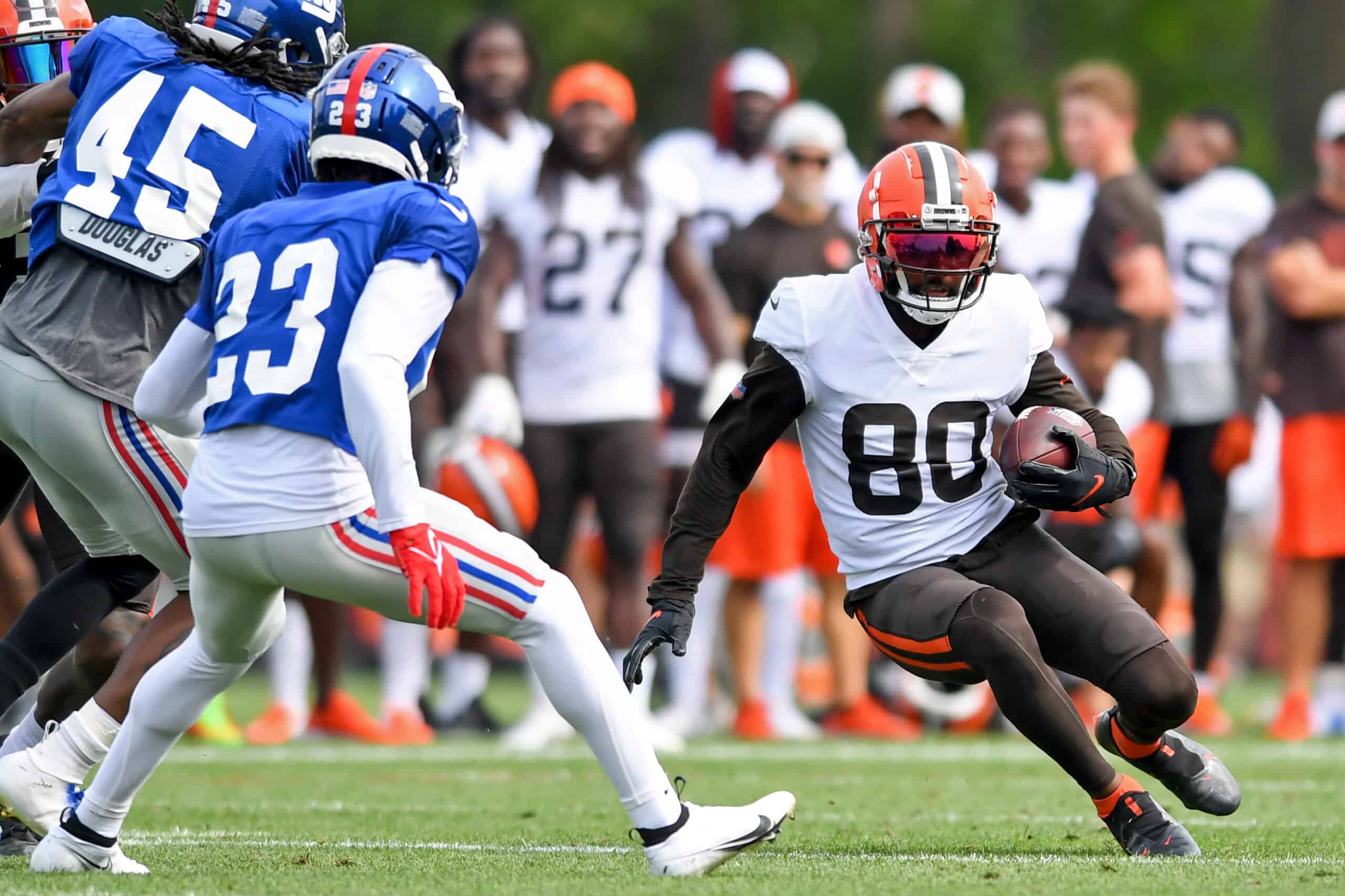 The Cleveland Browns are hosting their first preseason game in two years on Sunday afternoon, August 22, at FirstEnergy Stadium.
This will also be the first fan-attended game since the final game of the 2019 regular season so the Dawg Pound is expected to wild and crazy after the long absence.
Fresh off of the first preseason game win over the Jaguars, the Browns will take on the New York Giants.
The teams will unofficially be on the field together much earlier than Sunday.
The Giants came to town early for Thursday and Friday joint team practices.
Practice is over for the Browns. Giants are doing conditioning pic.twitter.com/VV1MCgZwBA

— Dan Duggan (@DDuggan21) August 19, 2021
How To Watch Browns Vs Giants
The game airs nationally on NFL Network at 1:00 pm on Saturday, August 22, 2021.
Within the Cleveland, Ohio viewing area, viewers can tune into News 5 at the same time to hear Tom McCarthy, Joe Thomas, and Nathan Zegura cover the game.
How To Listen to Browns Vs Giants
The four flagship stations for Browns football are:
Note: 97.1 The Fan is a new addition for the 2021 NFL season.
On satellite radio, the Sirius XM Browns broadcast station is Channel 388.
Outside of Cleveland, the Browns radio affiliates are:
Akron
WAKR – 1590 AM
Akron
WONE – 97.5 FM
Canton
WHBC-AM – 1480 AM
Canton
WHBC-FM – 94.1 FM
Columbus
WTOH – 98.9 FM
Corry (Pa.)
WWCB – 1370 AM
Dayton
WHIO-AM – 1290 AM
Dayton
WHIO-FM – 95.7 FM
Dayton
WZLR – 95.3 FM
Dover
WJER – 1450 AM
Erie (Pa.)
WPSE-AM – 1450 AM
Erie (Pa.)
WPSE-FM – 107.1 FM
Fostoria
WFOB – 1430 AM
Geneva
WKKY – 104.7 FM
Jamestown (N.Y.)
WQFX – 103.1 FM
Lima
WWSR – 93.1 FM
Mansfield
WRGM – 1440 AM
Mansfield
WVNO-FM – 97.3 FM
Marietta
WJAW – 100.9 FM
Norman (Okla.)
KREF – 1400 AM
Sandusky
WMJK – 100.9 FM
Tulsa (Okla.)
KAKC – 1300 AM
Uhrichsville
WBTC-AM – 1540 AM
Uhrichsville
WBTC-FM – 101.9 FM
Wooster
WQKT – 104.5 FM
Youngstown
WKST – 1200 AM
How To Live Stream Browns vs Giants
Those interested in live streaming the game can access it on the following platforms:
As of now, we do not know if any of the veteran starters will play in this game including Odell Beckham Jr. who would be going up against his former team.
The rook ended it early! 🔥#BrownsCamp | @gnewsii pic.twitter.com/XOtrf4K4Id

— Cleveland Browns (@Browns) August 19, 2021
Rookies headlined the Jaguars game and created highlights at Thursday's joint practice so it is yet to be determined who will play on Sunday.