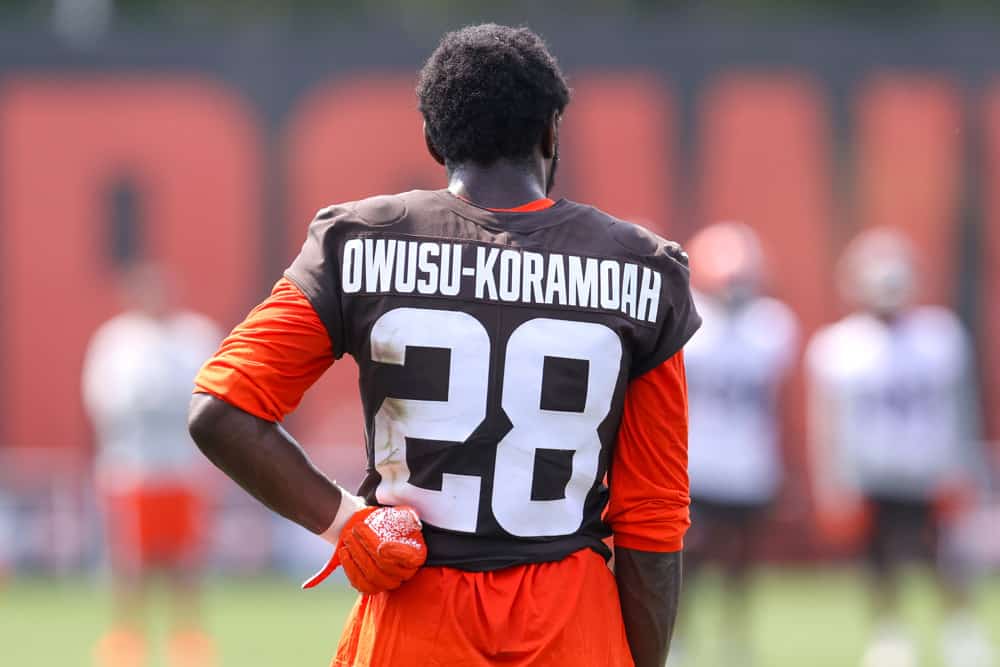 It didn't take long for the rookies to emerge on the Cleveland Browns roster.
Both defensive back Greg Newsome and linebacker Jeremiah Owusu-Koramoah have exceeded expectations early in camp.
On Thursday, Owusu Koramoah was able to take first-team reps, which is a huge step forward for him.
Why Jeremiah Owusu-Koramoah got his initial 1st team reps and how Greg Newsome II ended the joint practice with the #Giants early: Hey, Mary Kay! video from Day 16 of #Browns Training Camp https://t.co/JdtrqUDuHa

— Mary Kay Cabot (@MaryKayCabot) August 19, 2021
It was a joint practice with the New York Giants, so Owusu-Koramoah was able to get a feel of what it's like to be with the starters full-time on the field.
The Browns obviously have high hopes for both JOK and Newsome, but clearly they've done enough to earn themselves big opportunities in camp.
JOK Already Starting?
The Notre Dame product was selected in the second round by the Browns during this year's draft.
He is a fairly accomplished linebacker with over 140 tackles and 24.5 tackles for loss during his two seasons in college.
Although, the college game and professional level are different animals, but Owusu-Koramoah appears to be adjusting well.
As already mentioned, he received first-team reps on Thursday, but it wasn't really on his own merit.
Both linebackers Sione Takitaki and Jacob Phillips left practice due to injuries.
#Browns say LB Jacob Phillips has an elbow and LB Sione Takitaki a hamstring injury. Both left practice early today.

— Daryl Ruiter (@RuiterWrongFAN) August 19, 2021
The exiting of those players opened up a door for Owusu-Koramoah to get action with the starters.
Regardless of why it happened, the rookie linebacker reportedly looked solid with the first-team players.
It's always good to have your young players around the veterans to help guide and teach them.
At the end of the day, it's more experience for Owusu-Koramoah who is hopefully going to be a long-term starter for the Browns.
Give Into The Hype?
The Owusu-Koramoah hype train has already left the station and is going full steam ahead.
Although, there is still time to jump aboard if you're still uncertain about him.
During the Browns' first preseason game, Owusu-Koramoah put on a show.
Jeremiah Owusu-Koramoah was the ultimate draft steal #Browns. pic.twitter.com/ra0AuUoStC

— Tyler Johnson (@T_johnson_TJ) August 15, 2021
He finished with a team-high eight tackles and one sack in the victory over the Jacksonville Jaguars.
Yes, it's a meaningless game, but it's professional game experience for the rookie linebacker.
Clearly, JOK has what it takes to play well and possibly start at the professional level.
There are still two more preseason games, so we'll see how the young linebacker does in those games.
Regardless, the fact JOK was able to get first-team reps is a good sign.
It shows the organization believes in him and clearly he isn't afraid of a challenge.
The first team reps were just the beginning of what will hopefully be a long and successful career for the Browns second-round pick.