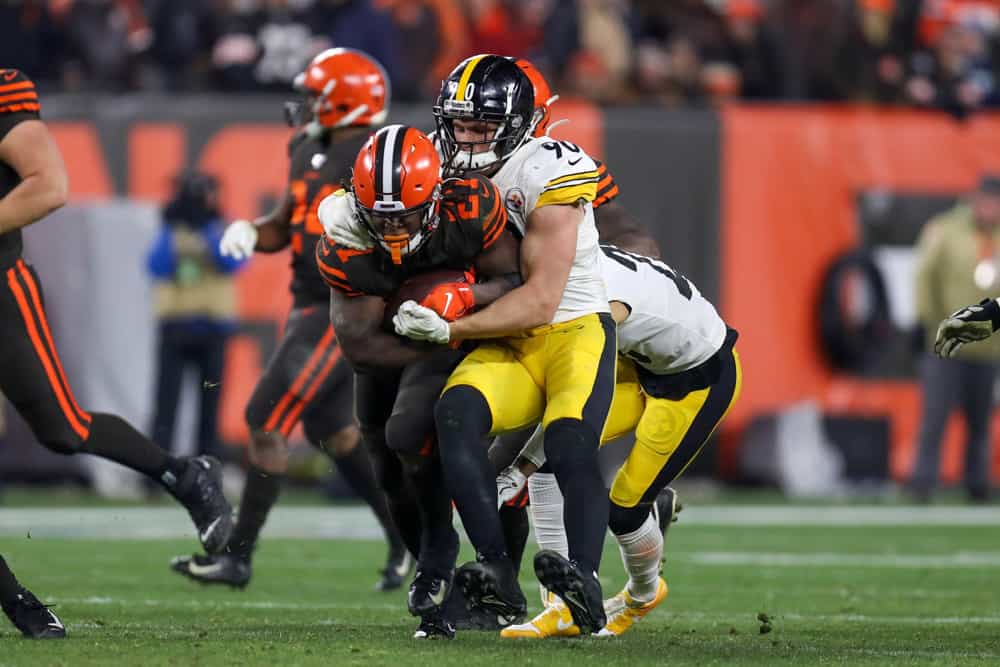 The Cleveland Browns host the Pittsburgh Steelers in the regular season finale on Sunday, January 3, 2021.
As the old saying goes, this game is for all the marbles.
The Browns must win to punch their playoff ticket; it would be their first trip to the playoffs since 2002.
If they lose, they can still get in, but it's very situational and outside their control.
The easiest #Browns playoff clinching scenario going into the final Sunday of the season is the first one: If Cleveland defeats Pittsburgh at home (Browns are currently favored by 6.5 points vs. the Steelers,) they're in.

— Drew Zuhosky (@DrewZuhosky) December 28, 2020
To make life even more interesting, the Browns defense will be facing backup quarterback Mason Rudolph.
No one needs to be reminded what happened the last time Rudolph started a game against the Browns at FirstEnergy Stadium.
There will be a lot on the line for Rudolph on all fronts as he tries to show Coach Tomlin and the Steelers front office that he is the heir apparent to Big Ben who played some pretty shaky football a few weeks ago.
And there is not a living soul who won't be watching any and all interactions between Myles Garrett and Mason Rudolph.
ICYMI: Winning is the bottom line in the NFL, but the most important thing about Sunday's game will be Mason Rudolph.

This is his best opportunity to show that the Steelers can believe in him as Ben Roethlisberger's successor, @PaulZeise writes. ⬇️ https://t.co/gFmxgoh7U3

— Post-Gazette Sports (@PGSportsNow) December 30, 2020
How To Watch Browns Vs Steelers
The game airs on CBS at 1:00 pm EST.
Commentators for the game will be Ian Eagle and Charles Davis.
Evan Washburn will report from the sidelines.
How To Listen to Browns Vs Steelers
The three flagship stations for Browns football are:
On satellite radio, the SiriusXM Browns broadcast station is Channel 388.
Outside of Cleveland, the Browns radio affiliates are:
Akron
WAKR – 1590 AM
Akron
WONE – 97.5 FM
Canton
WHBC-AM – 1480 AM
Canton
WHBC-FM – 94.1 FM
Columbus
WTOH – 98.9 FM
Corry (Pa.)
WWCB – 1370 AM
Dayton
WHIO-AM – 1290 AM
Dayton
WHIO-FM – 95.7 FM
Dayton
WZLR – 95.3 FM
Dover
WJER – 1450 AM
Erie (Pa.)
WPSE-AM – 1450 AM
Erie (Pa.)
WPSE-FM – 107.1 FM
Fostoria
WFOB – 1430 AM
Geneva
WKKY – 104.7 FM
Jamestown (N.Y.)
WQFX – 103.1 FM
Lima
WWSR – 93.1 FM
Mansfield
WRGM – 1440 AM
Mansfield
WVNO-FM – 97.3 FM
Marietta
WJAW – 100.9 FM
Norman (Okla.)
KREF – 1400 AM
Sandusky
WMJK – 100.9 FM
Tulsa (Okla.)
KAKC – 1300 AM
Uhrichsville
WBTC-AM – 1540 AM
Uhrichsville
WBTC-FM – 101.9 FM
Wooster
WQKT – 104.5 FM
Youngstown
WKST – 1200 AM
How To Live Stream Browns vs Steelers
Those interested in live streaming the game can access it on the following platforms:
Browns Fate Is Decided With Early Games
As mentioned above, the Browns can eek their way into the playoffs even if they lose to the Steelers.
Keeping up will require a lot of scoreboard watching during the 1 pm games.
To begin with, the Houston Texans must defeat the Tennessee Titans.
The Texans are 5-11, but perhaps they will get extra motivation from JJ Watt's postgame press conference after Sunday's loss to the Bengals.
If that doesn't happen, there is another path to the playoffs.
The Jacksonville Jaguars must defeat the Indianapolis Colts.
It's worth noting that the Jaguars are 1-14, and that lone win came in Week 1 against you guessed it… the Indianapolis Colts.
In an organization where the Kardiac Kids thrived, I suppose it's fitting that the Browns playoff hopes come down to the last game of the season against an archrival that Coach Freddie Kitchens was able to defeat the last time they came to Cleveland.