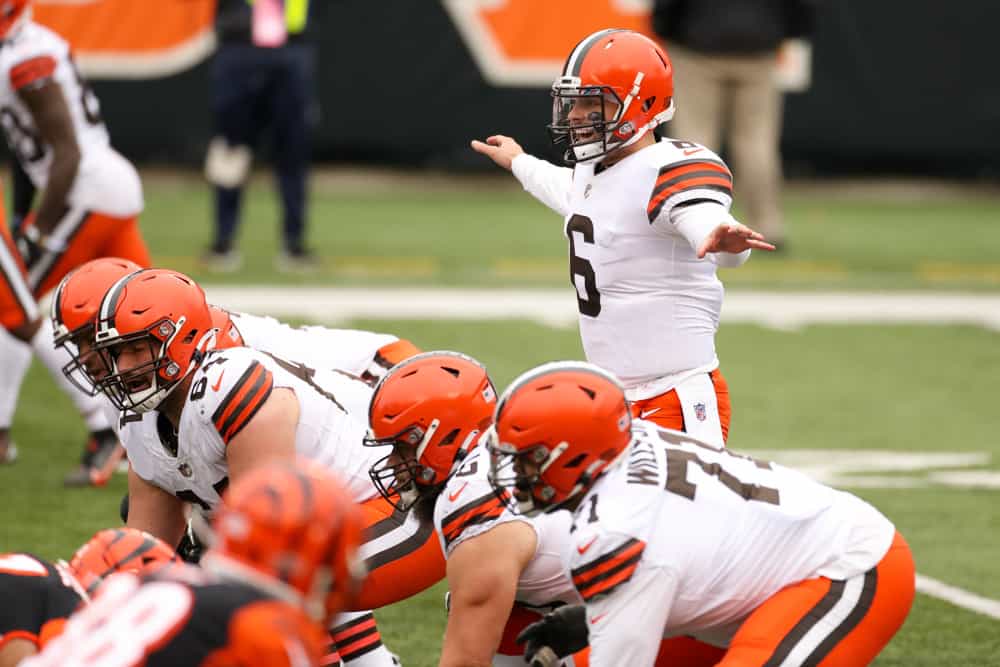 The Cleveland Browns have a big matchup this Sunday as they get ready to take on the Houston Texans.
After a bye week and some COVID-19 scares, Browns fans are just happy to find their team back in action this week.
There is rain in the forecast, however, so Sunday's game could become interesting very quickly.
90% chance of rain for Sunday's #Browns/Texans game

— Jake Trotter (@Jake_Trotter) November 12, 2020
Here's how you can watch and listen to Sunday's game against Houston.

How to Watch
For those looking for the game on TV, tune into Fox at 1 PM where Dick Stockton and Matt Millen will have the call with Sara Walsh on sideline duty.
Streaming options, per the Browns website, include the Cleveland Browns mobile app, Browns.com, and NFL Game Pass.

How to Listen
Per usual, the game will be available on the three flagship stations for the Browns, WKRK 92.3 The Fan, 98.5 WNCX, and ESPN 850 AM WKNR.
Pre-game coverage for each station picks up a few hours prior to kickoff.
Those outside of Cleveland will also have a chance to listen through these local affiliated radio stations:
Akron
WAKR – 1590 AM
Akron
WONE – 97.5 FM
Canton
WHBC-AM – 1480 AM
Canton
WHBC-FM – 94.1 FM
Cleveland
WKNR* – 850 AM
Cleveland
WKRK* – 92.3 FM
Cleveland
WNCX* – 98.5 FM
Columbus
WTOH – 98.9 FM
Corry (Pa.)
WWCB – 1370 AM
Dayton
WHIO-AM – 1290 AM
Dayton
WHIO-FM – 95.7 FM
Dayton
WZLR – 95.3 FM
Dover
WJER – 1450 AM
Erie (Pa.)
WPSE-AM – 1450 AM
Erie (Pa.)
WPSE-FM – 107.1 FM
Fostoria
WFOB – 1430 AM
Geneva
WKKY – 104.7 FM
Jamestown (N.Y.)
WQFX – 103.1 FM
Lima
WWSR – 93.1 FM
Mansfield
WRGM – 1440 AM
Mansfield
WVNO-FM – 97.3 FM
Marietta
WJAW – 100.9 FM
Norman (Okla.)
KREF – 1400 AM
Sandusky
WMJK – 100.9 FM
Tulsa (Okla.)
KAKC – 1300 AM
Uhrichsville
WBTC-AM – 1540 AM
Uhrichsville
WBTC-FM – 101.9 FM
Wooster
WQKT – 104.5 FM
Youngstown
WKST – 1200 AM

How to Stream
With streaming becoming an increasingly popular method of watching games, here are the best ways to stream this Sunday's contest:
– YouTube TV
– fuboTv
– NFL Game Pass
– ClevelandBrowns.com

How Will The Second Half Go For Cleveland?
Falling to the Raiders heading into the bye week left a sour taste in the mouth of this Browns team.
As it stands, the Browns would not be in the playoffs if the season ended today.
That means there is work to be done over these final eight games, and the team knows it.
One guy in particular, Baker Mayfield, will be crucial to the success of this team.
He understands he must be consistent in order for this team to win, and he seems up to the challenge.
#Browns QB Baker Mayfield on what he looked at during bye week: "Looking at missed throws, turnover plays and the reasons why. Being extremely critical of that. Learning from that. The negative plays to see if it was a physical mistake or a decision error."

— Keith Britton (@KeithBritton86) November 11, 2020
With Nick Chubb, Austin Hooper, and Wyatt Teller all expected back for the Browns, the offense should be able to get back to its dominance on the ground.
The team failed to score a rushing touchdown without Teller on the field, and we all know how good Nick Chubb is.
Hooper, even though the numbers may not necessarily reflect a huge impact, has been great in the run game as a blocker.
With so many pieces back for the Browns on Sunday, it's a game you won't want to miss.