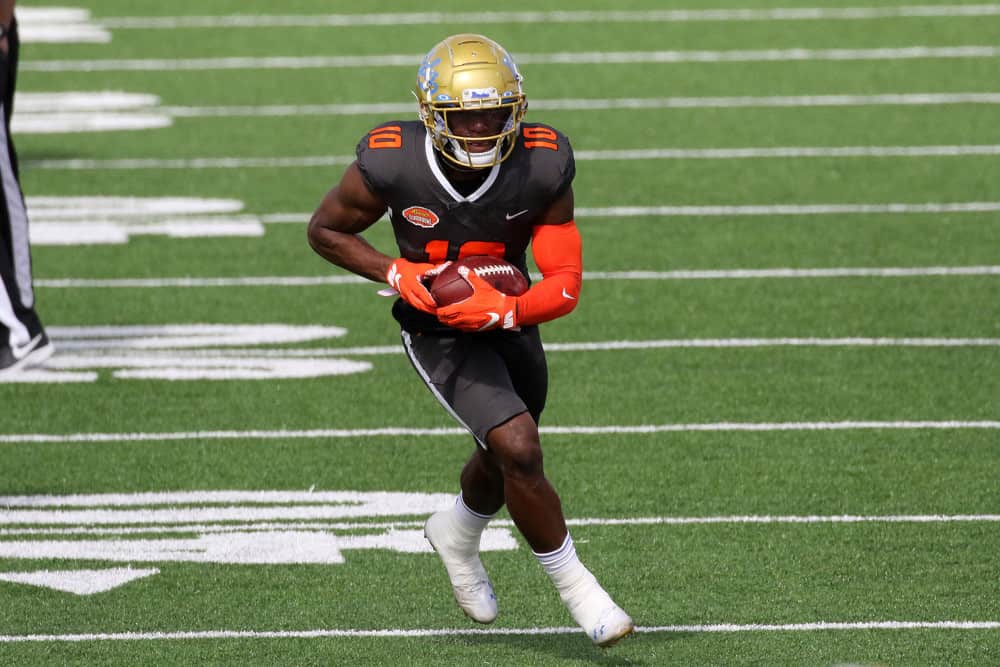 There was more than one reason Andrew Berry went heavy on defense in free agency and the NFL Draft.
It was mostly because the defense needed a makeover, but also because the offense did not.
The Cleveland Browns' offense returns every starter, and most backups, from the 2020 campaign.
ICYMI #UCLA's Demetric Felton has been selected by the Cleveland Browns.https://t.co/Lt6GoQKrWr pic.twitter.com/SadT2IUcvM

— Bruin Report Online (@BruinReport) May 2, 2021
That is going to make it tough for any rookie to establish a role in the Browns attack.
Stefanski might have an idea or two for speedy wide receiver Anthony Schwartz.
But Cleveland's final draft pick, Demetric Felton, is considered a dart toss.
Felton is no lock to find himself on a gameday roster, but he brings enough to the table for consideration.
How will Demetric Felton fit in the Cleveland Browns offense?
Stefanski's Swiss Army Knife 
It is a testament to Felton's versatility that he was listed in the draft as playing two positions.
He was as likely to line up in the backfield as he was at slot receiver for UCLA.
Felton was used more as a running back during his final season, but he was still a big pass-catching threat.
There is also a 100-yard kickoff return on Felton's highlight video.
"…Demetric Felton @demetricfelton7 is going to be the yacht for this Cleveland #Browns offense because he brings sizzle, he brings flash, he's high end and he's going to inject a different personality into the offensive flow…" pic.twitter.com/WbK9gauOHz

— Bryan Fenley (@BryanFenley) May 1, 2021
In every role, he used quick feet, balance, and speed to stand out as a big playmaker.
At 5'9″ and 189 pounds, he can slide between lineman and sneak through holes.
But he also puts his head down, using his burst ability as much as strength to power himself forward.
In his senior season, he racked up 36 broken tackles on just 126 touches.
Felton can run routes out of the backfield, go in motion, or line up outside in the Browns offense.
He has the versatility to keep a defense guessing when he is in the huddle.
How Does He Find His Way Onto The Field? 
Even the best rookie can fall victim to the numbers game.
Kevin Stefanski improved Felton's odds of making the roster by listing him at running back, not receiver.
Odell Beckham is back and the third-round pick Schwartz will have enough trouble breaking into the receiving corps.
Browns' Demetric Felton is listed as a RB

Here is his route running ⬇️

— PFF Draft (@PFF_College) May 1, 2021
D'Ernest Johnson is a very reliable third rusher behind the venerable duo of Nick Chubb and Kareem Hunt.
The third-year veteran also proved to be a solid kickoff returner but was less impressive on punts last season.
Felton will have a tough time displacing the popular third-wheel in the backfield.
But if the rookie offers any kind of punt-return threat, there could be 4 active running backs (plus the fullback) on game day.
And if Felton is on the sideline, odds are Stefanski finds a handful of snaps for him on offense, too.