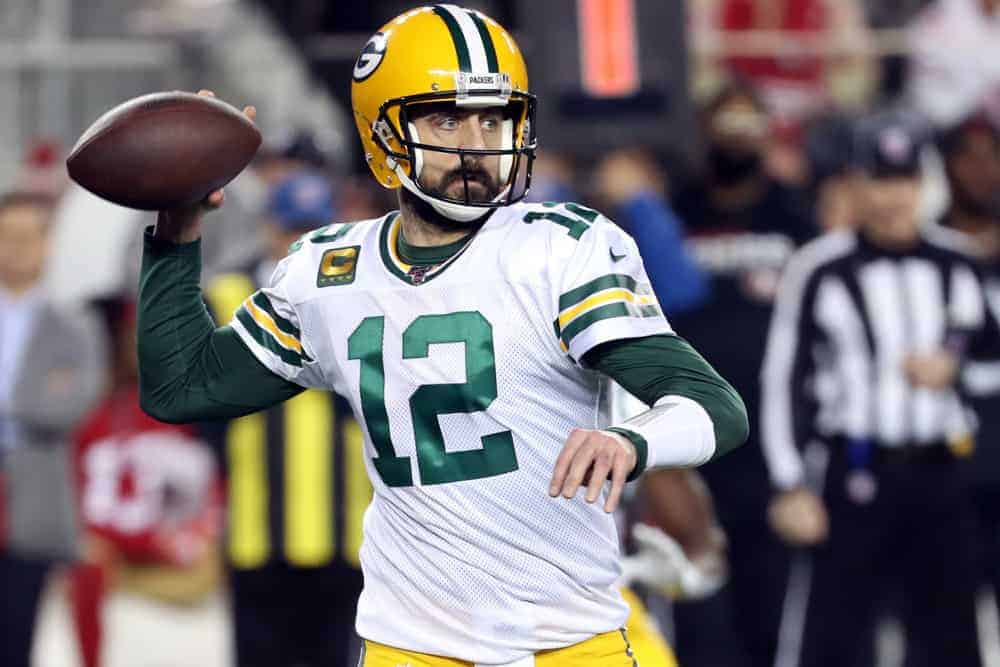 When reports broke about Packers quarterback Aaron Rodgers not wanting to return to Green Bay, we knew the football world would be thrown into a frenzy.
Not only did it shake up odds over the 2021 NFC North standings, it shook up front offices as well.
A franchise quarterback becoming available seemingly out of nowhere gets fans, and the media, excited.
There was little time wasted before national media figures were getting the "Rodgers to Cleveland" train rolling.
The best landing spot for Aaron Rodgers? @maxkellerman thinks it's the Cleveland Browns.

"Aaron Rodgers on the Browns right now, in my view, makes them Super Bowl favorites over the Bucs and the Chiefs."

— First Take (@FirstTake) April 30, 2021
The legitimacy of Max Kellerman's belief in that First Take segment can be debated later.
Regardless, talks of Aaron Rodgers heading to Cleveland simply don't make sense.

Don't Bamboozle Baker
The rise of Baker Mayfield last season is the driving force behind why these rumors should be ignored.
The Cleveland Browns searched for a franchise quarterback for two decades before landing Mayfield in the 2018 NFL Draft.
He helped lead the team to their first playoff win since 1994 and has been a part of the culture-change with the Browns.
Fans, to no surprise, have planted themselves firmly in the corner of Mayfield.
Cleveland has stuck with Baker through the good, the bad, and the ugly.
This week on social media has reaffirmed the city's love for number six.
Aaron Rodgers wasn't the one embracing Cleveland at their worst.

Aaron Rodgers wasn't the one who ended the 19 year QB search.

Aaron Rodgers wasn't the one who cried when the Browns broke an 18 year playoff drought because he understood what it meant.

Baker Mayfield was. pic.twitter.com/4NNSOZHqhq

— Nick Karns (@karnsies817) May 5, 2021
I can't believe I even need to say this, but here it is:

Baker Mayfield embraced us fully when he arrived in Cleveland at a time when NOBODY believed in the Browns. I'm not about to throw him over for Aaron Rodgers, or anybody, ever.

We ride or die with Baker. End of story.

— Samantha Bunten (@samanthabunten) May 5, 2021
Rodgers has accomplished plenty in his own right, winning one Super Bowl and three MVP awards so far in his career.
However, that all comes in 15 years with an organization that experienced just four losing seasons in that time.
Mayfield just finished his third season with Cleveland, the first winning season for the Browns since 2007.
One playoff win doesn't stack up to a Super Bowl and three MVP's, but it doesn't need to yet.
While Rodgers did win the Super Bowl in his third year as a starter, he already had five years with Green Bay before that.
Plus, three of those were spent learning the offense under Brett Favre. Baker's introduction to Cleveland was the equivalent of being thrown to a pack of wolves.
Even so, Mayfield's QBR at the end of year three as a starter (72.2) ranks higher than that of Rodgers (69.6).
The career of Rodgers should not be slated, and he would immediately make any team he signs with better.
For Cleveland, that improvement would not result in long-term success.

Father Time
The only person to have never lost is father time.
Rodgers finds himself in a bout with age now at 37 years old.
On the flip end of that spectrum is 26-year-old Baker Mayfield.
That's why Cleveland would not see more long-term success with Rodgers over Mayfield.
Getting Rodgers could make the team better now, but Rodgers doesn't have a ton of years left.
Tom Brady has been the exception to aging, not the standard.
Barring some post-prime miracle work from Rodgers, Mayfield has more years of high-level play left in the tank.
It's understandable for people to get excited at the prospect of Aaron Rodgers in Cleveland.
When taking a step back and looking at the larger picture though, those fantasies should quickly be dismissed.
If Browns fans really must know what Rodgers as a quarterback would feel like, they can trade for him in franchise mode in Madden.
While a three-year experiment with Rodgers might be fun, the Browns have faith in Baker leading them to the ultimate goal in February.
Andrew Berry probably doesn't want to look for a new franchise quarterback in a few years either.