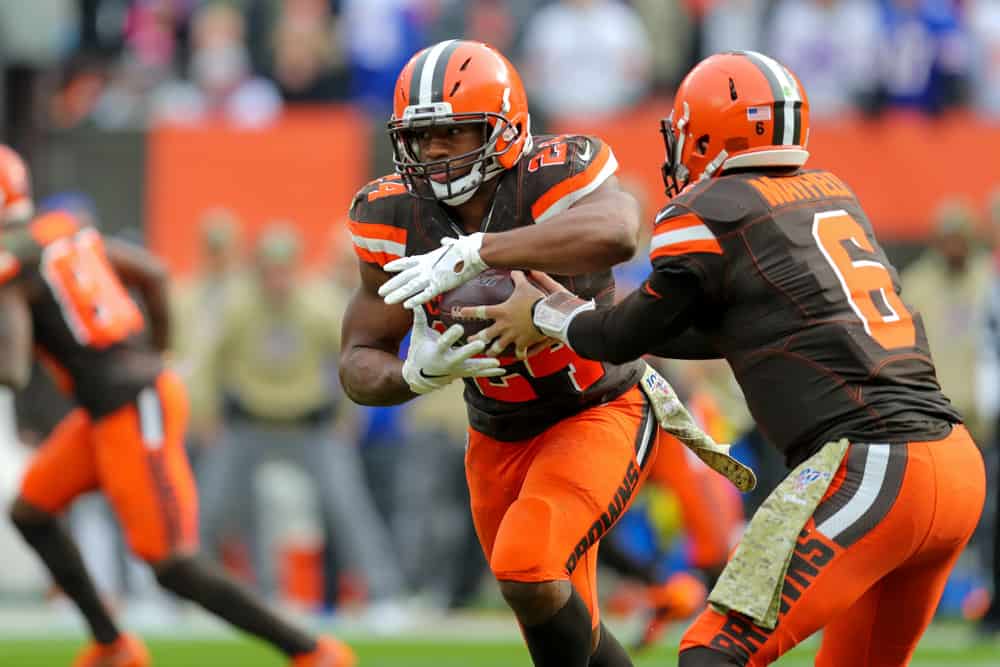 The Cleveland Browns have put together one of the best young squads in the league.
However, plenty of their star players are still on their rookie deals.
Cleveland is going to soon have to pick and choose who they want to keep around long term.
The organization recently locked down superstar defensive end Myles Garrett to a massive extension.
The #Browns and star pass-rusher Myles Garrett are closing in on a 5-year extension worth $125M, sources say. Another massive deal, this time for $25M in new money per year. Their top priority of this offseason and they are in the final stages. 💰💰💰

— Ian Rapoport (@RapSheet) July 14, 2020
Now with Garrett's deal out of the way, the Browns can focus their attention on quarterback Baker Mayfield and running back Nick Chubb.
It's unclear what kind of value Chubb has on the open market, but maybe Derrick Henry's extension will impact how the Browns go after their star running back.
Derrick Henry's Extension
Last season, Chubb and Henry battled it out all season long for the rushing title.
Chubb was winning the race until Henry had a 211-yard performance in Week 17.
Henry finished with 1,540 yards on 303 attempts with 16 touchdowns through 15 games with Tennessee.
After the season, the Titans placed the franchise tag on the 26-year-old running back.
However, the two sides were able to agree on an extension prior to the deadline.
Titans and RB Derrick Henry is signing a four-year, $50 million contract that includes $25.5 million guaranteed, source tells ESPN.

In one off-season, the Titans keep both Henry and Ryan Tannehill on long-term deals.

— Adam Schefter (@AdamSchefter) July 15, 2020
Henry did well for himself and was able to land a deal worth an average of $12.5 million per season.
OverTheCap has Henry's deal placing him fourth in per-year salary among running backs in the NFL.
This deal might have very well set the framework for the Browns to get an extension done with Chubb in the near future.
Chubb's Value
As mentioned earlier, Chubb and Henry were fighting for the rushing title throughout the 2019 season.
Henry was able to push himself over the top during the final week, but Chubb's performance shouldn't be overlooked.
Chubb rushed for 1,494 yards on 298 attempts with eight touchdowns through 16 games last season.
The 24-year-old has quickly established himself as one of the best young running backs in the league.
Henry has posted 2,599 rushing yards over the last two seasons after two mediocre campaigns to begin his career.
In his first two seasons, Chubb has rushed for a combined 2,490 yards with an average of 5.1 yards per carry.
Chubb arguably deserves a little more money than Henry since he's younger and has produced similar stats to Henry over the last two seasons.
Henry has now set the market for young running backs like Chubb, but will the Browns actually pay him?
Chubb Extension?
Recently, some organizations such as the Dallas Cowboys and Los Angeles Rams have been hurt by signing their running back to a massive deal.
The Browns are an organization that heavily uses analytics to help value the worth of their players.
The running back spot has quickly lost value in the league, which could hurt Chubb.
Players such as Todd Gurley, David Johnson, and Le'Veon Bell have fallen off since signing long-term deals.
The Browns don't want to be the next team to make this mistake.
Chubb has proven to be a difference-maker and electric playmaker during his first two seasons in the league.
Although, the wear and tear of playing the running back position has a huge impact on players.
Generally, running backs who sign a second contract in the NFL do not match the worth of a second deal.
The Browns may very well wait until Chubb's contract is up after the 2021 season to make a final decision.
The organization will likely want to evaluate the status of the team and Chubb's health before committing long term.
Chubb is worth at least $12 million per season in free agency, but the running back position continues to lose value each and every season.