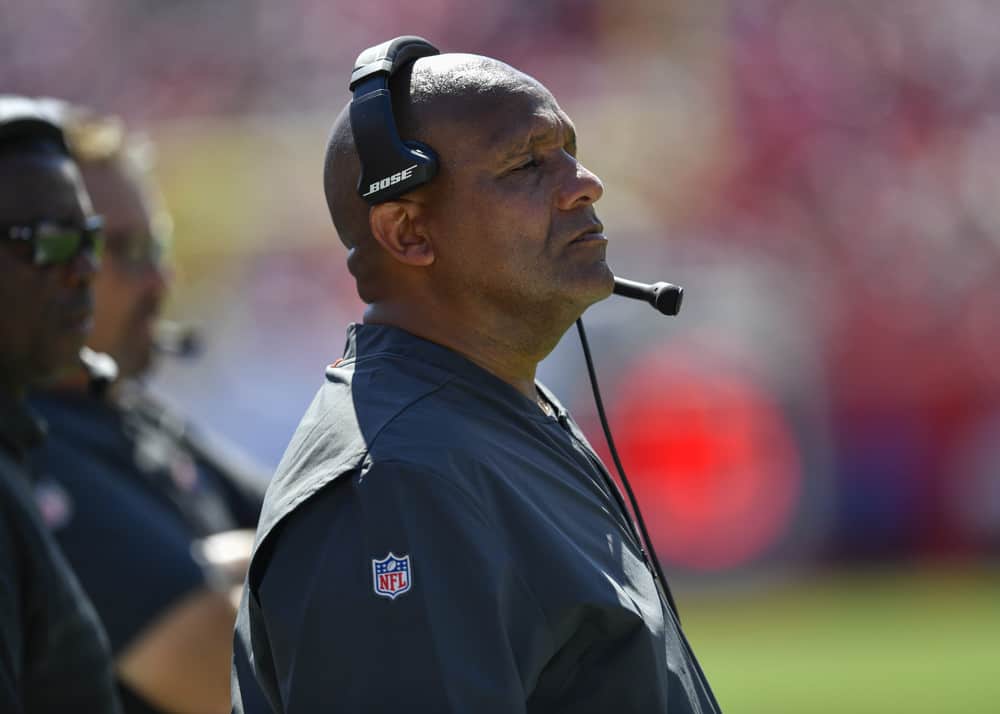 Following a Chris Simms report that the Cleveland Browns were offered QB Russell Wilson in a 2018 trade, the Browns Head Coach at the time is pushing back.
Hue Jackson joined CBS Sports Radio to rebuff the report.
"I've never heard anything so crazy in my life… I'm sure (former Browns GM) John (Dorsey) and (Seattle GM) John Schneider are really tight. I'm sure if they're having conversations on their own, just jiving around and doing those kind of things – I would think if something was serious about that, we, the executive team and the organization, would have known. I never heard that."
Do We Trust Simms or Jackson?
Chris Simms shared his rumor more than two years after the proposed deal would have taken place.
"I had heard a rumor from some people that I trusted a few years ago that Seattle called Cleveland when they had the No. 1 pick, and there was this rumor going around the NFL that they offered Russell Wilson to the Browns for the No. 1 pick the year they drafted Baker Mayfield."
And he called it just that, a rumor.
He's also a former quarterback and not a news-breaking journalist.
But there are questions surrounding Hue Jackson's ability to verify the report.
If John Dorsey was talking to the Seahawks about a possible Russell Wilson trade, Dorsey didn't tell Hue Jackson about the possibility (which should surprise no one) https://t.co/ceEsSnGIBe

— ProFootballTalk (@ProFootballTalk) May 15, 2020

We know Hue Jackson did not have a good relationship with the man calling the shots in 2018, General Manager John Dorsey.
And we know only Dorsey was aware of the Browns' plans at the top of the 2018 NFL Draft.
Hue Jackson was not:
Observations about the Browns pick:

1. Only Dorsey *knows* who they'll pick at 1
2. That decision has been made
3. Info to the contrary is disinformation
4. His people aren't telling media his plan; they don't know
5. Hue, who will be coaching for his job, is out of the loop

— robertklemko (@RobertKlemko) April 25, 2018
If Dorsey had serious negotiations with Seattle for Wilson, it's likely Hue Jackson would not have been aware of them.
Reality Of A Russell Wilson Trade
At the time of the 2018 NFL Draft, the Seahawks were in negotiations with Russell Wilson on a new record-breaking contract.
They would later agree on a 4-year, $140 million contract extension.
Wilson was coming off a 2017 season where the Seahawks went just 9-7 and missed the playoffs.
But Wilson led the league with 34 touchdown passes in 2017.
And he was coming off six straight seasons of high-level play.
No. 33 on the #PFFAllDecade101@DangeRussWilson pic.twitter.com/Q81etNS7x2

— PFF (@PFF) May 13, 2020
That included 12 playoff games at the time in addition to the 2014 Super Bowl victory.
It is nearly impossible to see the Seahawks dealing him for an unknown asset coming straight out of college.
Even if the Browns offered #1 and #4 overall in the Draft, Wilson's value far exceeds what the Seahawks would have gotten with say, Saquon Barkley and Baker Mayfield.
In the end, the idea that this trade was anywhere close to becoming a reality is a longshot, but not because of Hue Jackson shooting it down.