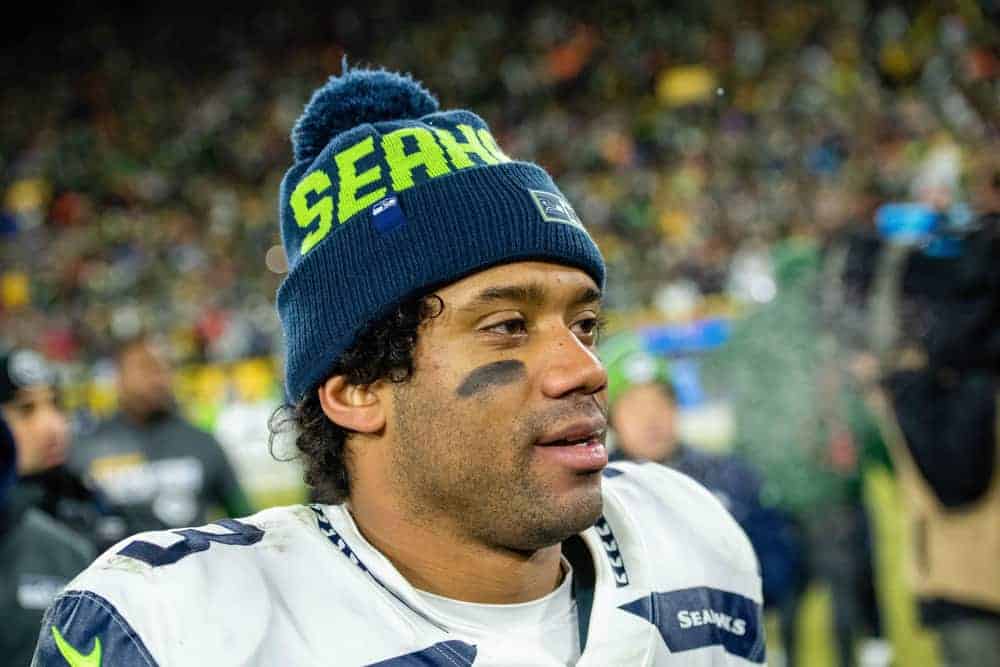 Former NFL quarterback and current NBC Sports analyst Chris Simms joined Pro Football Talk with Mike Florio on Thursday.
After Florio mentioned the topic of Russell Wilson being the most untradeable NFL player, Simms dropped a bombshell about the Seattle Seahawks quarterback and the Cleveland Browns.
On April 26, 2018, the Browns were rumored to have had the chance to trade the No. 1 overall pick for Wilson, who was then heading into his seventh career NFL season:
"I had heard a rumor from some people that I trusted a few years ago that Seattle called Cleveland when they had the No. 1 pick, and there was this rumor going around in the NFL that they offered Russell Wilson to the Browns for the No. 1 pick the year they drafted Baker Mayfield."
Simms said that he did not hear further information about this rumor after the Browns elected to select Mayfield:
"I never followed up, but I just know I had people tell me that was something people were hearing."
What would have been if this rumor was reality?
Could the Browns have made the playoffs as the Seahawks did in 2018 and 2019?
How Have the Browns and Seahawks Offenses Fared Since 2018?
Unfortunately for the Browns, Wilson seems to be untradeable now.
Mayfield had a sophomore slump in 2019 after breaking the NFL rookie record for single-season touchdowns.
However, if the players had been traded for each other, Cleveland could have had a top-10 offense each of the last two years.
In 2018, Wilson excelled even with Seattle's low-rated offensive line, according to Pro Football Focus:
Most TD passes on plays with no pressure since 2018

Patrick Mahomes – 59
Drew Brees – 48
Russell Wilson – 46
Matt Ryan – 45 pic.twitter.com/31KxHbPZ14

— PFF (@PFF) May 4, 2020

The Chiefs, who have an average offensive line, and the Saints, who have a top offensive line, are the only teams with quarterbacks who top Wilson in this category.
Over the last two seasons, Wilson has a combined 66 passing touchdowns to Mayfield's 49.
During Mayfield's rookie season, the 7-8-1 Browns scored the 20th-most points per game (22.4) while the 10-6 Seahawks ranked sixth with 26.8 points per game.
Then in 2019, the 6-10 Browns took a step back under new head coach Freddie Kitchens.
Cleveland ranked 22nd in offensive scoring and had the 19th-most passing touchdowns in the NFL.
Meanwhile, in Pete Carroll's 10th season in Seattle, the Seahawks finished 11-5, the team's best record since 2014.
In the ninth-highest scoring offense, Wilson threw 31 touchdowns, the third-most of any quarterback in the league.
In addition, Wilson was the best downfield-throwing quarterback last season.
Highest graded QBs on throws 20+ yards downfield in 2019

1. Russell Wilson: 98.9
2. Deshaun Watson: 98.2
3. Gardner Minshew: 94.7
4. Dak Prescott: 93.9 pic.twitter.com/NUqLsV5F6H

— PFF (@PFF) May 10, 2020
If the Browns had the 31-year-old Wilson instead of the 25-year-old Mayfield, they most likely would have won more games the last two years.
Cleveland may have also ended the longest current playoff drought in the NFL.
Would the Browns be a Better Position in 2020 with Wilson Instead of Mayfield?
The age difference is significant for these two players, as Mayfield's career in the NFL should last at least another decade.
The same cannot be said for Wilson though.
The Seahawks have attempted to extend the six-time Pro Bowler's career by having him run less: he has 75 rushes or fewer each of the last two seasons.
Wilson has the fifth-most rushing yards for a quarterback in NFL history.
His 720 rushing attempts are just 214 fewer than oft-injured Cam Newton, who tops the list at 934.
Although Wilson is a future Hall of Fame quarterback, Mayfield may be the safer option at quarterback moving forward because of his age and his fewer rushing attempts.
Many Browns fans may be frustrated to hear that Wilson could have been a Brown, but Mayfield could be a future Hall of Fame quarterback.
Mayfield showed that he has a high potential from his performance in 2018, and he may be able to show that this rumor is just something of the past.