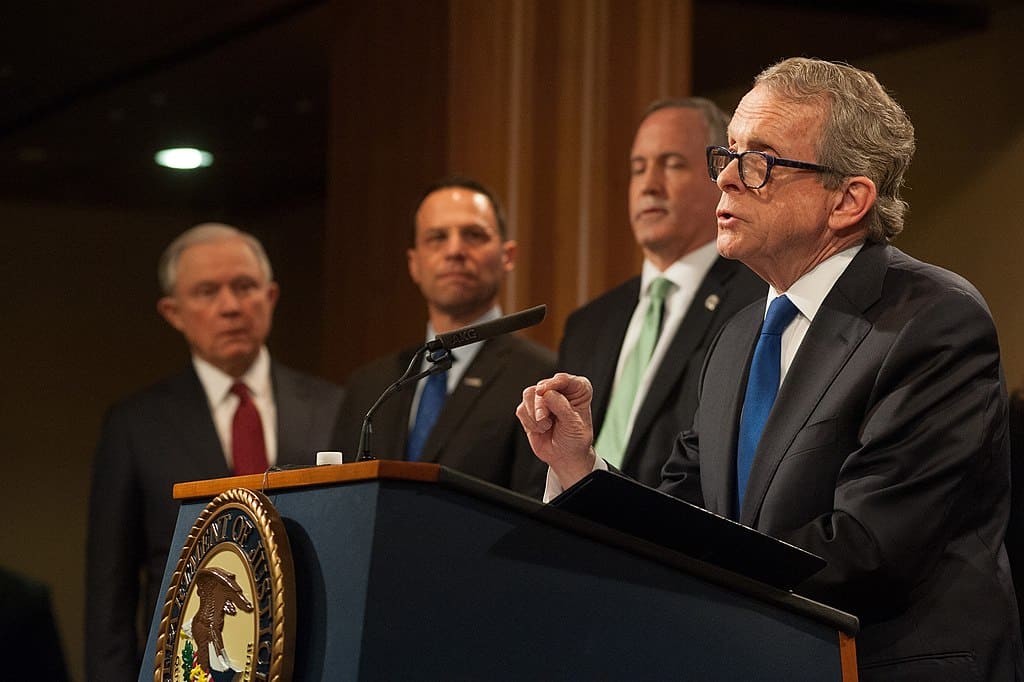 The start of the Cleveland Browns' preseason is still three months away, but Ohio Gov. Mike DeWine is showing is support for the team even during the coronavirus pandemic.
DeWine donned a homemade Browns mask during a Friday interview with WKYC.
"My wife Fran made this mask, and we're all kind of having fun with different things," DeWine said. "Of course [this is] with the Browns, but it is serious."
On Friday, WJW in Cleveland
also conducted an interview with DeWine,
who again donned his Browns mask.
"I know some people don't like to wear masks, but we can have fun," DeWine said. "Fran made this (Browns mask) for my son-in-law, who is a longtime Browns fan. We can have fun with it, but we wear it to protect others."
DeWine, 73, said Ohio leaders are encouraging people to wear masks if they go out in public.
"Cover your nose. Cover your mouth," DeWine said. "It's not so much that that protects you frankly. It protects other people and if everybody does it, we're each protecting each other and so we've got to really slow that spread down. It's particularly more difficult the more we move around."
The Republican governor is an Ohio State football season ticket holder and owns the Asheville Tourists, a baseball team in North Carolina that's a Class A minor-league affiliate of the Colorado Rockies.
Gov. Mike DeWine just renewed his OSU season tickets. I asked if he anticipates Buckeyes will play this fall.
"I would certainly think they could figure out how to do a season…Can we go watch them? I think it's much too early to be making that [call]." https://t.co/C5lEgyeOKg

— Dave Briggs (@DBriggsBlade) May 9, 2020

In addition to showing off his Browns mask, DeWine discussed several topics with the television station, including the reopening of daycares, the future of schools in Ohio and the state of coronavirus testing.
"As we open up Ohio, as people do more things, as they move about more, the risk certainly dramatically goes up," DeWine said. "That's why I've said this is really probably — in some respects — the most crucial the most important month ahead of us, and how we continue to try to keep that distance."