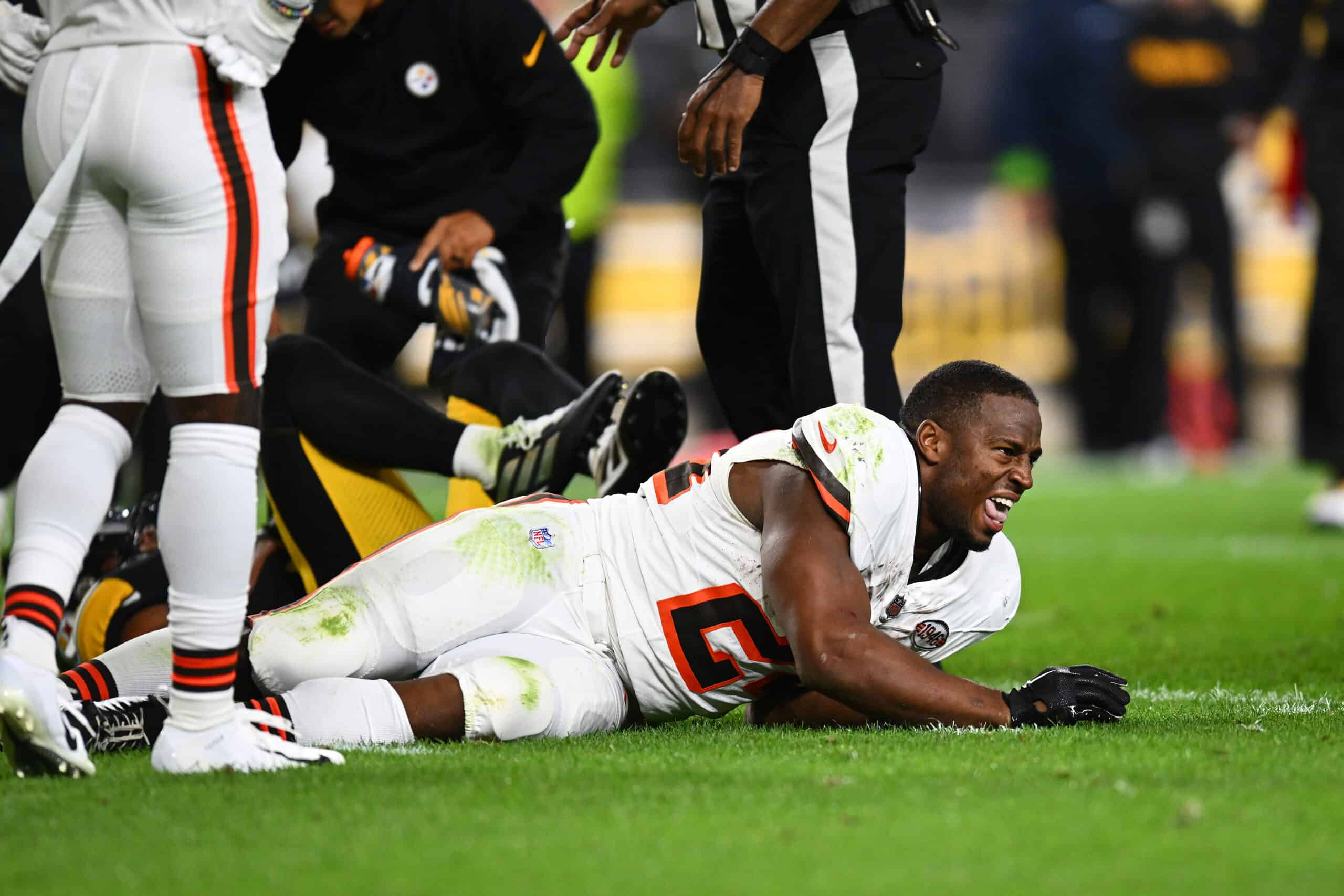 What a difference a week made for the Cleveland Browns.
In Week 1, they looked like a promising contender after limiting Joe Burrow and the Cincinnati Bengals to three points.
Their defense was imposing, with Myles Garrett, Dalvin Tomlinson, and Za'Darius Smith attacking the Bengals' offensive line from different directions.
They fell to the Pittsburgh Steelers on Monday Night Football a week later.
Worst yet, they are staring at a massive void after Nick Chubb suffered a season-ending knee injury.
CBS Sports Insider Josina Anderson shared more bad news about the injury by tweeting, "I'm also told RB Nick Chubb's injuries include his meniscus, per source. #Browns"
She quoted her previous tweet, which read, "I'm told there were initial discussions of #Browns RB Nick Chubb potentially needing 2 surgeries to address his injuries following MNF in Pittsburgh—with the 1st surgery coming w/i the next 7-10 days & the 2nd occurring several weeks after, per source. This is preliminary talk."
I'm also told RB Nick Chubb's injuries includes his meniscus, per source. #Browns https://t.co/PXoi0AV1hU

— JosinaAnderson (@JosinaAnderson) September 20, 2023
His condition was so painful to watch that ESPN refrained from showing a replay.
But as the game went on, the crowd at Acrisure Stadium groaned after seeing a replay of the incident on the jumbotron.
ESPN NFL insider Adam Schefter also tweeted that Nick Chubb re-injured the same knee wherein he suffered MCL, PCL, LCL, and cartilage damage during an October 2015 game with the Georgia Bulldogs.
Jerome Ford will have huge shoes to fill as he takes over for Chubb as the starting running back.
The Browns will also add another player to provide depth in their rotation.
As for Chubb, he has been through this recovery process before, knowing what it takes to bounce back.
But the Browns will endure more growing pains without him as the season progresses.