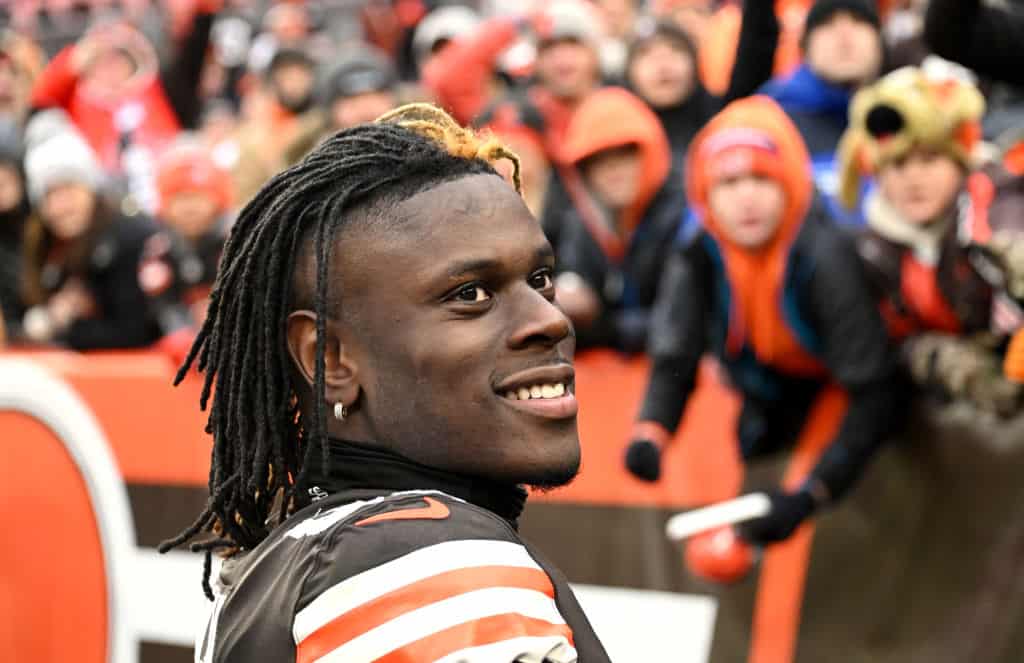 Andrew Berry is hard at work assessing and assembling his Cleveland Browns roster for 2022.
Just a few days ago, he cleared $4 million in cap space by re-working the contract of Jack Conklin.
But if the latest rumor to hit social media is true, Berry is going to have to find a few more million.
According to Mary Kay Cabot of Cleveland.com, the Browns are willing to pay big bucks to David Njoku.
Report: #Browns prepared to offer TE David Njoku over $10 million per season, per @MaryKayCabot

— JPA Football (@jpafootball) February 28, 2022
Per Cabot,
"The Browns definitely want him back, and are prepared to pay him the double-digit millions he'll get on the open market. They are poised to try to get a deal done before or during the legal tampering period March 14-16."
Njoku made $6 million on his fifth-year option last season, and the additional 4 from Conklin's new deal makes 10.
But that doesn't leave much for other projected re-signings, extensions, and the free-agent period.
Cleveland is believed to have around $31 million in available cap space at this moment.
Will The Browns Over-Pay Njoku? 
Does Andrew Berry believe David Njoku is worth the double-digit millions Cabot says he'll get on the open market?
Franchising Njoku would cost Berry almost $11 million, but there is a caveat.
Tight end franchise tag values are heavily tilted because the top-5 salaries are disproportionately elevated.
The top 4 tight ends earned $12.5 million or more last year, but the 6th-through-10th only made $8-8.5 million.
David Njoku got 🆙 pic.twitter.com/seKkDT5em0

— PFF CLE Browns (@PFF_Browns) November 7, 2021
You have to be special to make $11 million as an NFL tight end.
Pro Football Focus gave Njoku a career-high 70.9 rating and believe he is worth $12.5 million per for 3-4 years.
But Spotrac and Over The Cap both say Njoku is worth just under $7 million per, the 16th-highest projected salary.
Teams like the NY Jets and the LA Chargers need a pass-catching tight end and have cap space.
But how much is Andrew Berry willing to pay to avoid a bidding war?
What Are The Chances? 
Austin Hooper is currently the 6th-highest paid tight end in the league, though his salary drops to $9.5 million.
He will be the first to admit his 2021 season did not justify that amount, but what does Berry believe is more likely?
Will Hooper rebound closer to the 75% catch rate, 6-touchdown player he signed out of Atlanta?
Or is he the career-high drops and the over-fatigued player we saw tail off as the 2021 season came to an end?
David Njoku gets loose 🔥pic.twitter.com/J7V4XHkIje

— PFF CLE Browns (@PFF_Browns) October 10, 2021
Berry can release or trade Hooper with a June 2nd designation and save his salary against the cap.
Re-signing Njoku to a big deal probably spells the end of the former Falcon, while $7 million leaves the door open.
But there is one other factor Berry might consider, and that is the third-year tight end, Harrison Bryant.
Bryant caught 75% of the passes thrown his way and finished just 1 touchdown shy of Njoku on half the targets.
And he projects to be more of a Njoku-type player than a Hooper-type, complicating Berry's decision even more.